By this point, you've probably read several reviews of the new 12-inch Retina MacBook. The first round were written by reviewers for the major newspapers and magazines, and this second wave is being provided by those of us who spent our own money to purchase one of the machines.
I'm no stranger to spending money out of my own pocket for untested technology. My first Mac was one of the first 512K models, I ordered one of the first MacBook Airs sight unseen, and iPhones and iPads have all been pre-ordered without a clue as to what the actual device will be like. Fortunately, Apple has a good history of delivering solid, if not exactly inexpensive equipment.
I needed a laptop when I heard about the MacBook, since AOL took back my 13-inch Retina MacBook Pro when it shut down TUAW. The timing was right, so I ordered the 12-inch MacBook just after placing my order for an Apple Watch — another Apple product I'm buying without trying out first.
Pricing and Models (including CTO versions)
8 GB RAM/1.1 GHz Intel-M/256 GB SSD – $1,299 (version tested)
8 GB RAM/1.3 GHz Intel-M/256 GB SSD – $1,549
8 GB RAM/1.2 GHz Intel-M/512 GB SSD – $1,599
8 GB RAM/1.3 GHz Intel-M/512 GB SSD – $1,749
Unboxing and Setup
I won't bore you with one of my patented unboxing videos, but quite a few viewers on Periscope got to watch me open the box and start setup of the device. It's incredibly slim; even compared to the two MacBook Airs that I've owned over the years. It just feels different. I was surprised to see that it was about the same physical size, but thinner than an iPad Air 2 in a ClamCase Pro keyboard case.

During setup, I encountered an issue that seems to affect many users — the Setup Assistant balked just after asking if I wished to set up FileVault encryption, and the "Spinning Pizza of Death" appeared. After about five minutes of spinning I knew there was a problem, so I shut down the Machine by holding the power button (on the keyboard, by the way) down for about ten seconds. Upon restarting, the Setup Assistant resumed and I was able to complete Setup without further delay. The second setup did leave a second administrative user in its wake, so I deleted it later.
One more thing: the space gray finish on this MacBook is lovely. It's not as bright and reflective as the usual "silver" aluminum finish, and not as ostentatious as the gold finish. Not only that, it will match my space gray aluminum Apple Watch when it arrives…
The keyboard

Most reviewers have made a big deal about the newly designed and ultra-slim keyboard. Yes, it's an engineering marvel, but for me the big question is just how comfortable (or not) it would be for prolonged typing. Bloggers do a huge amount of typing, so keyboards are very important for us.
The keyboard is almost identical in terms of size to the venerable Apple Wireless Keyboard that I use on my primary blogging machine — a 27-inch iMac. But there are some key differences between the two keyboards – no pun intended.
First, there's less of a gap between individual keys on the MacBook than there is on the Wireless Keyboard, and the keys are slightly larger in size. Placement of the keys is almost identical, with the exception of the arrow keys. Apple chose to take the left/right arrow keys and turn them into full-sized keys rather than the half keys that are used in the arrow cluster on the Wireless Keyboard. Some reviewers seem to think that this is a design issue; frankly, I use the left/right arrow keys much more often than I do the up/down, so I welcome the larger size of those two keys. I have one thing to say to those reviewers who have obsessed over the arrow keys not all being the same size — lighten up.
The other big difference is that the MacBook keyboard is backlit, and I find the backlighting to be pretty darned near perfect. It's not overly bright, adjusting to ambient lighting conditions very well. I often found the backlighting on the 13-inch MacBook Pro to be a little brighter than it needed to be, and more glaring.
The Force Touch haptic trackpad
I'm going to repeat something that most other reviewers have said: Apple needs to replace the Magic Trackpad with the Force Touch trackpad. It's hard to believe that the trackpad isn't actually moving. When you do a normal click or double-click, the trackpad responds with a feel that's similar to the "mechanical" Magic Trackpad.
But it's the Force Touch gesture that's quite surprising. I first tried it while typing this review, double-clicking on a word to highlight it, then using Force Touch — a longer and harder click — to bring up a word definition. It honestly feels like the click is going past a mechanical detent and going "deeper", which of course is a haptic trick since the trackpad isn't really moving at all.
Force Touch is used in a lot of ways; one of my favorite is to use the gesture on an app's Dock icon to quickly see all open windows for that app.
Of course, like all good Apple trackpads, the Force Touch trackpad rejects all palm touches so there's no concern about accidental movement of your cursor or pointer.
The Retina display
If you're used to Retina displays from your iPhones or iPads, you'll love the display on the MacBook. I initially used the "default for display" setting, which is 1280 x 800 resolution. On the 12-inch diagonal display, that resolution provides a lot of working room while still providing readability. That being said, when I switched the display to its highest resolution — 1440 x 900 pixels — it was still incredibly easy to read and sparkling clear. I'm now using the highest resolution in order to get the biggest desktop possible and it looks very good to my middle-aged eyes.
The non-existent fan
The MacBook is completely silent and vibration-free. I used to hate it when my first MacBook Air's fan would kick in when I did anything that taxed the processor even just a little bit. There is no fan in this MacBook, and I never felt the device getting even more than just a little warm, which could be just heat being transferred from my lap.
Battery life and recharging
When I got the MacBook I immediately put it to work. Sure, other than writing this review and setting up apps I haven't exactly been giving it a huge workout, but I was able to get close to five hours of use off of the "factory charge". I let the MacBook fully discharge and then plugged it in — a full recharge took about two and a half hours.
Is this the best battery life of any Apple laptop? No. Does it need to be longer? In my opinion, no. Seriously, how many times have you had to work for longer than six to eight hours without having access to a power outlet? Most airlines have installed AC power on aircraft, even in the cheap seats. And on long flights, I know I'm personally more apt to try to get some shuteye rather than work on my laptop or watch movies for ten hours.
But that's my personal situation, not yours. If you need longer battery life, then it's probably going to be a much better idea to look at one of the MacBook Air or MacBook Pro models.
Speed
The benchmarks are in, and they're not impressive. Yeah, some reviewers have said that you're getting "2010 performance in 2015". Here are benchmark results from Geekbench 3.3.2 for Mac OS X x86 (64-bit):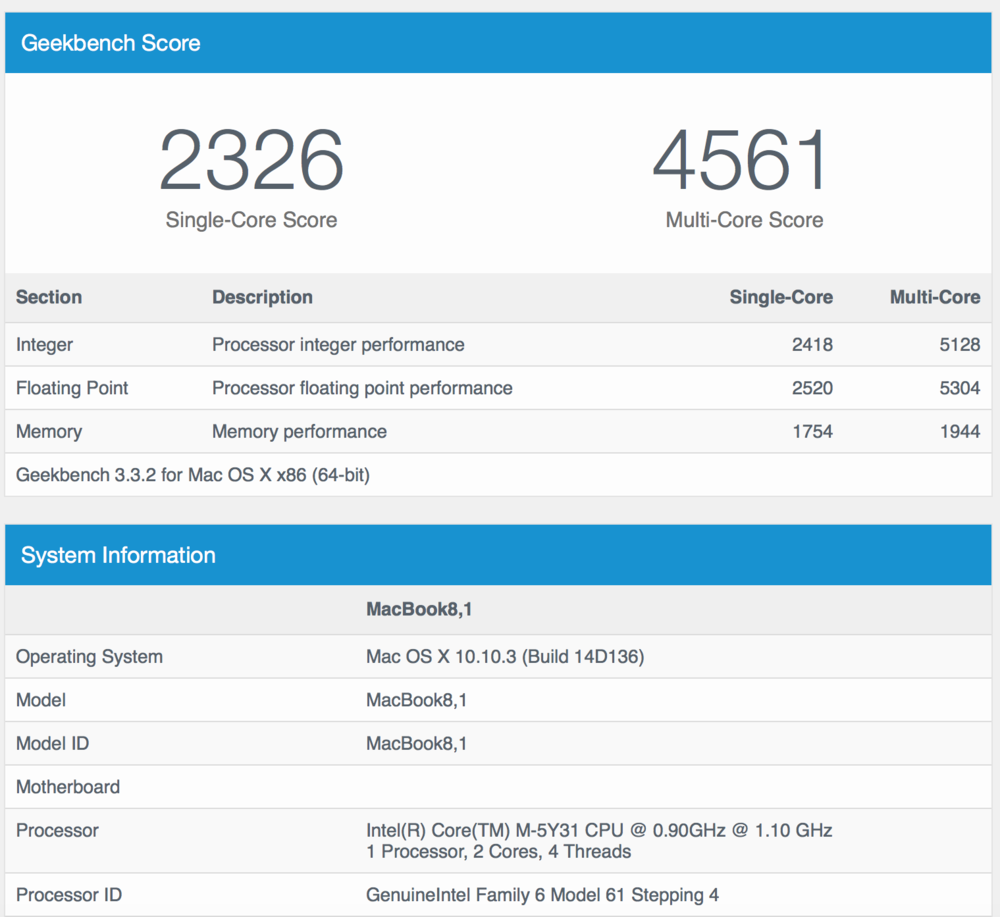 How does that compare to the 2015 MacBook Air models?
MacBook Air (Early 2015) Intel Core i7 2.2 GHz
Single Core: 3050, Multi Core: 6251
MacBook Air (Early 2015) Intel Core i5 1.6 GHz
Single Core: 2576, Multi Core: 5094
As you can see, the MacBook doesn't seem to be a speed demon. The multi-core score for the base model that I purchased is about 9.4% slower — benchmark-wise — than the 1.6 GHz MacBook Air with the Intel Core i5 CPU. But does that mean that it feels slow?
In practical, day-to-day mobile blogging use, I tend to use a Mac for some certain things. email, text editing with a Markdown editor, web surfing with ten or so tabs open simultaneously, doing image editing, checking the calendar, running Slack, tweeting, and sending messages.
Not once did I feel that the MacBook was slow. For my use case, this device is fine and does the work I need it to do. Will I use it for video editing? No. Podcast editing? Maybe. The big thing I need a laptop for is blogging while out of the office, and in that respect the MacBook does an admirable job.
USB-C
At this point I don't have a need to connect the MacBook to a projector, but once I do, I'm sure I'll be popping $75 for the USB-C VGA Multiport Adapter. For document backup, my work will either be stored on Dropbox or iCloud Drive, so I'm not sure I will even need to buy the USB-C/USB adapter to connect this to an external hard drive.
The USB-C AC adapter is tiny and lightweight, and it's refreshing to be able to just plug in a cable without needing to check if it's properly oriented. I can also see why Apple decided put both power and data into the same port — reducing size and component count, paving the way for connectors that can handle video and power while communicating to other peripherals.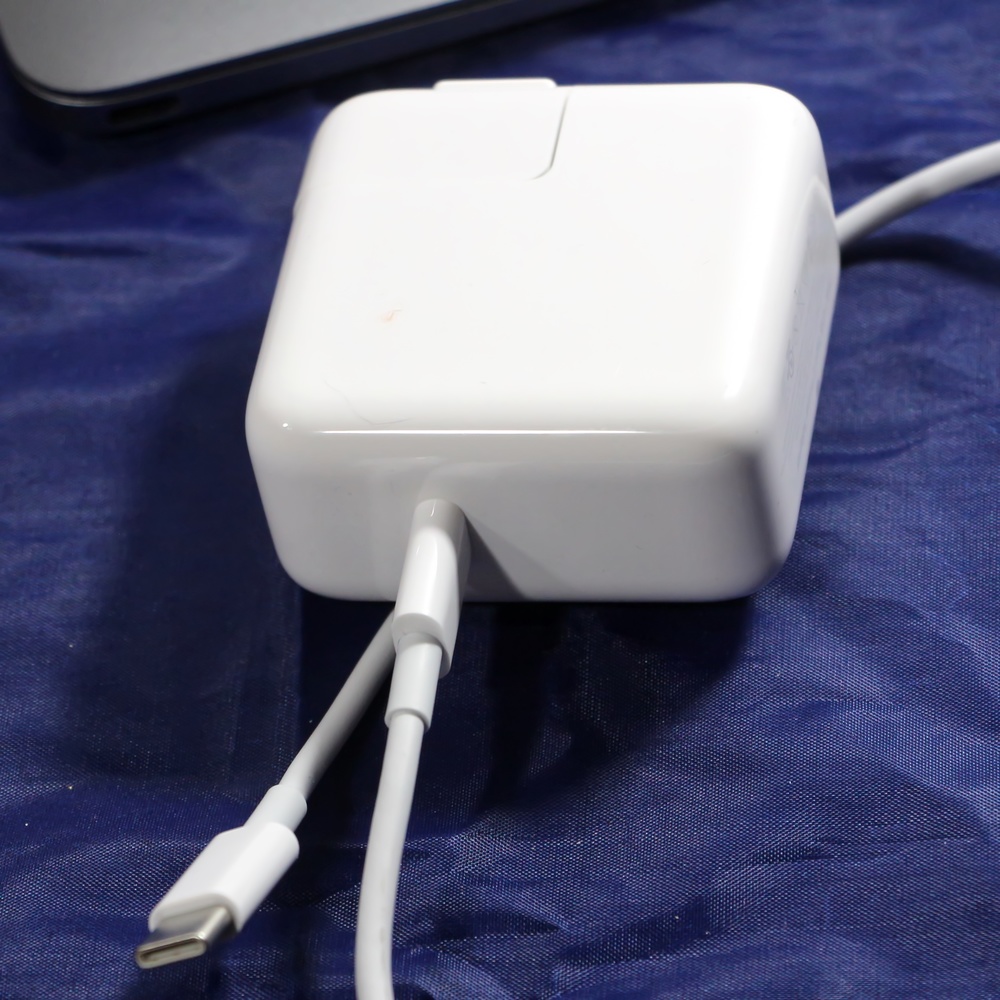 But this had to be a hell of a decision for Apple, after the company made such a big deal about the MagSafe power connector for years. I don't personally find the lack of multiple ports to be an issue as most of my connections to other Macs, iPads, iPhones, and printers are through wireless means. The lack of MagSafe? It bothers me, a lot. As with the old laptops, all it will take right now is a simple pull on the cable to topple the $1,300+ laptop onto the floor.
Speaker
Not much to say here, other than this is one of the loudest speakers I've ever heard on a MacBook of any type. It should make it nice for FaceTime calls, watching videos, and even listening to music, although I think you'd probably want to use a Bluetooth speaker or headphones (there is a headphone port…) for best quality.
Conclusion
Other than the removal of the MagSafe charging adapter, I like just about everything about the MacBook. The Retina display is so incredibly clear on this device and at top resolution makes it seem like a much larger display than it actually is. The lack of sound and vibration from a fan brings an iPad feel to the device, and all in all it just oozes the high quality that we expect from Apple these days.
As with most new products, this ultra-thin wonder commands a higher price for what you get than its siblings do. I'd venture that as soon as a good number of USB-C peripherals on on the market, Apple will probably drop the MacBook Air and settle on a less expensive version of the MacBook as an entry-level consumer model, keeping the MacBook Pro for the prosumer market.
Be sure to check back in the future, I will probably update this review if there are any quirks — or outstanding features — that weren't immediately noticeable during the first week of usage.
Apple World Today Rating (Out of 5 stars possible): ★★★★