The recent rev of the 27-inch iMac with 5K Retina Display is likely the final Apple all-in-one — perhaps even the last of the company's desktops or laptops — to sport an Intel chip. From now on the tech giant will be equipping its computer line with its own "Apple Silicon."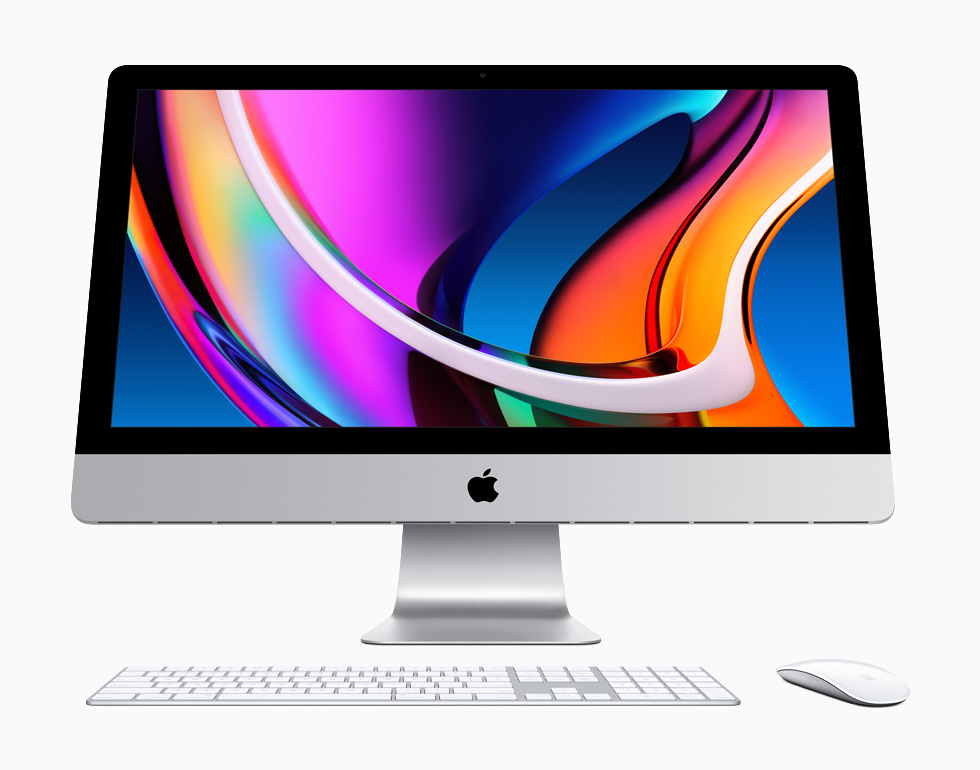 (Apple Silicon is, per Apple, "world-class custom silicon to deliver industry-leading performance and powerful new technologies." It involves customized ARM technology, as well as Apple's own System on a Chip.)
If the 2020 iteration of the 27-inch iMac is the last one with "Intel Inside," it's a fantastic swan song. It's hands-down the world's best desktop. Its performance — up to 65% faster than its predecessor for some tasks— is powerful enough for all but the most demanding "power users."
I have a build-to-order model that comes with a 3.8GHz quad-core Intel Core i7 processor, Radeon Pro 5500XT graphics card with 8GB of view memory, graphics and a 1TB solid state drive. However, I quadruped the standard amount of RAM (more on that in a moment). Performance is quiet and smooth with no lag even when I have seven apps running in the background as I edit a video in iMovie.
Of course, as always, one of the main attractions is the eye-popping screen. The iMac still comes with a 5,120-by-2,880-pixel display (and, yes, it still has the "chin" that will eventually disappear in a redesign).
If you thought the display was excellent before, this one is even better. For example, the iMac finally gets True Tone tech, which automatically changes the white point and color balance of the display based on real-time measurements of the ambient light falling on the screen. I like True Tone, but, if you don't, you can disable it in the System Preferences app.
What's more, the new iMac offers a nano-texture glass option — first introduced on Pro Display XDR — for even better viewing under different lighting conditions, such as a bright room or indirect sunlight. Unlike matte finishes that have a coating added to the surface to scatter light, this option is produced through a process that etches the glass itself at the nanometer level. Apple says the result is "extremely low reflectivity and less glare while maintaining stellar image quality and contrast."
However, the nano-texture glass option is an extra $500, which was too rich for my blood. And since I use my iMac in my home office and take lots of breaks, I didn't find it a must-have addition (though it would have been nice).
Nano-texture or not, text appears super sharp, videos are lifelike, and you can see incredible levels of detail in photos. For example, video editors can view a 4K (Ultra HD) video (3,840 by 2,160) at 100% while still having a boatload of pixels left over surrounding the video for media libraries, toolbars, and video timelines.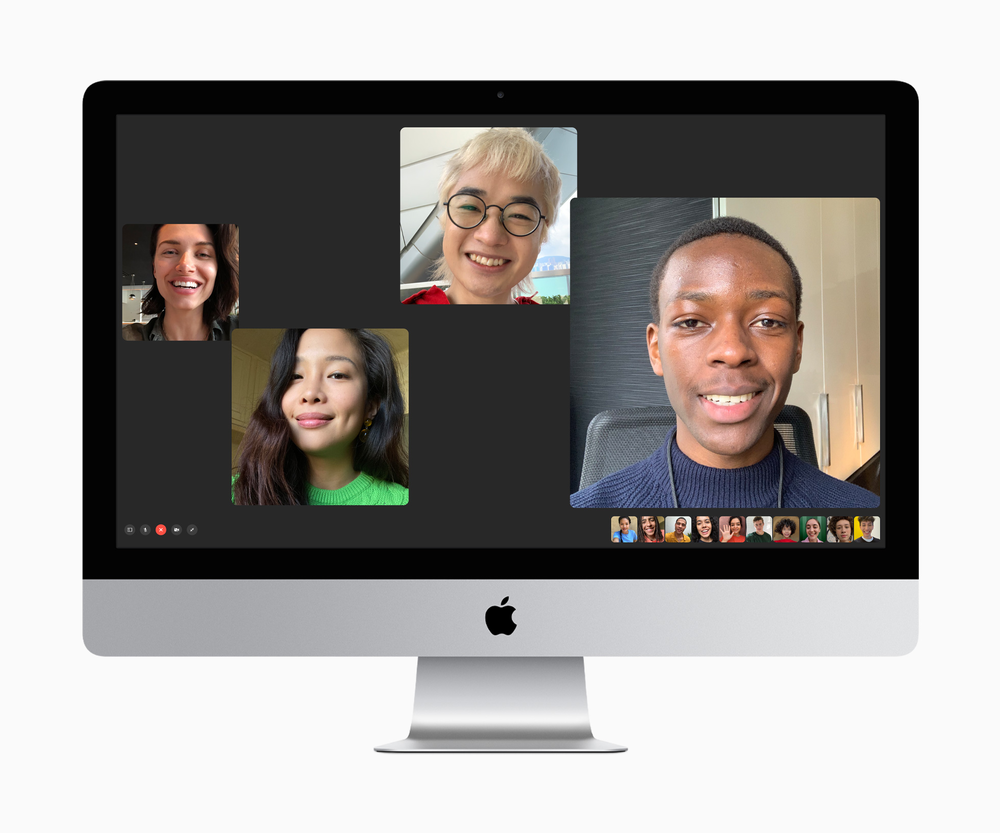 As I found out a long time ago, the iMac is a great machine for watching movies in my man cave when my wife and daughter have outvoted me and are watching a LifeTime movie in the living room. And the 2020 iMac sports the upgraded speakers that debuted in the iMac Pro. For example, the bass has a lot of thump considering there's no subwoofer.
And, finally, the iMac has ditched the puny 720p FaceTime camera for a FaceTime HD camera that features 1080p resolution. This makes the onscreen images in FaceTime calls and Zoom meetings MUCH better. What's more, the Image Signal Processor in the T2 Security Chip brings tone mapping, exposure control, and face detection for a higher quality camera experience.
To complement the improved camera, the T2 Security Chip also works with the speakers to enable variable EQ for better balance, higher fidelity, and deeper bass. In addition, a new studio-quality microphone array allows you to capture high-quality audio for improved FaceTime calls, podcast recordings, Voice Memos, and more.
Using the built-speakers saves a lot of desk space. However, I'm hoping that the upcoming macOS Big Sur will make it possible to add stereo-paired HomePods as a Mac sound output option. It's ridiculous that this hasn't already happened.
Not surprisingly, two Thunderbolt 3 (USB-C) ports come standard on all iMac models; each delivers up to 40Gb/s data transfer for external drives and cameras and twice the bandwidth for video and display connectivity. The latest all-in-one has four USB 3.1 Gen 2 (up to 10Gb/s) ports and one Gigabit Ethernet port (configurable to 10Gb Ethernet with support for 1Gb, 2.5Gb, 5Gb, and 10Gb Ethernet) so there's more options for connecting peripherals. The new all-in-ones also sport three-stream Wi‑Fi and Bluetooth 5.0 wireless technology, as well as a SDSX card slot.
In addition to dropping the 720p FaceTime camera, the 2020 27-inch iMac ditches the Fusion Drive for SSDs across the board that performance up to 3.4GB/s. The Fusion Drive was a great idea at the time, but its day has passed. SSDs make a big difference in the iMac's performance.
FYI: Fusion Drive is Apple's name for its implementation of a hybrid drive. It combines a hard disk drive with a NAND flash storage (a solid-state drive of 24GB or more) and presents it as a single Core Storage managed logical volume with the space of both drives combined.
My biggest complaint is that the new iMac comes with a miserly 8GB of RAM, when 32GB should be standard. And Apple should be ashamed for charging an arm and a leg for adding more RAM. Upgrading to 16GB costs an extra $200 and moving up to 32GB is $600. Highway robbery, I say!
At least, it's easy to upgrade the memory. You can pay Apple an arm and a leg to upgrade the RAM before shipping the iMac to you. Or you can order memory from MacSales and follow my installation video to save you some serious moolah.
The 2020 27-inch iMac comes with the latest 6-core and 8-core 10th-generation Intel processors. It also has a 10-core processor option for the first time with Turbo Boost speeds reaching 5.0GHz for up to 65% faster CPU performance. When working with memory-intensive applications, it features double the memory capacity for up to 128GB if you've got the money to spend.
The new iMac delivers up to 55% faster graphics performance from its Radeon Pro 5000 series graphics, featuring AMD's latest RDNA architecture. For folks using pro apps that can take advantage of large amounts of video memory for even greater performance, for the first time, the all-in-one features a graphics option with 16GB of memory for the first time. That's double the video memory capacity of the previous-generation 27-inch iMac.
The new iMacs come with a Magic Keyboard 2 and the Magic Mouse 2, which I like as they're designed around a built-in rechargeable lithium-ion battery. You can buy a Magic Keyboard with Numeric Keypad for an extra $129. I do wish that Apple had released a Magic Keyboard with Touch Bar.
Finally, one more disappointment: I had hoped that the new iMac would be available in a space grey color scheme, but it didn't happen.
Likely that will arrive in mid- to late 2021 when the first 27-inch iMac with "Apple Silicon" will arrive. That will be the super-sized, all-in-one with a new design, Face ID, and other features lots of us were hoping to see in this year's model.
The 2020 iMac may not be the dream revamp expected a few months ago, but it allows the Intel iMac to out with a bang.
Apple World Today Rating (out of 5 stars): ★★★★