Anyone in the market for a replacement keyboard for a Mac should definitely consider version two of the US$69 Keychron K2 Wireless Mechanical Keyboard. I'm impressed with just about every aspect of its design. And version 2 is about $8 less than its predecessor.
Design
I'm one of those people who usually doesn't like mechanical keyboards because of the "clacking" sound that they make. Fortunately, the innovators behind the Keychron K2 offer a selection of different key switches embedded below the keys to offer the choice of a rather silent typing experience or one with full touch and audible feedback.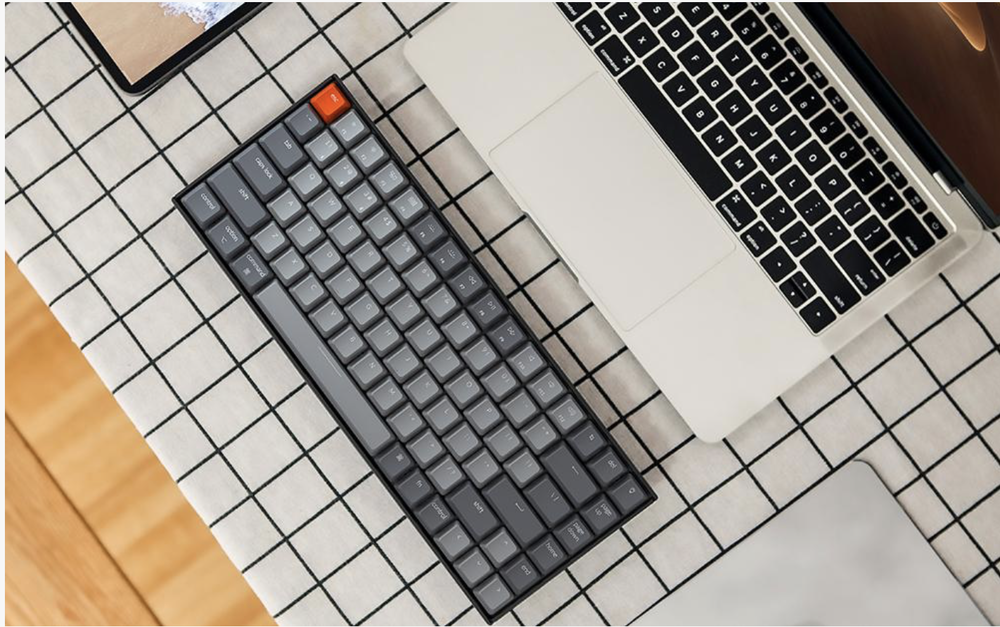 Three key switch types, all made by Gateron, are available: red, brown and blue. I chose red, which is designed to be quiet and offers a medium amount of tactile feedback. The brown switch version has a bit more noise and tactile feedback, while the blue switch version is meant for gaming — it's louder and has that tactile feedback gamers love.
Not only do you get a choice of key switch types, but you get to choose the backlighting type as well. I selected the RGB version, which can either be set to a preset color (red is nice for work at night) or can cycle through some incredibly wild color patterns.
Compatible with all operating systems from Mac to Android to Windows. K2 is one of the few mechanical keyboard featuring Mac layout media keys. It allows you to use all the same media keys as conventional macOS keyboards.
Every K2 keyboard comes with three specific keycaps for Mac and Windows, respectively. But, wait, there's more. Version 2 of the Keychron Wireless Mechanical Keyboard now sports Bluetooth 5.1 so it can be used wirelessly (as the name implies) or with a cable. That means that you can connect it wirelessly with up to three devices at once and switch between the screens via fn + 1/2/3 (not f1). You can also use Keychron's type-C cable to connect the keyboard to devices.
The Keychron K2 also has the largest capacity rechargeable battery I've ever seen in a keyboard — 4,000 mAh! By comparison, the Apple Magic Keyboard has a 2,980 mAh battery inside it… and it costs $99.
However, the Keychron K2 is a bit "boxy" compared to the sleek aluminum Magic Keyboard, with dimensions of 12.32 x 4.84 x 1.52 inches (313 x 123 x 38.5mm) and weighing in at 30.8 ounces (875g).
Function
I loved the feeling of this keyboard, and I'm not usually a fan of keyboards with mechanical switches like this. The red switch model was quiet and offered just enough feedback to make me happy. Switching between the different backlight combinations was a blast — it almost reminded me of Christmas lighting!
Bluetooth pairing was fast and painless, and as promised, I was able to pair it to three different devices and switch between the three easily.
The keys are a pleasing dark and light gray combination, with the Esc key playfully colored bright orange. The top row of keys is a set of F keys that also serve specific functions on Mac, iOS and iPadOS devices. Those aren't to be confused with the fn keys, which can be programmed to add even more functionality. There's an inverted-T arrow cluster, as well as page up/page down/home/end keys that are rarely found on new keyboards.
Also new in version 2 is an inclined bottom frame to make typing more comfortable.

If I had any complaint about the Keychron K2, it's the battery life. I used to be able to go for months between recharging my Apple Magic Keyboard, but I found that with the RGB backlighting on I was charging about every nine hours or so. I'd suggest turning off the backlighting unless you're planning on connecting the keyboard to your Mac via USB-C.
A surprisingly detailed user manual is available for download, which was a pleasant change from most keyboards I test that come with no documentation at all.
Conclusion
I liked the Keychron K2 keyboard enough that I replaced a low-profile keyboard on my iMac with it. It's an outstanding design, the price is less than that of the much less capable Apple Magic Keyboard ($99 for no backlighting or USB capability), and it has a great feel.
Keychron has a complete Amazon store, so be sure to visit it soon!
Apple World Today Rating (Out Of 5 Stars): ★★★★★