The Jam Symphony is a Wi-Fi only (at least when it comes to wireless) speaker. There's nothing wrong with that — except for one flaw: you'll have to make sure that your iPhone is connected to 2.4GHz Wi-Fi, not 5GHz, to use the Jam WiFi app.
That's a bit tricky if you have a dual-band router. Plus, 5GHz connections are usually faster connections than 2.4GHz. Still, you'll have to use the app as it connects the speaker to your Wi-Fi network and streams music from your mobile device or streaming service to the speaker itself.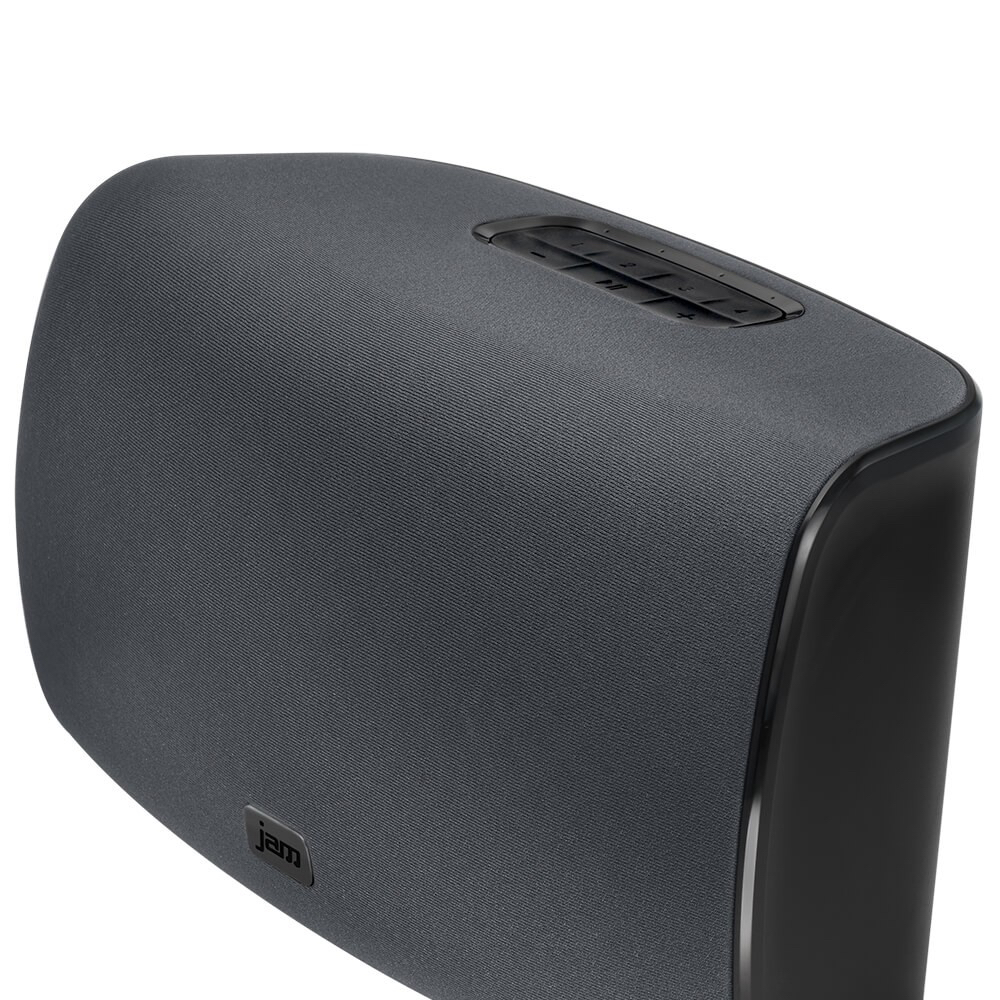 The app can also connect to several streaming services: Spotify, TuneIn, iHeartRadio, Tidal, or Napster, but not, alas, Apple Music.
That 2.4GHZ/5GHz aggravation aside (though it's something to keep in mind) the $149.99 Jam Symphony is budget-friendly considering its size and power. The Jam Symphony isn't for true audiophiles, but its audio quality will be better than adequate for most users.
It can pump out a lot of volume with deep bass and crisp highs thanks to dual tweeters, dual midrange drivers, and a sizable subwoofer . Plus, you can expand your Jam Symphony set-up by adding up to eight speakers total. If you have more than one, the integrated intercom lets you speak through the JAM speakers.
The speaker is fairly plain in appearance. It's not ugly, but neither is it handsome. Its plastic body measures 8.4 x 6.3 x 7.5 inches. Its rounded front face sports a cloth-covered grille. The top control panel has rubberized buttons for play/pause and volume up/down (when tapped) and track navigation — though the Jam Wi-Fi can handle all these tasks.
Four memory buttons can be assigned to stations or playlists in streaming apps or in your music library. Once assigned, you can skip directly to preset stations or playlists without opening up the app.
On the rear of the Symphony, there's a port for air to exit; this supposedly allows for better bass response and more efficient driver movement. There's also a panel with connections for the included AC wall plug adapter. And you'll have to use the adapter, as there's no battery. If you need a truly portable speaker, you'll have to look elsewhere.
The rear of the speaker also packs a 3.5mm aux input, a button you must press and hold to establish a Wi-Fi connection, and a pinhole button for resetting the speaker. Rubberized feet on the bottom keep the Symphony from sliding or bouncing around.
Once you work around the 2.4GHZ/5GHz situation, the Jam Symphony offers solid value, especially if you want a Sonos-ish speaker but without a Sonos-ish price tag.
Apple World Today Rating (out of 5 stars): ★★★