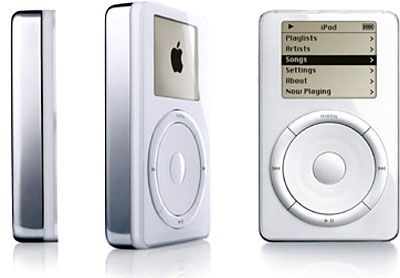 On this day in 2001, Apple co-founder and legend Steve Jobs introduced the first iPod to the world. That makes the iPod platform old enough to get a restricted driver's license in most of the United States. The iPod has been eclipsed by many other Apple products since then, but it was one of the products that first brought Apple to the attention of many consumers.
Up until the iPod was introduced, most MP3 players in existence were difficult to use and had limited flash storage. That first iPod had a 5GB hard drive built in that could hold "up to 1000 songs". The click wheel and menu interface of the early iPods made them incredibly easy to use with one hand, and the iconic white earbuds that came with the player quickly became a status symbol. 
The only iPod still in existence is the very iPhone-like iPod touch, with all other models discontinued over the years as the iPhone — which brought the ability to not only play music but run a large variety of apps (more than just the games that came with or were sold for later iPods) and access the Internet — took over. 
It's fascinating to think that the first iPod cost US$399; now a 9.7-inch iPad with Wi-Fi only, a Retina display, 32GB of storage, an 8 MP camera and much more sells for $329.