Today Plugable launched The Cube, a $79.99, portable (2.5 x 2.3 x 1.4 inches) USB-C mini docking station. I received an advance copy, so have had almost a week to play around with it — and I'm impressed.
The Cube is designed for Mac and Windows laptop, and tablets with Thunderbolt 3 or USB-C ports. I've used it with a 2019 iMac 5K and 2018 MacBook Air (but not a Windows machine). Its small design saves desk space when it's connected to the all-in-one and is great for when I'm on-the-go with the latter. Set-up is a breeze; the mini docking station is plug and play.
With The Cube, I can connect a single 4K HDMI display, three USB ports (one USB 3.0 and two USB 2.0) for connecting peripherals, and a wired gigabit Ethernet connection (via oneRJ45 Ethernet port) — all through a single USB-C cable.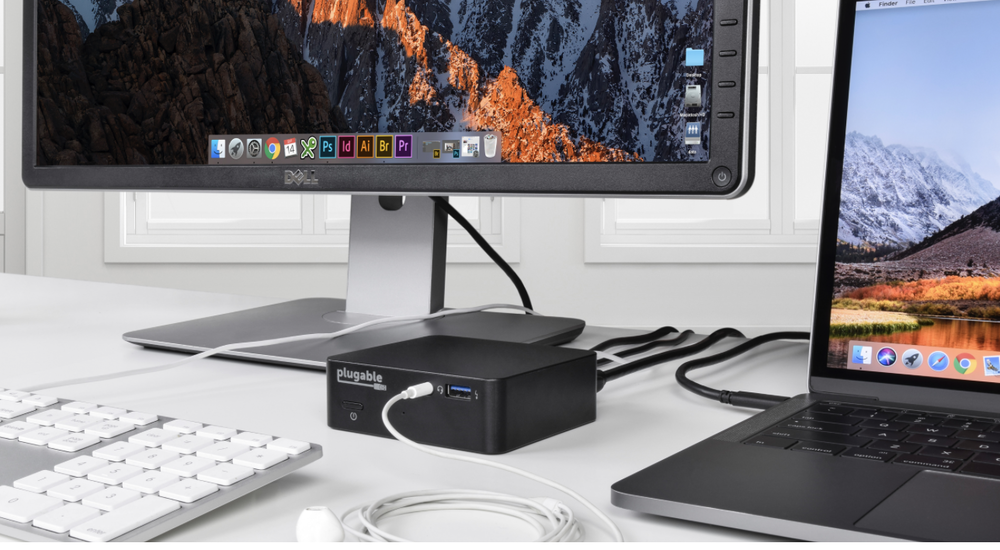 The display functionality of the UD-CUBE dock is powered by one of USB 3.1's support for Alternate Mode (Alt Mode) video. Alternate Modes allow certain non-USB data and protocols (such as native video) to be sent over a USB-C cable, so you don't need a separate video cable running to your system. Instead, the UD-CUBE enables you to connect your HDMI display directly to the dock and enjoy native level display performances based on the host system's graphics capabilities.
The Cube can be self-powered with the included power adapter or bus-powered by the host computer's USB-C port (no power adapter needed). However, the docking station can't power your laptop. You'll need to keep the original power adapter connected to the system in order charge it.
Also note that The Cube doesn't sport 3.5mm jacks for microphones or headphones.
Despite some shortcomings, if you have one of the following Mac models, The Cube is worth a look: MacBook 12-inch Retina (2016); MacBook Air 2018; 13-inch MacBook Pro (late 2016, no Touch Bar); 13-inch MacBook Pro (early 2018, with Touch Bar); and MacBook Pro 15-inch (late 2016, with Touch Bar). I'm not sure why later models of the 15-inch MacBook Pro aren't compatible. You can contact Plugable at support@plugable.com if your laptop isn't supported.