By now, you've probably made the decision on whether or not you're going to upgrade your iPhone and/or Apple Watch. As an Apple blogger who always needs to get the latest and greatest, I've found that there's a quick and sure-fire way to be one of the first to get the new Apple products. Read on for tips on how to make your buying experience as painless and fun as possible.
1) Apple's Website vs. the Apple Store App
For years, Apple's website was the only way to pre-order new equipment. Like clockwork, once the pre-orders began, the website would slow down to a crawl. The past few years, we've had the option of using the free Apple Store App.
The app is perfect for doing a pre-order, and it doesn't seem to bog down like the website so you should be able to get your order confirmation in a few minutes rather than frantically reloading your browser for an hour as availability of the Jet Black iPhone 7 you wanted trickles away.
Get the app, make sure all of the information in it is current — including shipping address and your payment information — and then go into the virtual store and look at the products you wish to purchase. For example, I want an iPhone 7 Plus 128GB black model that is unlocked and I wish to purchase it on Apple's iPhone Upgrade Program.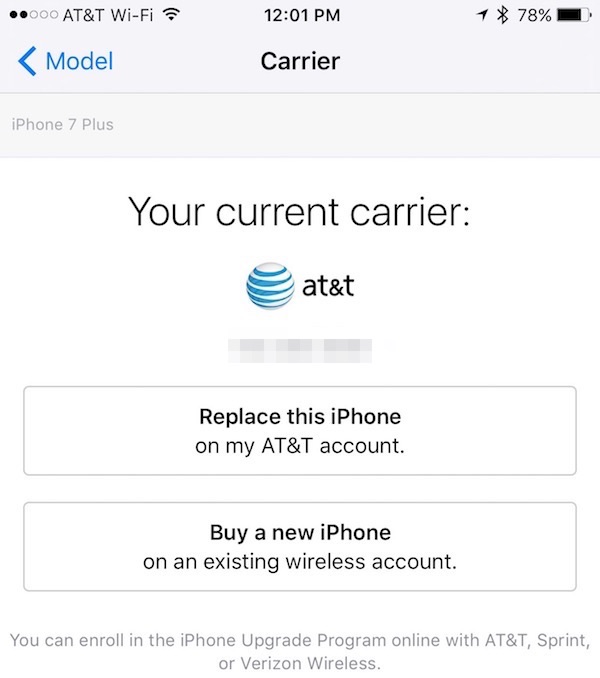 The app takes you step by step through the process. First, you select which model of phone you want, the iPhone 7 or the iPhone 7 Plus. Once you've selected the model, the app knows who your current carrier is and asks if you wish to replace the iPhone on the same account or buy a new iPhone on an existing wireless account. Make your selection, and you're then whisked to a page where the color selection is made.
After that, the next step is to select storage capacity, and it's at this point that the app provides pricing information. For the 128GB model I want, the price is going to be $41.58/month or $869. The app also displays model and pickup availability at your local Apple Store. Tap on the storage tier you want, and you're taken to a "How would you like to pay?" screen. I want an unlocked phone for once, so I'm selecting the Apple iPhone Upgrade Program.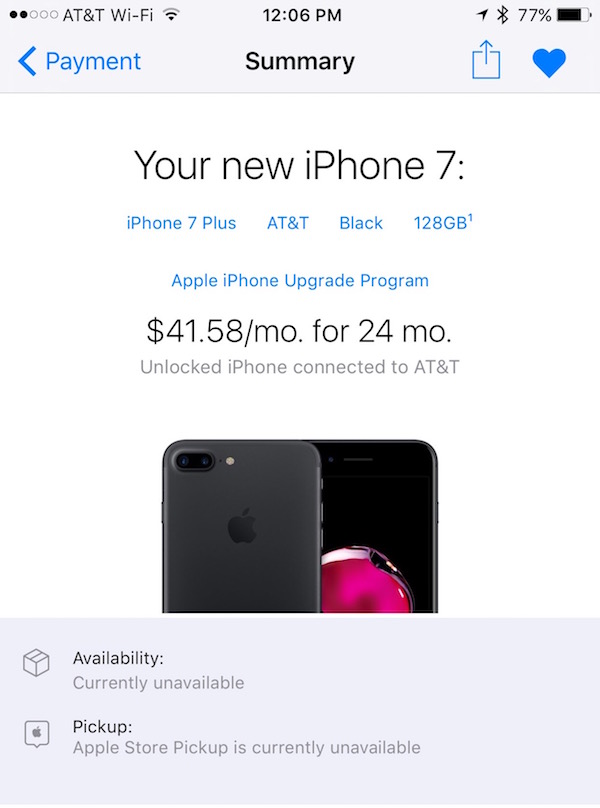 With a tap, I'm taken to a Summary page. Now of course I can't order this now, but I can save all of that information simply by tapping on the favorites button – the heart button in the upper right of the screen. Now when pre-orders open, all my decisions have already been made and all I need to do is make my purchase.
2) Pre-order as early as you can
The second tip is to pre-order as soon as you possibly can. Pre-orders open at 12:01 AM PDT on September 9, meaning that for me I'll be up before 1:00 AM MDT to make my order. Seriously, it helps to be ready to go, as the more popular models — in this case, the 128 GB or 256GB Jet Black models — will sell out quickly. If you wait until your usual breakfast time, you'll probably be out of luck.
3) If you insist on using the website…
Yes, you can still order through the website and we won't think any less of you <grin>. For the iPhone 7 or 7 Plus, just go to http://www.apple.com/shop/buy-iphone/iphone-7 and you can replicate a lot of the pre-order process.
The major difference is after you make the decision on how you wish to pay. There are a pair of buttons that ask if you're already a member of the iPhone Upgrade Program or if you'd like to enroll. Note that if you are already a member, you'll need to take your existing iPhone to the Apple Store on September 16 to trade it in for your new phone. New members? You'll just get your phone.
4) What if I want to see the product in person first?
If you want to see the new product before buying, then ignore the first three bullets in this post. But if you're insistent on getting one of the first new iPhones or Watches on September 16, you're going to need to get in line early at your local Apple Store. Me? I gave up standing in lines a long time ago, and most of the time I have product delivered to me the first day. With the iPhone Upgrade Program, you'll need to make a trip to your Apple Store to make the physical iPhone swap, so keep that in mind.
The bottom line
To sum all this up, if you're really counting on getting your new iPhone or Apple Watch on September 16, you need to pre-order starting at 12:01 AM PDT or your local equivalent. In the US, that's 1:01 AM MDT, 2:01 AM CDT, and 3:01 AM EDT. I'll let the other time zones figure out their own equivalent… The best way to pre-order is to get everything set up and saved as a Favorite in the Apple Store app. Always have a backup ready to go — in other words, if the Apple Store app isn't responding, make sure your Mac or iPad is fired up and ready to go on the Apple website.
Good luck! Tell us how your shopping experience goes!