In a conference call discussing Apple's financial results for its fiscal 2019 fourth quarter that ended Sept. 28, CEO said that Mac revenue was down 5% year-over-year ($6.9 billion for the quarter) because of the release cycle changes. Namely, there were no new MacBook Pros announced during the quarter as happened in the fiscal fourth quarter of 2018.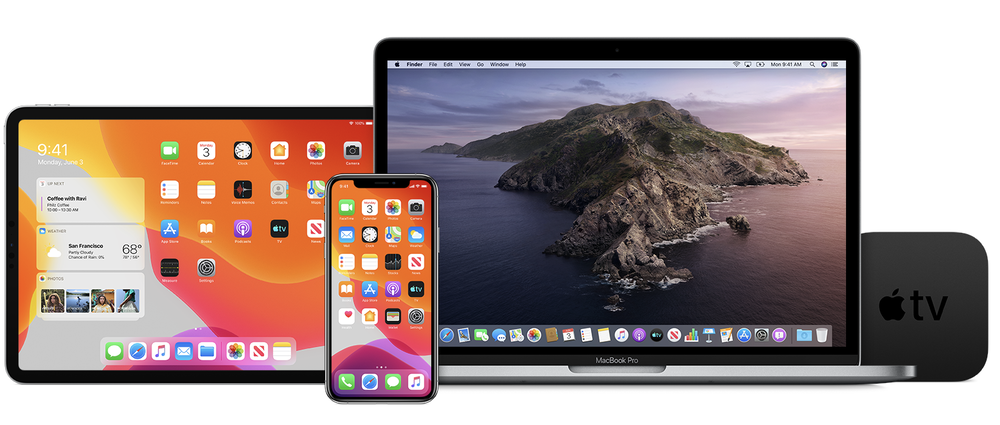 However, he added that the active installed base of Mac users has reached an all time high. Chief Financial Luca Maestri says that over 50% of those buying Macs are new to the platform. (Hmmm, doesn't Apple say that during EVERY press conference in which Apple finances are discussed.)
Also, Tim Cook reiterated that the upcoming Mac Pro will be manufactured in Austin, Texas. However, he didn't say when it will ship.
iPad quarterly revenue was up 17% year-over-year for its fiscal 2019 fourth quarter that ended Sept. 28. Revenue from tablet sales rose from $3.9 billion to $4.6 billion. Maestri said that the iPad active installed base reached new all-time high
iPhone revenue was $33.4 billion, a year-over-year decline of 9%, but certainly a nice improvement over the 12% decline in the third fiscal quarter. Cook says that there's been a "great customer response to the launch of iPhone 11, 11 Pro, and 11 Pro Max." And — guess what — Maestri says the active installed base of iPhone users continued to grow to a new all-time high.
We can probably assume the same thing about the Apple Watch, AirPods, HomePod, Beats headphones, etc. Apple's "Wearables, Home, and Accessories" category set a fourth quarter revenue record of $6.5 billion. 
"The Q4 results for Apple showed a few positive signs," says eMarketer Principal Analyst Yoram Wurmser. "First, iPhones sales following the release of the iPhone 11 look strong, despite the year-over-year drop in revenues. Second, sales in the wearables home and accessories category rose a strong 54% despite the imposition of tariffs on AirPods, Apple Watch and HomePods. That bodes well for the holiday period, when iPhones, iPads and Macs will face the same tariffs. More broadly, the increase in revenues from services indicates that the company continues to diversify its revenue streams to take advantage of the installed base of iOS devices."
The eMarketer research firm also provides the following bullet points:
° Apple's share of smartphone users in the U.S. will remain basically static in 2019, accounting for a 45.2% share.  
° The number of U.S/ iPad users remains stagnant — 79.7 million this year.  In 2019, Apple's share of the tablet market will be 45.6%, down from 46.3% last year.
° In 2019, eMarketer estimates that nearly 53% of Americans will use a tablet at least once a month, totaling 174.7 million people.
° In the UK, Apple is expected to account for nearly 42% of smartphone users this year, a slight increase from 40.5% last year. 
° eMarketer expects there to be 19.0 million iPad users in the UK in 2019, accounting for 50.9% of UK tablet users.
° This year, eMarketer estimates 37.3 million people in the UK will use a tablet at least once per month, nearly 56% of the population.
° This year in the US Apple will earn $22.56 billion in retail sales, which is 13.2% higher than in 2018. This revenue represents 3.8% of total ecommerce sales in the U.S.
° Apple TV is at the bottom of the US connected TV market, behind Roku, Amazon Fire, and Google Chromecast.  This year, 24.6 million Americans will use an Apple TV device, or 12.6% of connected TV users.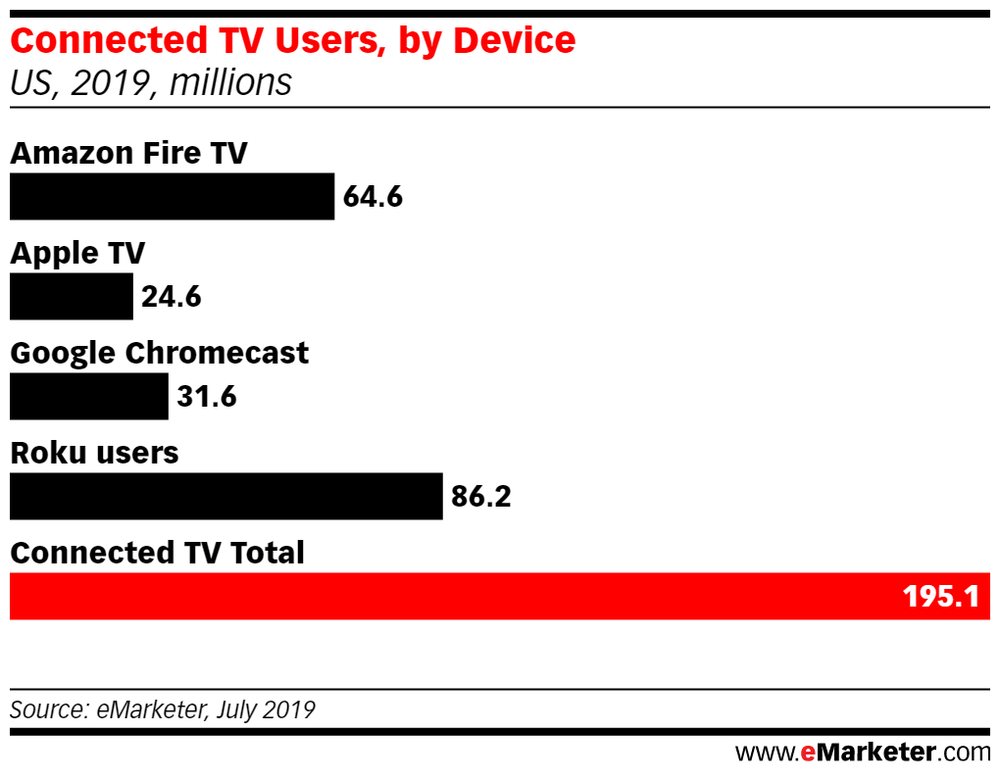 eMarketer's forecasts and estimates are based on an analysis of quantitative and qualitative data from research firms, government agencies, media firms and public companies, plus interviews with top executives at publishers, ad buyers and agencies. Data is weighted based on methodology and soundness. Each eMarketer forecast fits within the larger matrix of all its forecasts, with the same assumptions and general framework used to project figures in a wide variety of areas. Regular re-evaluation of available data means the forecasts reflect the latest business developments, technology trends and economic changes.