Apple's iPadOS 13, which will probably be released in September, will come with lmited mouse support. With that in mind, I've had the opportunity to test drive Tap, a wearable keyboard and mouse that lets you text, control or create custom inputs for any Bluetooth-supported device by simply tapping on any available surface.
This was a hard review to do, as the product just isn't for me; however, some users may find it delightful.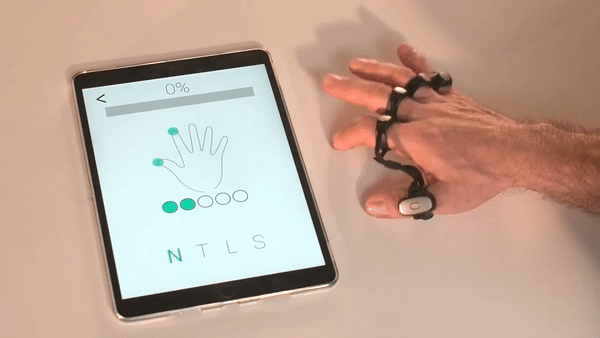 When I first prepared to use the Tap, I had trouble pairing it with either my iPad Pro or my iMac. After repeated attempts, it did pair with the Apple tablet.
Using it was an … interesting … experience. It performs as it's supposed to, but, except for some gaming purposes, I find a standard keyboard and mouse preferable. Perhaps I'm just old school. However, with iPadOS, mouse support is limited, so some folks may like the iPad/Tap combo.
I'm just not one of them.
Each time you tap your fingers, the Tap wearable detects which fingers have tapped and sends a corresponding character or command to your paired Bluetooth device. It works for both right and left handed folks. The Tap Alphabet is defined by which fingers are tapped. For example, a thumb tap is always an "a," no matter which hand you tap with. You just need to choose right or left hand in the TapManager app for each Tap that you're using.
You can use just one, but if you're going to truly try to use the Tap as a keyboard/mouse replacement, you'll need two. That will cost you almost $400, which is a whole lot more moolah than you'll fork out for a typical keyboard and mouse.
That noted, the Tap can register up to 10 inputs per second for a limit of 110 words per minute (WPM) per each tap. It supports all of the printable characters on the keyboard, including delete and enter. You can even customize your Tap inputs to meet your specific needs, including modifier strings like CTRL+C.
However, the Tap doesn't support QWERTY, the keyboard design for Latin-script alphabets. Why? QWERTY requires that you place your fingers in specific positions, and you always have to use the Tap Alphabet.
Whenever the Tap's built-in mouse glider is in contact with a surface, Mouse Mode is on. With the TapManager app, you can enable the latter to be active at all times in case you want to use the Tap solely as a mouse rather than as both a mouse and keyboard.
There are two sizes of the Tap. The Tap Strap is is adjustable, so each size fits a range of hand sizes. The large size is recommended for medium to large hands, and the small size is recommended for medium and small hands. You can find the size guide for instructions on how to measure hand width by clicking here.
The Tap's LED has three modes: paired (slowly blinking at one flash every two seconds), unpaired (quickly blinking at two flashes per second), and charging (slowly glowing in a "breathing" pattern).
You can also use your Tap as a mouse and keyboard with your Mac if it's running macOS 10.10 or higher.
The Tap is available at TapWithUs.com or Amazon.com for $199 and is $25 off right now for back to school.
Like I say, this is a truly different input experience. This dinosaur never got comfortable with it, but your mileage may vary.
Apple World Today Rating (out of 5 stars): ★★★