A survey by Business Insider of 1,022 iPhone users find that most want the upcoming Apple Card, which was announced by Apple this week.
Forty-two percent of iPhone users are "extremely interested" in applying for Apple Card. Additionally, just below 15% of respondents show no interest at all, pointing to the product's broad appeal ahead of its planned launch this summer.
Business Insider says that positive early consumer response indicates that the card could boost Apple's standing in the consumer payments space. Apple Card's ability to combine a luxury feel with accessible and affordable benefits "could open up a niche for the firm, and other issuers should take note," the publication adds.
Survey respondents noted the card would make them more likely to pay with Apple Pay. Nearly 8 in 10 customers would be more likely to pay with their phones if they had Apple Card.
Coming this summer, it will be built into the Apple Wallet app on the iPhone, allowing customers to manage their card right on the smartphone. Jennifer Bailey, vice president of Apple Pay, says the Apple Card transforms the entire credit card experience by simplifying the application process, eliminating fees, encouraging customers to pay less interest and providing a new level of privacy and security. It also offers a clearer and more compelling rewards program than other credit cards with Daily Cash, which gives back a percentage of every purchase as cash on customers' Apple Cash card each day, she adds.
When it arrives, customers will be able to sign up for the Apple Card in the Wallet app on their iPhone in minutes and start using it with Apple Pay right away in stores, in apps or online worldwide. Apple Card gives customers real-time views of their latest transactions and balance right in Wallet, and Apple Card support is available 24/7 by sending a text from Messages.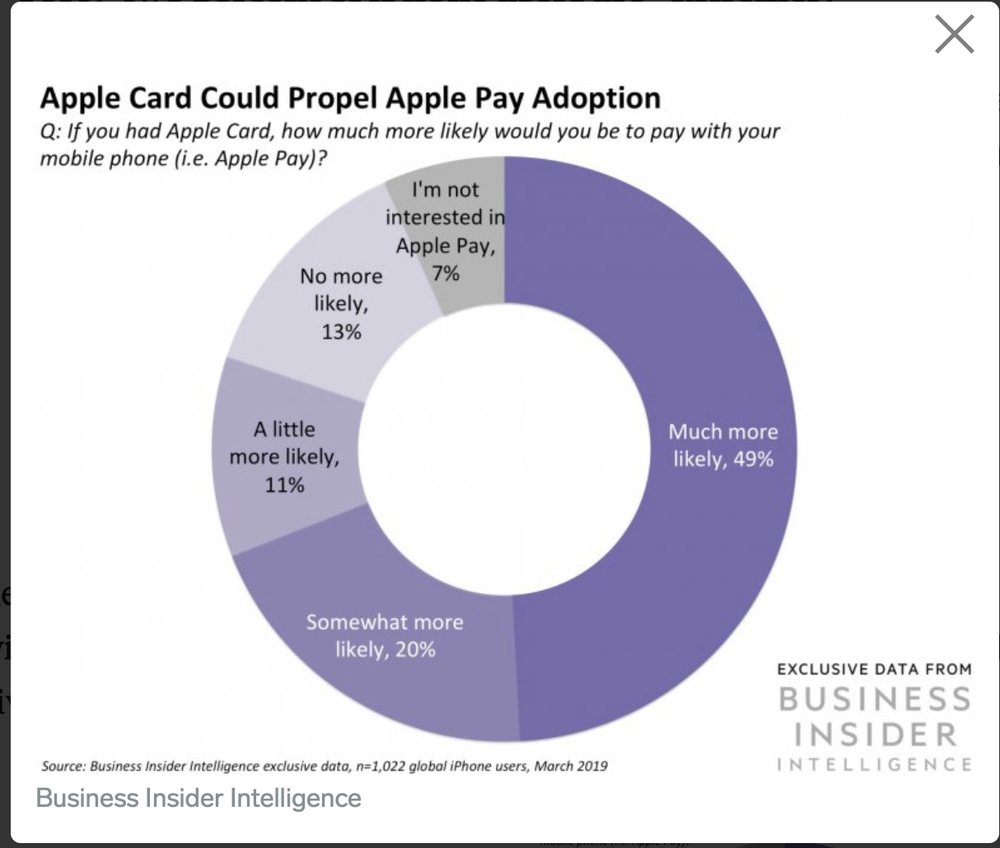 Apple Card uses machine learning and Apple Maps to clearly label transactions with merchant names and locations. Purchases are automatically totaled and organized by color-coded categories such as Food and Drinks, Shopping and Entertainment. To help customers better understand their spending, Apple Card provides weekly and monthly spending summaries.
Customers will receive a percentage of every Apple Card purchase amount back as Daily Cash. Unlike other cash back rewards, Daily Cash is added to customers' Apple Cash card each day and can be used right away for purchases using Apple Pay, to put toward their Apple Card balance or send to friends and family in Messages.
Every time customers use Apple Card with Apple Pay, they will receive 2% Daily Cash. Customers will also get 3% Daily Cash on all purchases made directly with Apple, including at Apple Stores, on the App Store and for Apple services.
There are no fees associated with Apple Card: no annual, late, international or over-the-limit fees. Apple Card's goal is to provide interest rates that are among the lowest in the industry and if a customer misses a payment, they will not be charged a penalty rate, says Bailey.
Apple Card will show a range of payment options and calculates the interest cost on different payment amounts in real time. As a way to pay less interest, Apple Card will also suggest paying a bit more every month and offers the flexibility to schedule more frequent payments.