Early adopters of the iPhone X are very satisfied with the device, according to a new survey of iPhone X owners by Creative Strategies. However, they aren't as enthusiastic about Siri, Apple's "personal digital assistant."
When it came to overall customer satisfaction, iPhone X owners in the Creative Strategies study gave the product an overall 97% customer satisfaction and 85% of iPhone X owners said they were very satisfied with the product. That number is amongst the highest Creative Strategies has seen in all the customer satisfaction studies it has conducted across a range of technology products.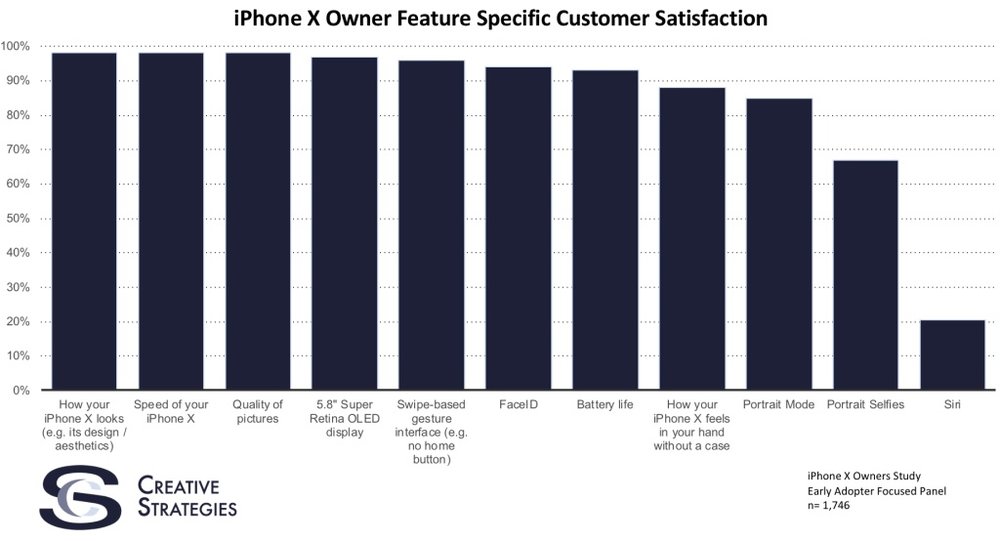 Looking across the board at satisfaction for the main features of iPhone X, it appears Apple has nailed the benchmark features. Ben Bajarin of Creative Strategies says it was encouraging to see the two major behavior changing features of iPhone X in the new home button-less UI, and FaceID itself ranked an over 90% customer satisfaction. Toward the latter end of the curve were both portrait photos and portrait selfies. Then there was Siri, which only tallied around a 20% customer satisfaction rating.
"Overall, the data we collected around iPhone X show that if Apple is truly using this product as the baseline for innovation for the next decade, then they are off to a strong start and have built a solid foundation," Bajarin says. "The big exception still being Siri, but I'm optimistic Apple is making changes to the priorities around Siri and am hopeful we will see progress here in the next few years. If Apple can bring Siri back to a leadership position and in combination continue to build on the hardware and software around iPhone X base foundation, then they will remain well positioned for the next decade."
---
Like this article? Consider supporting Apple World Today with a $5 monthly Team AWT membership.