TiVo has released findings from a sponsored survey of pay TV and over-the-top (OTT) service subscribers in the U.S., Europe and Asia. The global study is a follow-up to Rovi's 2015 consumer survey, delving deeper into how viewers engage with content and explore the services and devices that make up their entertainment lifestyle.
Above all, this year's survey revealed that viewers continue to feel the shockwaves of an industry that is undergoing a significant transition. Ensuring predictable ongoing engagement of audiences, once the hallmark of a successful television series, may be becoming much more challenging.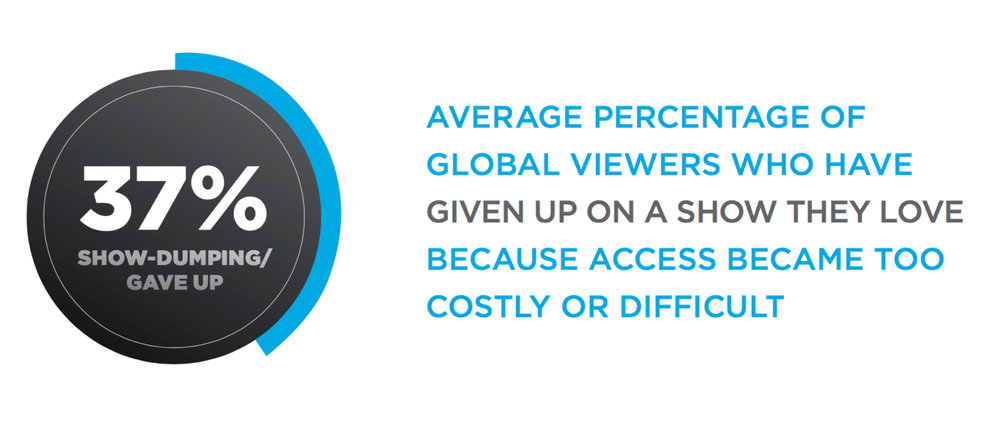 The survey revealed that while consumers continue to consume significant hours of entertainment content daily, their viewership is becoming potentially more transient, with many viewers "show dumping"—giving up on shows they love because it became too difficult and/or costly to access them.
Thirty-seven percent of global viewers have stopped watching a show they previously enjoyed because it became too difficult to access the content. Shows most cited as ones which respondents had stopped watching are ones that generally require a premium pay-TV package, are only available through paid OTT and/or are unavailable on OTT services that aggregate content
On average, respondents spend four hours each day watching or streaming video content and an additional 19 minutes per day searching for something to watch, with the U.S. average eclipsing the global average with more than 5.5 hours of viewing time per day.
"Cord shaving" continues to be more predominant than cord cutting, with more consumers considering downgrading pay-TV packages as they are supplementing their services with subscription OTT and streaming media devices.
On average, 11% of all global respondents say they are extremely likely to downgrade their service instead of canceling, while 8% say they are extremely likely to cancel their pay-TV service in the next six months. Not surprisingly, the results in the U.S. were significantly higher than the global average. A staggering 21% stated they are extremely likely to cord shave and downgrade their pay-TV service, while only 13% are strongly considering cutting the cord all together.
Multiple points of access for OTT [over-the-top] is now the norm with 58% of respondents reporting they already pay for more than one subscription streaming video service and 45% reporting that they have more than one streaming media device in their home.
While Netflix is one of the most popular SVOD services across multiple regions, the race for leadership in the streaming media device space is not yet settled. Of the respondents who pay for streaming services, 81% in the U.S. report having Netflix, with another 69% in the UK, 64% in France and 385 in Germany
Amazon Prime Video is also faring well globally, with 50% of respondents in the U.S. subscribed, as well as 49% in the UK, 61 percent in Germany and 28% in Japan.
Reported ownership for media streaming devices, such as Roku, Amazon Fire, Google Chromecast and Apple TV, mostly fall in a tight band with similar results of 20-30% for each device brand in available regions
Roku emerged as the device of choice for U.S. cord cutters and "cord nevers," with reported ownership of 38% versus less than 20% reported for each of the other streaming media device brands with the same audience
Overwhelmingly, consumers feel there is much room for improvement when it comes to search and discovery. Millennials, in particular, showing the strongest desire for better discovery solutions. Since they are the generation consuming the most content across the most platforms, this implies that Millennials clearly translate better discovery into a value proposition which attracts them to the video services they use, according to TiVo.