SpriTec Software's SuperTab, a Mac utility application designed to enhance and extend the Mac's built-in Command-Tab Application Switcher, has been called a "floating Finder" — and with good reason. It provides Finder features and an app launcher at your fingertips.
Without SuperTab, the App Switcher only allows you to access your currently active apps. With the SpriTec app installed, you have access to a lot more.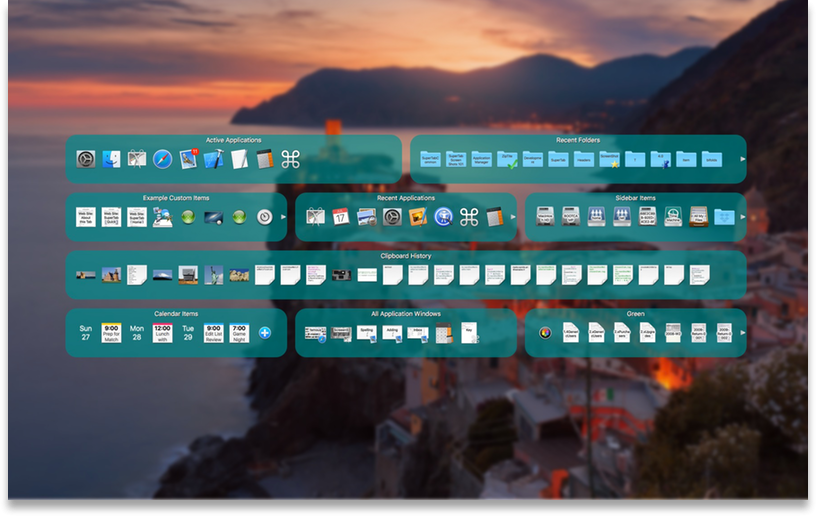 After you've downloaded and installed SuperTab, you'll need to grant access to "SuperTab.app" in the Security & Privacy settings to take advantage of all its features. To do this, open the Systems Preferences app and click the "Security & Privacy" icon.
Click the "Privacy" Tab. Click "Accessibility." If it's locked, click the lock in the lower left, then enter your password. Check the box next to "SuperTab.app." Now you're ready to go.
Press the Command and Tab keys, and the translucent SuperTab interface appears on your Mac's screen. It floats above your open windows and give you access to Tab Rows of: active apps; recent apps; recent documents; Dock items; labeled or tagged items; Finder Sidebar items; folder contents; application windows; websites; and more.
You can also go to the SuperTab prefs pane (located at the bottom of the System Preferences app) and select a "hot corner" to activate SuperTab. Move your mouse to any corner of the main screen that you designate and the app will open. That's my preferred method of launching SuperTabs, and I'll explain why in a moment.
You can navigate the SuperTab interface with the arrow keys on your keyboard or by mousing around the interface elements. The SpritTec app offers you control over your active applications. You can right-click (or control-click) on any item in any Tab Row to access its configuration menu. From there you can configure any app to:
Automatically open itself to make sure it's up and running when you need it;

Automatically hide itself after it's been in the background for a time period that you determine;

Automatically quit itself after it's been idle for a for a time period that you determine.
You can use SuperTab to automatically prevent System Sleep or Screen Saver activation when it's the foreground application. You can use the app to assign custom Hot Keys to any file, folder, application or web site. You can add Finder tags, add an item to the Dock, remove an item from the Dock, create a desktop alias, and more. All these options are available by right-clicking (or control-clicking) an item in a Tab Row.
What's more, you can drill down into the contents of any folder to locate a file. The folder will remember the last eight items accessed; the next time, those files will be ready and waiting for you.
Another sweet touch: SuperTab lets you add as many clipboards to the App Switcher as you want. From there, just select a clipboard item, and it places its contents on the Mac's Clipboards so you can easily paste it. Or you can configure the clipboard item so that selecting it instantly pastes its contents for you.
Another sweet touch, part II: You can add any number of Web Site Bookmark items to the App Switcher. You can specify which browser each website should open in. You can even indicate if each item should open in a new tab or a new window.
SuperTab is a polished app, but there are still a few improvements I'd like to see. For example, when I Command/Tab to open it, tabs in the Tab Rows automatically and sporadically cycle through a highlighting phase (in which an icon is highlighted for a second, then the next one lights up, then the next, etc.). It doesn't do this if you use the hot corner activation, which, as mentioned, I prefer.
Also, you can't add or remove to a Tab Row via drag and drop (though this is planned for a future version of SuperTab). However, you can rearrange items in a Custom Tab Row via drag and drop. Also, you can copy items in a Custom Tab Row to another Custom Tab Row by right-clicking on an item and choosing Copy to Tab Row and indicating which Tab Row to copy it to.
Despite a couple of items that need a bit of spit and polish, SuperTab is a useful Mac utility that offers the convenience of not only a "floating Finder," but also of a "multiple Docks" feel.
A demo is available to download and is fully functional for 30 days. After 30 days, it remains fully-functional but will occasionally ask users to register. Registration is $20. SuperTab is compatible with macOS 10.8 or higher.
Hello, World! p>