Super Mario Run is already half way to projected first month download and revenue totals, according to Sensor Tower Store Intelligence data. The game surpassed 25 million worldwide downloads in its four-day opening weekend of Dec. 15-18, while earning more than $21 million in global gross revenue during this same period.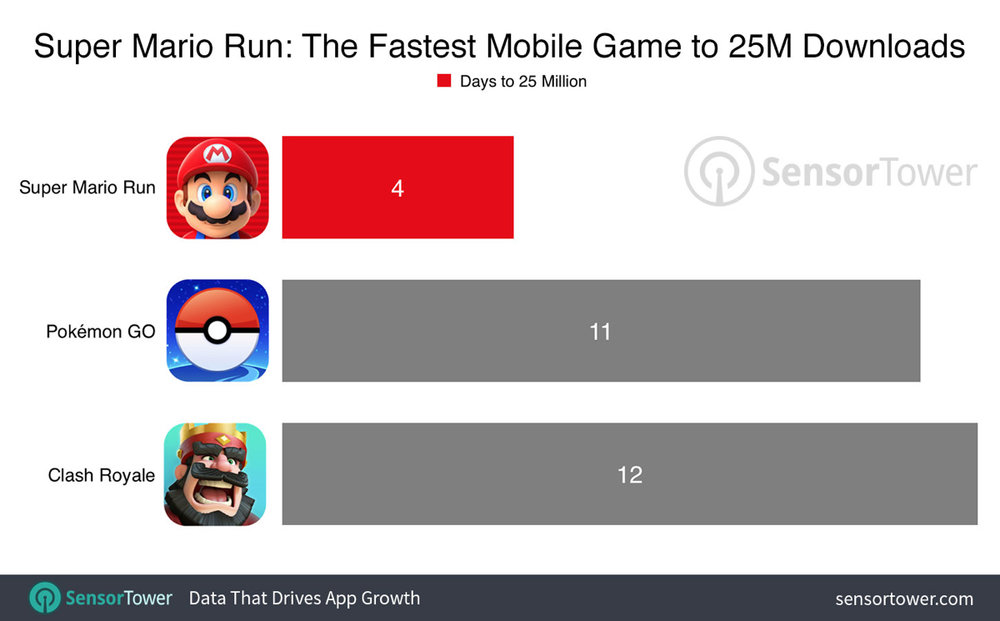 Nintendo's title reached the 25 million installs milestone faster than any previous mobile game, a feat that we've visualized in the following chart. Pokémon GO, which previously held the record for fastest mobile game to 25 million downloads, took 11 days from its July 6, 2016 launch to reach that point—seven days longer than Super Mario Run. As of this writing, the iOS-only game remains No. 1 for iPhone downloads in 75 of the 80 countries where it's ranking, and No. 1 for revenue in 23.
Super Mario Run can be downloaded from the App Store at no cost, and players can try elements of the game's three modes for free. Once the game has been downloaded, a one-time payment of US$9.99 will grant unlimited access to each of the three modes in this release. Super Mario Run is compatible with iPhone, iPad and iPod touch devices running iOS 8.0 or later.