Hey, Apple, here's your chance: 61% of Windows users would switch to Mac OS X for more privacy, according to a new survey by OnePoll on behalf of security and privacy advice and comparison website Comparitech.com. Evidently, there's a lot of concern about the amount of data Microsoft collects via the Windows Store.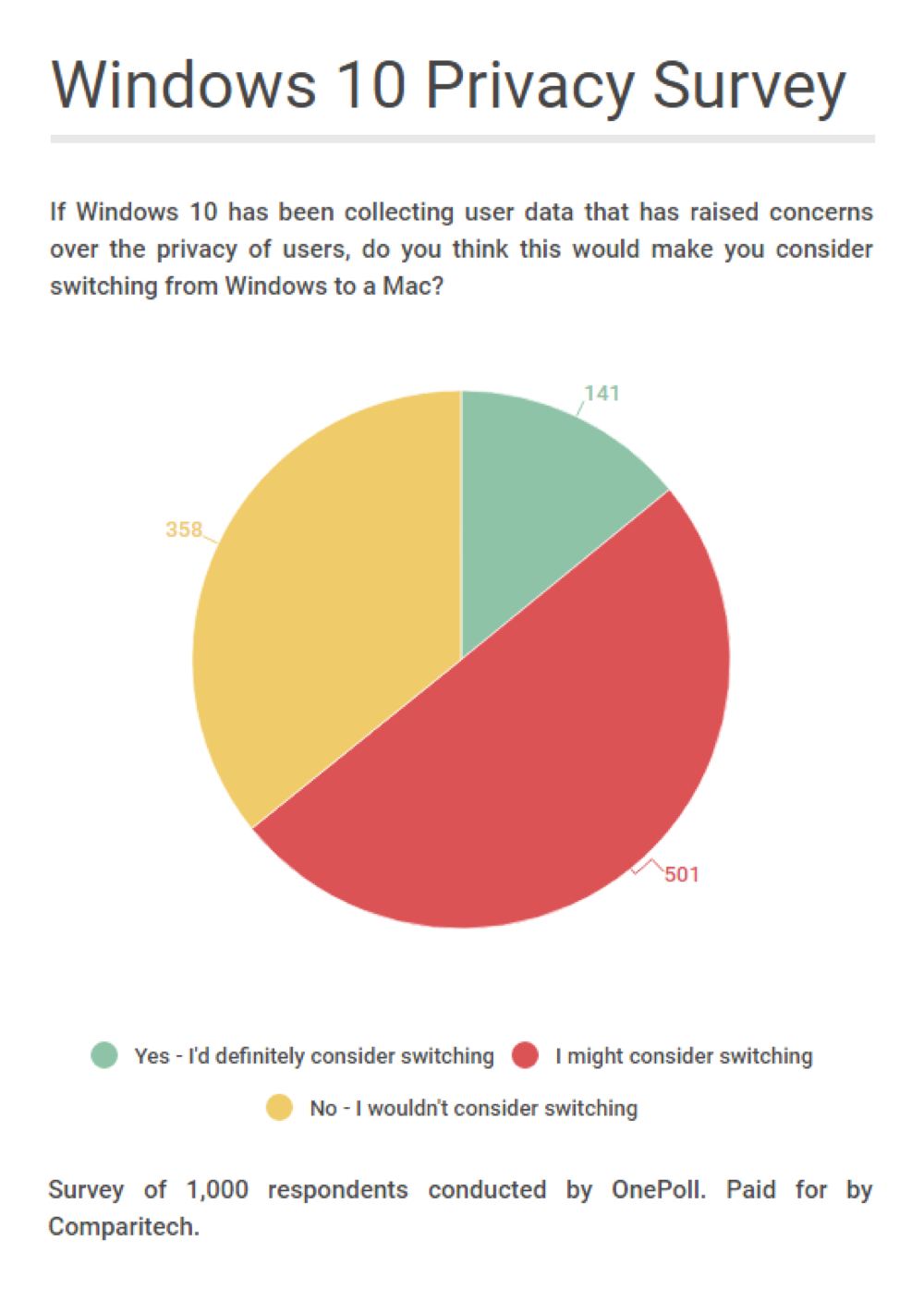 In the UK the figure is even higher at 67%, with 15% saying they would definitely consider swapping. Only 33% in the UK and 39% in the U.S. say that they wouldn't contemplate switching operating systems.
OnePoll questioned 500 people in the U.S. and 500 in the UK. The poll asked each of the Windows users if Windows 10 collecting user data that raised concerns about their privacy would make them consider a switch. Slightly over 14% responded definitely, and 50.1% said it might.
The poll results come shortly after France ordered Microsoft to remedy multiple privacy failings in its newest operating system. The French National Data Protection Commission cited three specific cases where it found the operating system's collection of user information to be excessive:
The Windows Store collects data on the apps users download and time spent on each one without permission;
Windows 10 installs an advertising identifier by default, which allows Microsoft to monitor browsing and target users with ads;
The Windows Store authentication, which allows users to set a 4-digit PIN in lieu of a password, does not restrict the number of attempts to enter the correct code.
All of these issues set off alarms among privacy experts shortly after the operating system was released just over a year ago, so while France's order is new, the problems with Windows 10 aren't, notes Comparitech.
Users aged 18 to 24 years old were the most likely to definitely consider switching according to the OnePoll and Comparitech survey; 71.74% say they either would definitely (23.91%) or might (47.83%) consider switching to Mac. The 35-44 year-old age bracket had the fewest number of loyal Windows users who wouldn't consider a switch at all, 24.46%, compared to 28.26% in the 18-24 bracket.
As the age of respondents increased, the chance of them being swayed by privacy concerns decreased. Among Windows users aged 55 and up, 56% said they would definitely (9.3%) or might (47.09%) consider switching to Mac.
Men are more likely than women to rule out a switch to Mac despite privacy issues with Windows 10 (39.29%), however more men also say they would definitely consider a switch (15.62%). Slightly fewer women say they would definitely consider buying a Mac (13.10%), but fewer would rule it out altogether (33.5%).
---
Cases For The Brand-new iPhone SE Are Now Available at OtterBox.com!