If Apple is going to really push its HomePod, now is the time. There will be more U.S. homes with smart speakers than without by the end of next year, according to the latest projections from Strategy Analytics.
The research group predicts that the 50% threshold will be reached in late 2020, and the U.S. will be the first country in the world to reach this level of smart speaker ownership. Strategy Analytics predicts that by the end of 2023 eight countries will have a majority of smart-speaker owning households. The research also predicts global sales of more than 134 million smart speakers and screens in 2019, rising to 280 million by 2024.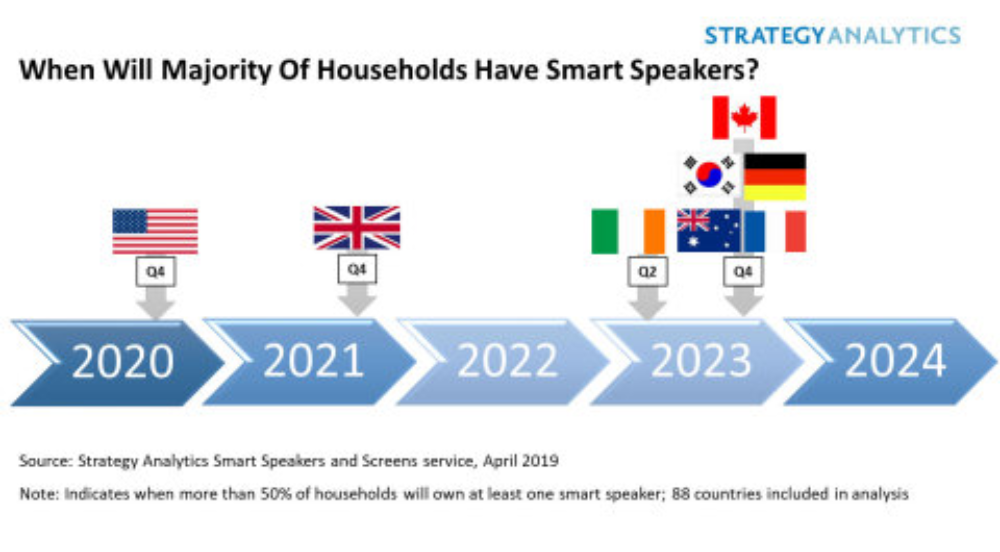 The other countries reaching the 50% threshold in the next four years will be the UK, Ireland, Canada, South Korea, Australia, Germany and France. Widespread availability of apps and services in major languages is a key factor behind the success of smart speakers in these countries. Other markets, where less familiar languages are used, will tend to track behind the leading nations in smart speaker adoption, according to Strategy Analytics.
"As we approach the point where smart speakers become commonplace, marketers no longer have any choice but to incorporate this technology into their communications strategies," says David Watkins, a director at the research group. "Voice interaction will become way of life for the majority of the population in many major countries, and this represents new opportunities for brands and businesses to create improved customer relationships."