Apple co-founder Steve "Woz" Wozniak, theoretical physicist and futurist Dr. Michio Kaku, as well as 20-plus AI experts from companies such as Square, NVIDIA, and others, will speak at AI Deep Dive. It's an artificial intelligence-focused event at Money20/20 in partnership with Feedza.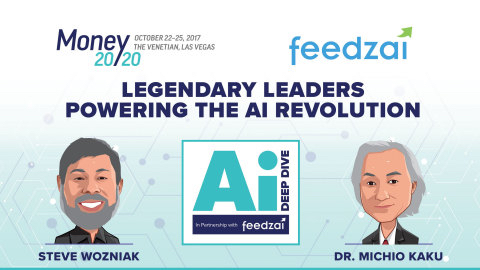 "Artificial intelligence is going to help us have better human lives," says Wozniak. "To do that, it requires bringing together, at events like AI Deep Dive, the real people behind the technology. I am looking forward to speaking at this year's event to the creators, thinkers and doers who are shaping this technology."
AI Deep Dive takes place 9 a.m. to 3 p.m. on Sunday, Oct. 22, to kick off the 6th annual Money20/20 conference, which is held from Oct. 22 – 25 at The Venetian, Las Vegas. Last year's Money20/20 was attended by 11,000+ Payments and Financial Services industry leaders from around the world.