StarTech has released two new additions to its line of Sit-Stand Workstations: a monitor arm that attaches to a desk and a wall-mounted desk. I've had a chance to test drive the $520 Sit-Stand Dual-Monitor Arm, which lets you swing a workstation from left to right, up or down.
Some research has determined "sitting disease" as the cause for numerous health issues. The 90-degree sitting position that many of us take on for hours on end during the work week may be a cause for concern.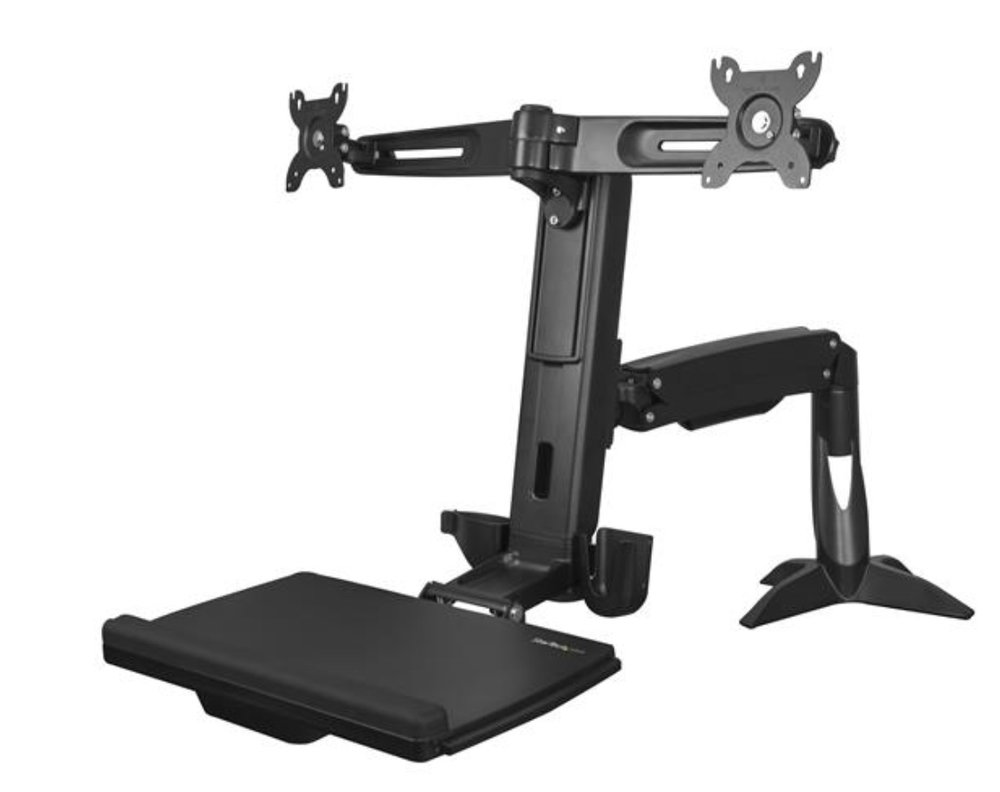 Eighteen research studies in which almost 800,000 men and women participated show that people who live a sedentary life, largely sitting at a desk for hours on end every day, have a significantly higher risk of diabetes and cardiovascular disease.
Other studies cast doubt on those results, but you can read a good article about all this here. Either way, all Apple employees now get standing desks as CEO Tim Cook believes "sitting is the new cancer."
So if you want to play it safe, or want to work like an Apple employee, the Sit-Stand Dual-Monitor Arm is a viable, if pricey, option. It's designed to allow you to work while optimizing space and comfort levels specific to your needs.
The Sit-Stand Dual-Monitor Arm can hold a monitor, bar-code scanner, keyboard, wrist rest and mouse, all on the same arm. Its VESA monitor mount allows for – 90 degrees to 90 degrees swivel and -5 degrees to 35 degrees tilt, as well as 360 degrees monitor rotation for landscape or portrait viewing.
It provides one-touch height adjustment up to 17.7 inches for the monitor and 17.2 inches for the wall mount. There's separate height adjustment for a monitor mount of up to 4.9-inches and a folding (up to 90 degrees) keyboard tray. You can adjust your working position in one smooth motion.
There's support for two monitors up to 24-inches with a weight capacity of 17 pounds. Sadly, that makes it incompatible with my 27-inch iMac, which weighs 21 pounds.
Also, note that you're going to have to spend some time and effort attaching the wall plate to a wall. You have to make sure that you're attaching it to an area that's strong enough to support the workstation. Also, the mounting hardware included might not be adequate for some wall structures. If you have doubt about either of these scenarios, plan on paying a construction pro to install the wall plate and workstation for you.
That said, the Sit-Stand Dual-Monitor Arm is great for areas that don't have space for a traditional sit-stand desk. If you don't have the money for such a product, you could try a simple solution: set a timer on your Mac, iPhone, iPad, or Apple Watch for 50 minutes. When the alarm goes off, get up and walk around for five minutes or so.
Apple World Today Rating (out of 5 stars): ★★★★
---
Like this article? Consider supporting Apple World Today with a $5 monthly Team AWT membership.