STACKED has launched three new products for its wireless charging ecosystem: that deliver power, unleashed: the 360° Speed Case Bundle for iPhone 6/6s and 6/6s Plus; the new Audio Pack; and the 360° Car Charger.
At the center of the STACKED system is a wireless 360° speed connector that charges and syncs an iPhone faster than any other method, according to STACKED CEO Danny Guez. This proprietary wireless charging technology is built into each STACKED case, battery pack, wall charger, audio accessory and dock.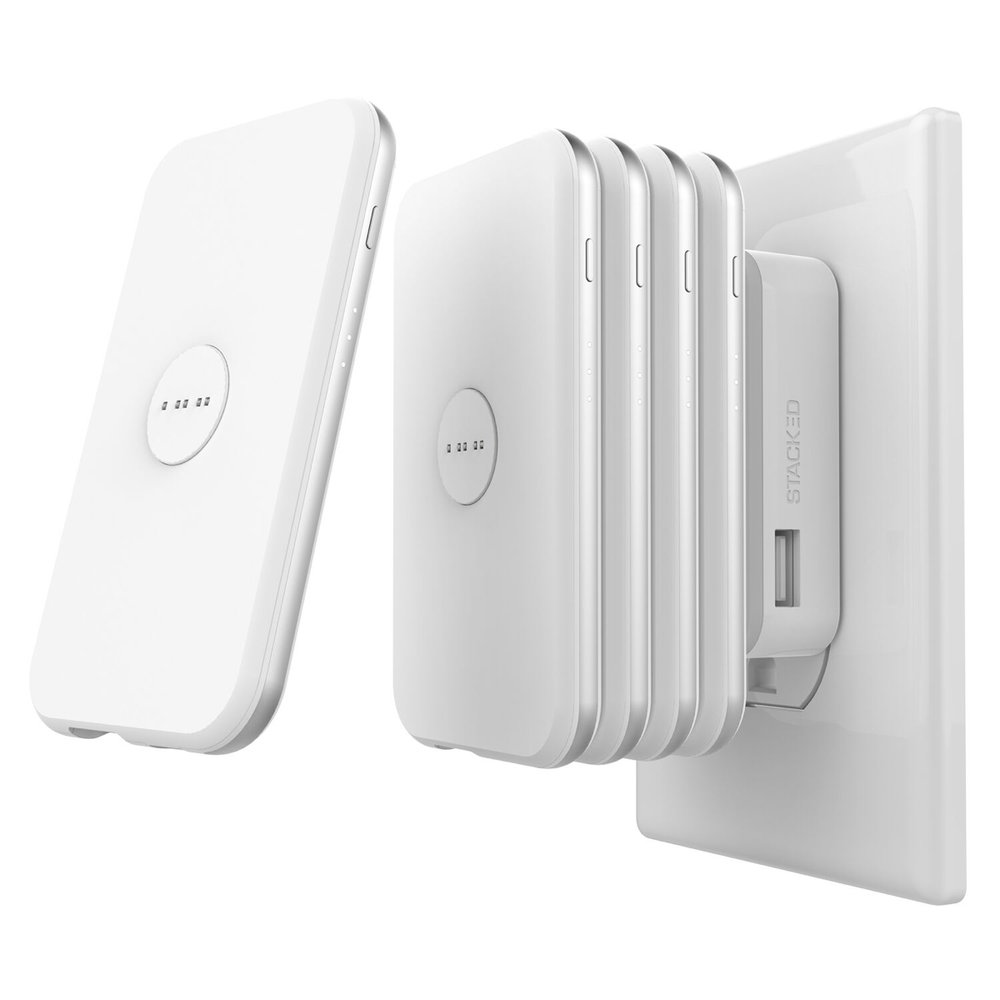 When the phone is in the low-battery zone, users simply "click" a battery pack securely to the protective case. Once charged, remove the pack to lose the deadweight.
In time for the holidays, STACKED created a bundle that includes the Generation 2 360° Speed Case for the iPhone 6/6s and 6/6s, a 2000 mAh battery pack, and an AC magnetic wireless charging wall plug. At 10.7 mm and 38g, STACKED's 360° Speed Case has been slimmed down to the essentials: simple, wire-free charging and phone protection.
The iPhone pops into the one-piece case, which features a patented slide lock. STACKED's external 2000 mAh wireless battery pack magnetically attaches and self-aligns to the 360° Speed Case, purportedly charging at 98% efficiency. The AC Wall Charger stacks and charges up to five battery packs at once. Once fully charged, users simply remove the case from the battery pack. Should they want to use the wireless battery pack as a portable charger, the battery features a USB port.
The Speed Case bundle for the iPhone 6/6s and 6/6s Plus is available now in black/black and white/space grey for US$99.99. The Speed Case Bundle for the iPhone 7 and 7 Plus will be available in black/black and white/space grey in December for $99.99.
The Audio Pack speaker magnetically connects to a 360° Speed Case, amplifying the iPhone's audio and eliminating the need for a separate portable Bluetooth speaker. It packs two 30 mm drivers and 4W performance. It also has built-in Bluetooth for wireless audio. Its integrated kickstand allows users to utilize their phone in landscape mode to watch videos or play games with enhanced audio quality. The Audio Pack will be available in black or white for $69.99 in December.
The 360 Car Charger is an in-car solution/universal mounting that works in tandem with the 360° Speed Case. Both products magnetically attach to each other, creating a secure connection for an iPhone that's adjustable in portrait or landscape viewing angles. The 360° Car Charger — available now for $49.99 — securely clips into a vehicle's air vent to instantly stack and charge a phone while on the road.