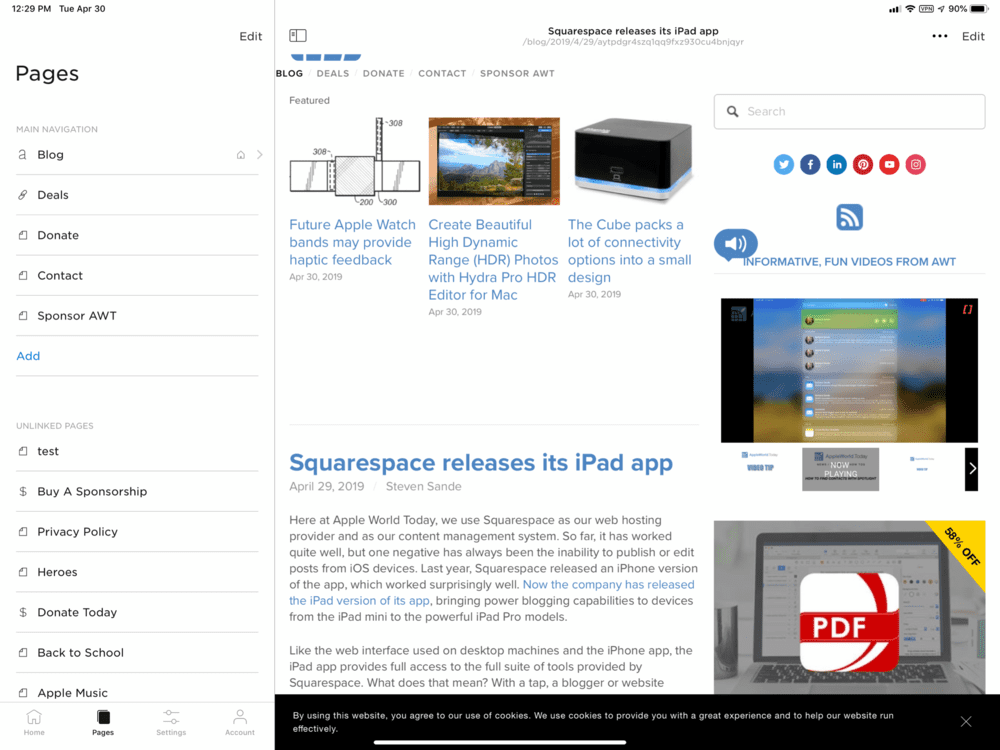 Here at Apple World Today, we use Squarespace as our web hosting provider and as our content management system. So far, it has worked quite well, but one negative has always been the inability to publish or edit posts from iOS devices. Last year, Squarespace released an iPhone version of the app, which worked surprisingly well. Now the company has released the iPad version of its app, bringing power blogging capabilities to devices from the iPad mini to the powerful iPad Pro models.
Like the web interface used on desktop machines and the iPhone app, the iPad app provides full access to the full suite of tools provided by Squarespace. What does that mean? With a tap, a blogger or website administrator can add blocks for text, Markdown, formatted quotes, images, videos, and code and audio embeds. Images can be set up as collages, stacks, overlapping, or as posters or cards. Have a gallery of images? There are four separate formats for those.
All of those blocks are drag and drop. Tap the "plus" button, select a block, and it appears at the bottom of the current post. With a tap and drag, the block can be moved wherever needed.
At the bottom of the edit screen is a full bar of formatting options; making text bold or italic, adding links, aligning text left, right or center, adding one of four standard styles (normal plus three headings), adding numbered or plain lists, indenting or outdenting text, and more.
For bloggers who want to see what their post is going to look like when it goes live, there's a button in the upper right corner of the screen that displays the page as it will appear on a desktop/laptop, a tablet and a smartphone. The editor itself is fairly WYSIWYG, showing ads and other page elements just as they will appear on the published blog post.
On the 12.9-inch iPad Pro (2018), the app is lightning-fast and very stable. Squarespace has come a long way since the first iOS app, which was — in my learned opinion — pretty much worthless. For a person like myself who has always wanted to do all of his mobile work on an iPad Pro, this one app fills a huge gap. The app is free, but requires a Squarespace account to use.
There are still a few bugs in the app, but I'm confident they will be resolved quickly. For example, tapping the … button while working on a blog post should bring up settings for the post like adding tags and categories, creating an excerpt, and adding a post image. Instead, it brings up the settings for the blog page — definitely not the same. The app also needs to support Touch ID or Face ID for authentication and quick login.
UPDATE (5/3/19): Success! The team did fix the blog post setting issue! Excellent turnaround on the fixes.