Spigen is releasing their Mag Series line of accessories to cater to Apple's MagSafe feature in the iPhone 12 line-up.
MagSafe is the wireless charging tech/product that debuted with the iPhone 12 line-up. According to Apple, MagSafe improves wireless charging for a better, more efficient experience and introduces an ecosystem of easy-to-attach accessories that complement iPhone 12 Pro models. The tech giant says it "delivers a unique experience to iPhone, featuring an array of magnets around the wireless charging coil, optimized for alignment and efficiency, that perfectly connects to iPhone every time."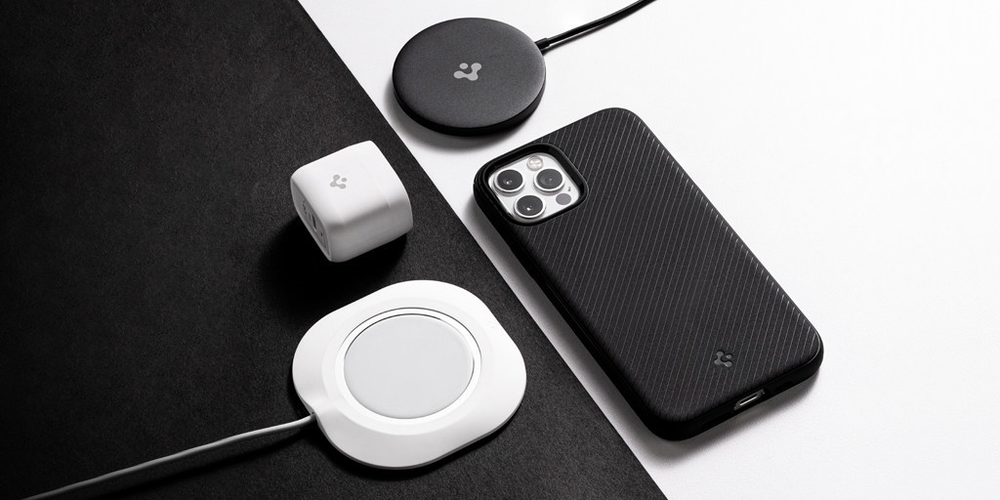 The US$21.99 Mag Armor is Spigen's first case embedded with a magnetic ring for compatibility with Apple's MagSafe ecosystem. This case features a design inspired by Spigen's Liquid Air Armor.
Despite its thinness, Spigen's integration of their Air Cushion Technology gives Mag Armor extra durability, without sacrificing any sleekness, according to the folks at Spigen. You should note that due to the material of Mag Armor, a circular imprint may become visible with use.
PowerArc, the power accessory extension of Spigen, is releasing two new products designed specifically for the iPhone 12 series. The $20.99 ArcStation Pro is a small foldable 20W charger that utilizes GaN Technology.
PowerArc's $31.99 ArcField is a magnetic wireless charger compatible with MagSafe. Crafted with an aluminum body, ArcField helps is designed to reduce the heat generated through charging. It's designed to be used in conjunction with the ArcStation Pro (but isn't compatible with the Mag Fit stand.)
Mag Armor, Mag Fit, and the ArcStation Pro are all available on Amazon starting now, while the others are available for pre-order.