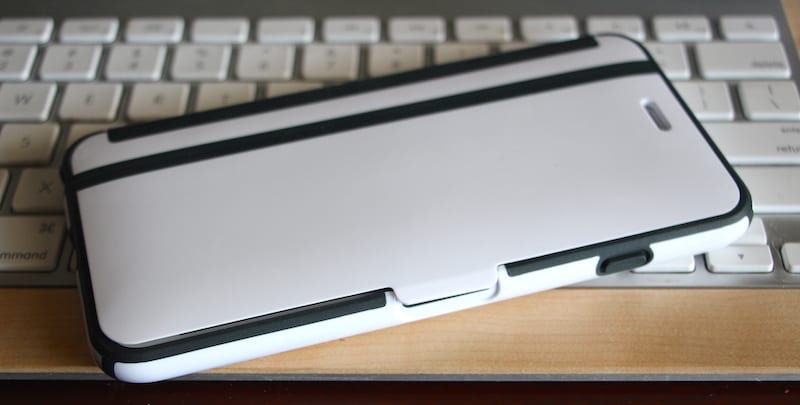 My iPhone 6 Plus spends most of its time in one of two places: the left front pocket of my pants or on its charging stand at night. It's fairly well protected, and I'm careful to never put anything else in that pocket that could scratch the phone. If you're one of those people who throws your iPhone into a purse, backpack, briefcase, jacket pocket or glove compartment where it could easily be scratched, you might want to consider Speck's new CandyShell Wrap case for iPhone 6 (US$49.95) and iPhone 6 Plus ($59.95). However, I found the cases to be too expensive, slick and clumsy to be worthy of a good rating.
Design
Think of one of Speck's great see-through shells for the MacBook line and you're very close to the idea behind the CandyShell Wrap. Although the cases aren't see-through (I wish…), they have a folding flip cover that provides protection from scratches and drops everywhere, not just on the back and sides.
The CandyShell Wrap comes in three different color combos: white/black, black/slate gray, and palerose pink/cabernet red. There's a clasp for the front cover that keeps it shut, and openings around the side and bottom provide access to the headset jack, Lightning port, speakers, camera, and mute switch. You can even close the cover while making a phone call and still hear everything going on. Pass-through covers are used over the volume and on/off buttons.
The case meets or exceeds MIL-STD-810G drop test standards, so feel free to drop your phone whenever you can… just kidding.
Function
Installing the iPhone 6 or 6 Plus in the CandyShell Wrap is a piece of cake, and once it's installed the case makes for a very attractive and glossy piece of equipment. Snapping the cover latch shut produces a satisfying "click", and I actually felt quite confident about dropping my iPhone onto a carpeted floor. The cover never opened on its own.

TIME says its research shows that computer buyers like businesspeople and students still want a traditional laptop rather than a "hybrid" device — a two-in-one gadget that works as both a laptop and tablet. Still, the magazine thinks that Apple is working on such a device. I think TIME is wrong.
The publication surmises that the upcoming 12.9-inch "iPad Pro" (which, keep in mind, has not been officially confirmed) will come with a keyboard accessory and can be used either as a desktop or a laptop, as well as a tablet. "Apple's influence on the PC market is so great that if Apple endorsed the 2-in-1 idea in any way, it could validate the category as it did with MP3 players, smartphones and tablets beforehand," says TIME.
I think the iPad Pro will have an optional keyboard (as well as an optional stylus), but will most certainly be a tablet. It will be able to perform basic computing tasks such as word processing, doing spreadsheets, surfing the Net, and basic image editing. However, don't expect it to handle heavy duty video editing, hardcore gaming and 3D model rendering. You'll still need a "true" Mac laptop for those jobs.