Today I'm taking a look at the Speck CandyShell INKED case for iPhone 6 Plus (US$44.95 MSRP, $39.95 through Amazon – affiliate link). For those who have opted for the biggest iPhone around, the CandyShell INKED is a protective and stylish case with a price tag that won't scare you away. Speck is a long-time manufacturer with a great reputation for quality, so you're getting a product that's going to last.
Let's start with a few specifications. The case weighs just 1.6 ounces (45.36 grams), and is just slightly larger than the iPhone 6 Plus itself. While it's light and slim, it offers features you're not going to see with a lot of iPhone cases at a similar price point. First, the exterior coating of the case is given a scratch-resistant coating so that the bright graphics (in this case, a Hubble Space Telescope/ESA image) are going to stay scratch-free and intense as long as you own the case.
But the big selling point for the CandyShell INKED case is the protection. Speck uses a two-layered design that combines a flexible interior around the phone that absorbs shocks with a hard shell. The design also has a raised bezel to protect your screen from the usually-deadly face-down drops. The CandyShell INKED is certified to meet or exceed MIL-STD-810G drop test standards, which means it can take a 48-inch drop 26 times in a row on face, corners, and back and the device — in this case the iPhone 6 Plus — must remain usable and have no damage to the screen.
The volume toggle and sleep/wake button are both covered by pass-through switches, and there are openings for the headphone jack, Lightning port, speaker, camera/flash, and mute/orientation lock switch. I liked the fact that the headphone jack is large enough to accommodate most plugs, unlike some that can barely fit the standard Apple EarPods. Sometimes these flexible cases can be a pain to install or remove; Speck provides a handy instructional video: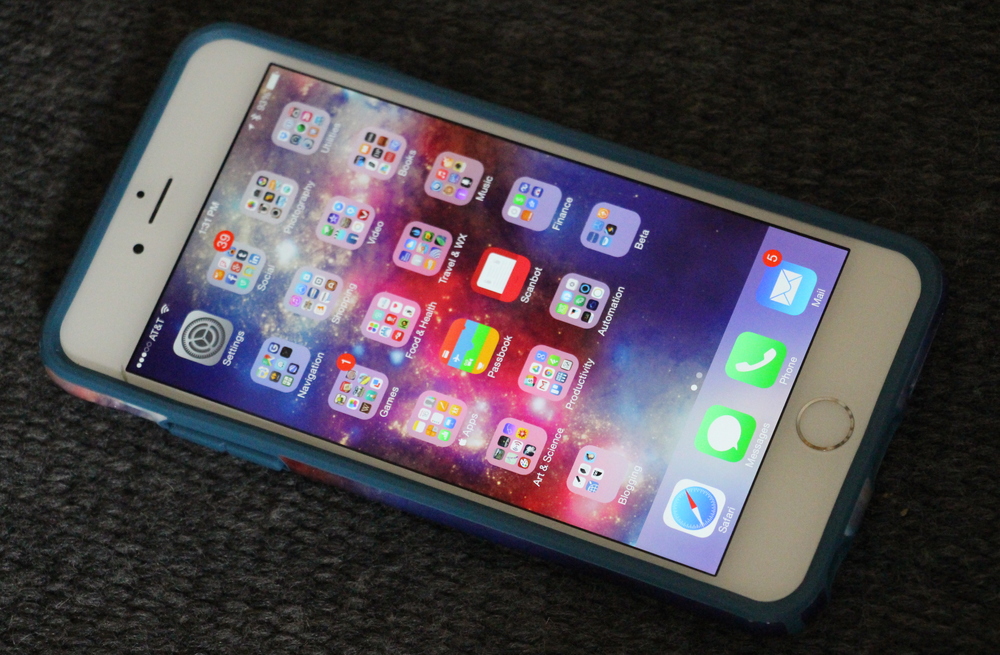 One other feature I absolutely love about these cases? The free matching wallpapers that the company makes available for many of its designer cases like this! The CandyShell INKED for iPhone 6 Plus comes in the Supernova Red/Tahoe Blue model I tested, Lush Floral/Beaming Orchid, FreshFloral Ink/River Blue, Color Dip Blue/River Blue, and Rainbow Drop/Wisteria Purple.
Conclusion: The CandyShell INKED case for iPhone 6 Plus is reasonably priced, colorful, protective (although not in the degree that one would expect from a much more expensive Otterbox Defender Series case), and even fun when you throw in the matching wallpapers. Build quality is very good. If there's one negative, it's that the hard shell makes the CandyShell INKED rather slippery. That's great if you're constantly slipping it into and out of a pocket, but not so great for clumsy people.
Apple World Today Rating (out of 5 stars): ★★★★
For more information about the Speck CandyShell INKED case for iPhone 6 Plus, please visit the Speck web page here. Should you decide to purchase the case, please use this link and support Apple World Today in the process.