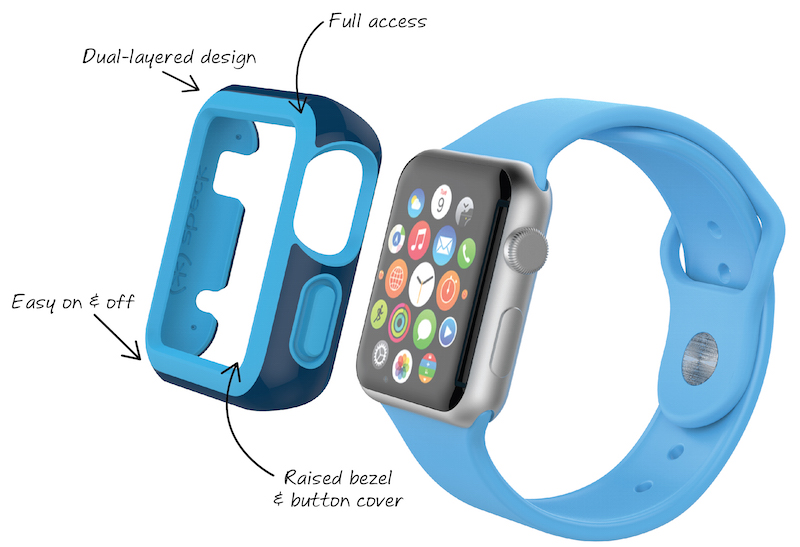 There's a fear common to anyone who owns an Apple Watch — the fear of scratching that beautiful little device by unexpectedly bumping it into something. Speck's new CandyShell FIT (US$29.95) will make you feel a lot less fearful by offering dual-layer protection and a raised bezel to protect your investment.
I had an opportunity to try out the CandyShell FIT, which will ship later this month in a variety of colors. This little case comes in sizes for both the 38mm and 42mm Watches, and features the same dual-layer design that is common to Speck's CandyShell cases for iPhone. Inside the hard outside shell is a soft silicone layer. The shell protects the watch from impacts while the silicone softens the blow. Should your wrist accidentally slam into something hard like the side of a table or car door, the 1.5mm raised bezel reduces the chance that the Force Touch display of the Watch will get scratched.
Installing the CandyShell FIT is simple: just slide the side with holes for the Digital Crown and side button over those two controls, then push the other side of the FIT down over the rest of the Watch and it snaps into place. If I have any complaint about the CandyShell FIT it's that it makes the Apple Watch look larger than it already is, but that's a small price to pay to protect your investment. I look forward to checking out the different colors and styles of the CandyShell FIT when they become available.
While I probably won't have the CandyShell FIT on my Watch all the time, I can see a place for it when I'm doing yard work or any other task where the Watch may be at risk.
Conclusion
A "case" for your Apple Watch from a leader in protective cases, the CandyShell FIT provides lightweight, removable protection. The price tag is also a bit high for what you're actually getting; Speck could probably sell this little piece of engineered plastic and silicone for $14.95 and still make a tidy profit.
Apple World Today Rating (out of five stars possible): ★★★★