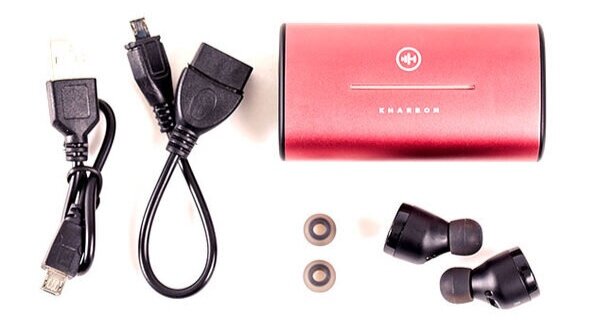 Kharbon Audio's IP67 waterproof Bluetooth earbuds normally cost $200, but we have a double deal going on that will get you a set of these incredible buds for just $67.15. How? Use the coupon code BFSAVE15 at checkout to take the $79 sale price down by another 15%. Get your Christmas shopping done early and buy several for friends and relatives!
Available in black, red and silver, these earbuds are totally waterproof. Designed for your fast-paced lifestyle, these Kharbon IP67 Wireless Earbuds save you the hassle of repetitive charging with their unbelievable 150-hour battery life. You can literally listen to Hi-Fi engineered sound 24/7. With a 100% IP67 waterproof rating, you can enjoy your favorite music anywhere! They feature an ultra-reliable Bluetooth 5.0 connection, detecting your device from up to 30 feet away and pairing instantly. These sleek earphones come in an ergonomic design with a uniquely designed extended ear canal tube for optimal fit. Enjoy functionality and comfort with Kharbon!
Get provide unparalleled sound & fidelity w/ graphene technology

Connect to any device w/ ultra-reliable Bluetooth 5.0

Enjoy up to 150 hours of battery life w/ IPV6 low energy protocol

Listen to your favorite music under any situation w/ 100% IP67 waterproof rating
For the cost of one pair of AirPods Pro, you can buy three pairs of Kharbon Earbuds and have money left over. Take advantage of this offer today, because it won't last long.