Data from Slice Intelligence says the first online sales figures (from its database of over four million shoppers) and reports from early shoppers shows the iPhone 7 Plus is more popular than the iPhone 7.
Among those preordering the iPhone 7, in the first 48 hours of availability, 55% ordered the Plus model. By comparison, over half of the iPhone orders of the 6 and 6s were for the regular model during the first two days of availability.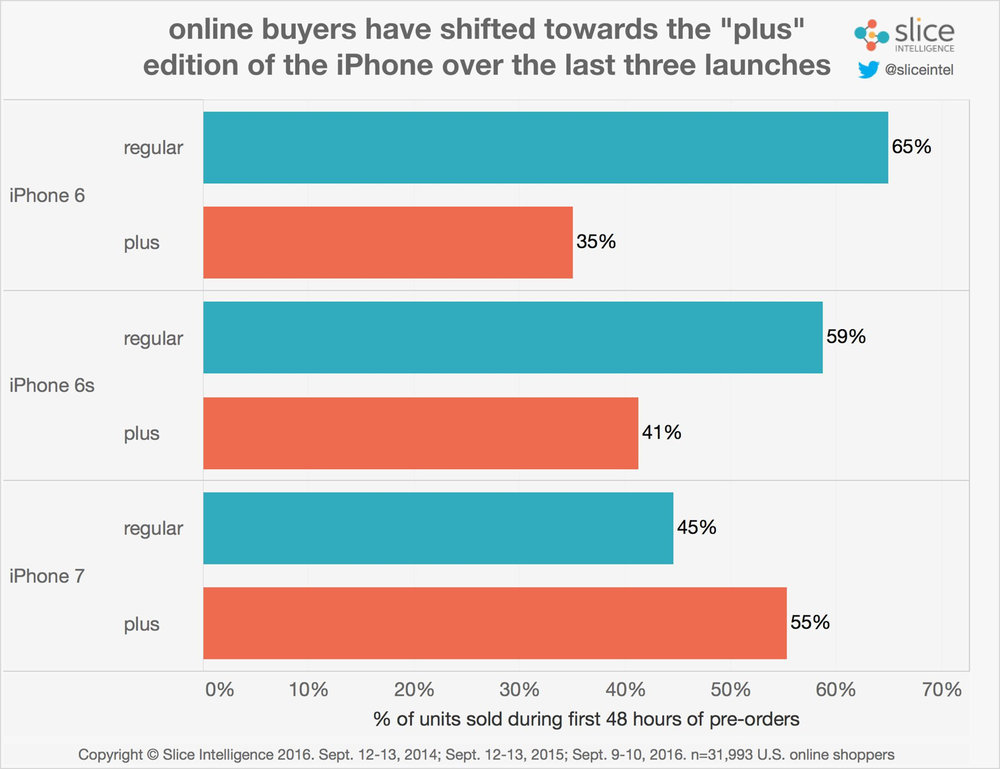 Those who re-ordered the iPhone 7 tend to be "Apple loyalists," says Slice Intelligence. Fifty-five percent of iPhone 7 buyers purchased an iPhone online in the past two years. The research group also observed that the iPhone upgrade cycle is ticking up: only 34% of iPhone 7 buyers hadn't purchased a phone online since 2014, versus 40% of 6s buyers. While there have been explosive reports about the Galaxy Note 7, only 2% of these shoppers bought a Samsung phone in the past two years.
The most popular iPhone 7 colors ordered were the new black shades, with 69 percent opting for the black or jet black version. The color of choice for iPhones past has traditionally been space gray. While the color is not available for the iPhone 7, half of iPhone 6 orders and nearly 40% of 6s orders were space gray during the week of launch.
Buyers seem to always prefer the mid-tier storage option, according to Slice Intelligence. For the past three September launches, over 60% of phones purchased over the first two days were on the middle storage option. This time, over two-thirds of iPhone 7's purchased online have been the 128GB model.