According to a study by Sensor Tower, consumer spending per active iPhone reached a "key milestone" in the U.S. last year with the average amount spent on in-app purchases (IAP) and premium apps reaching an estimated US$100 for the first time.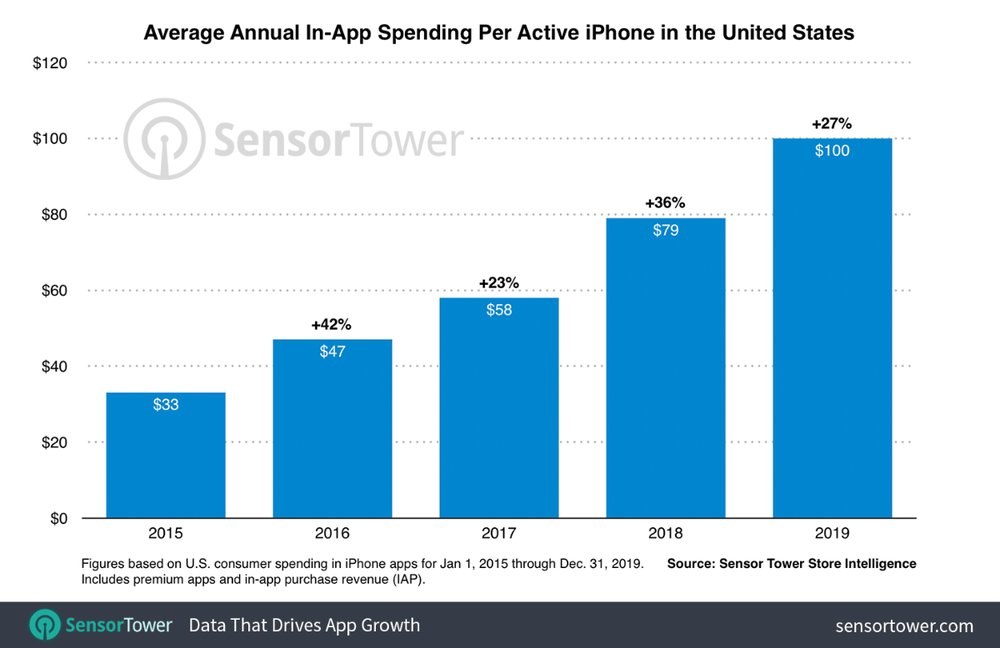 This was $21 more than the $79 the research group found was spent on average in 2018. (These figures don't include spending in commerce apps such as Amazon, rideshare apps like Uber, or other apps where purchases are not processed directly through Apple and the App Store.) Here are some details from the Sensor Tower report:
In-app spending per U.S. iPhone grew 27% year-over-year in 2019, compared to 36% between 2017 and 2018, owing to continued market maturation and growing saturation of smartphone ownership among consumers.

Since reaching $33 in 2015, annual U.S. consumer spending in apps on a per-device basis has grown 203% at a compound annual growth rate (CAGR) of 31.9%.

Mobile games represented close to 54%of U.S. per-device spending in apps last year at an estimated $53.80, an amount that grew 22 % year-over-year from $44 in 2018.
The figures in this report are based on an estimate of active iPhone devices in the U.S. for calendar years 2015 through 2019, as produced by Sensor Tower. iPhone category and app revenue estimates for the corresponding period were generated by Sensor Tower's Store Intelligence platform.