Scosche's RH1060 Reference Grade Bluetooth headphones, at $199, are pricey, but they're the best all-around headphones I've ever used except for Apple's AirPods.
During use, I was astounded by the music quality. I'm not an audiophile, but the audio performance is impeccable. The bass is deep, the mid-range is warm and clean, the treble crisp, and the highs sound natural.
The RH1060 features 40mm drivers designed with a custom blend of mylar, precision wound copper voice coils and rare-earth neodymium magnets to create an extremely accurate musical reProduction.  A ported sound chamber Provides the exact air space necessary for optimal component performance.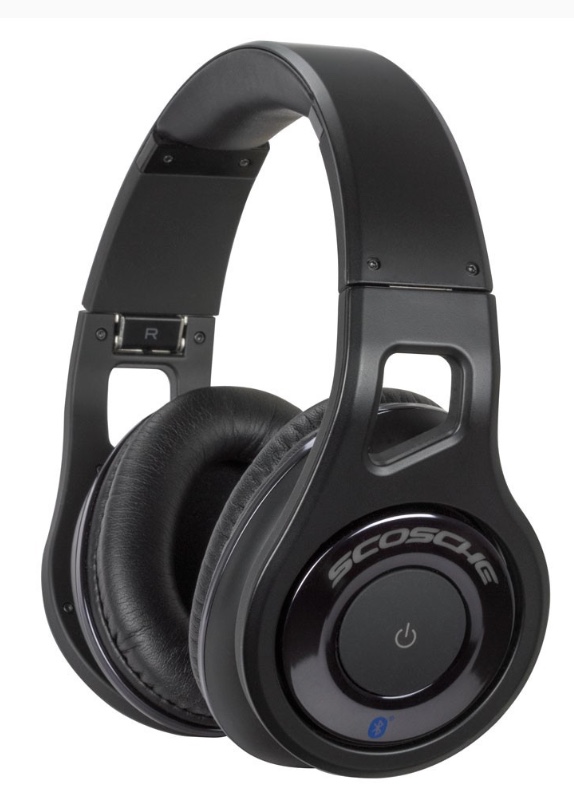 The RH1060 was equally impressive when watching videos. These are not Surround Sound headphones, but I definitely had the experience of immersive sound.
The Scosche headphones are extremely comfortable to use, even when you wear them for a long time. They combine supple leather and viscoelastic memory foam, which molds to your ear. The RH1060 also boasts Advanced Audio Coding (AAC), which allows excellent audio performance from a wireless device. Of course, being a Bluetooth device you'll have to take the necessary steps to "pair" the headset with your iPhone, iPad or iPod touch.
A built-in rechargeable lithium ion battery delivers up to eight hours of continuous playback, and fully charges in under three hours via micro USB. The RH1060 has a wireless range of up to 33 feet and features play/pause, track and volume controls on the exterior of the right ear cup. To preserve battery life users can also directly connect to their device with the included audio cable. 
Speaking of the play/pause, track and volume controls on the exterior of the right ear cup, it takes a while to get used to accessing the control by touch alone. For a couple of days, I fumbled to find the right control, though I finally got the hang of it.
The RH1060 comes with a full set of accessories. They include: four-foot, flat cable, gold-plated connectors for use with, among other things, an iMac or iPad Classic; the aforementioned micro USB to USB charge cable; a carabiner (though I found this a bit useless); a cleaning cloth; and two carrying case — one soft and one a hard Thermoform case.
Wireless headphones aren't for everyone. However, if you want to wander the house while listening to your tunes even as your iPhone or iPad stays docked, and prefer over-the-ear headphones to in-ear versions, the RH1060 is a superb choice.
Apple World Today Rating (out of 5 stars): ★★★★