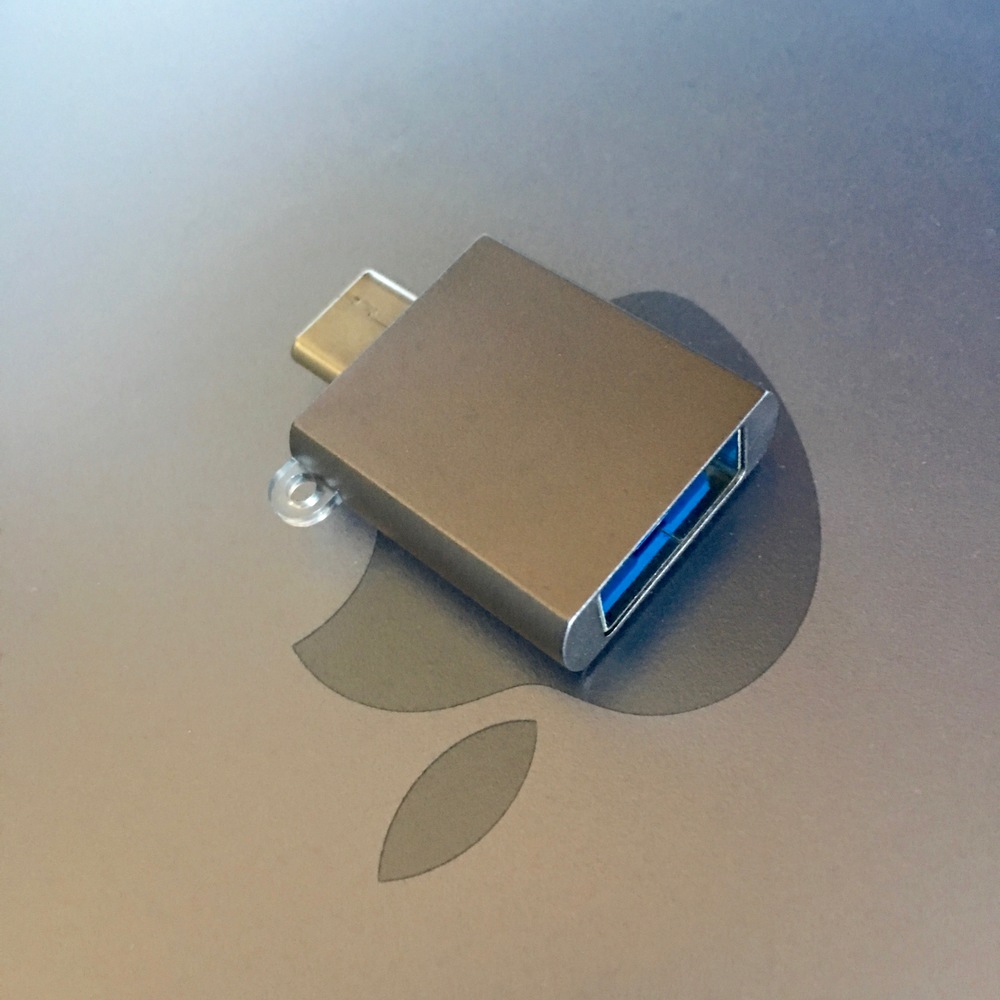 USB-C is still a rarity in the world of Apple products; only the 12-inch Retina MacBook uses the convenient and tiny adapter for power and data. But the MacBook's popularity has finally encouraged some accessory manufacturers to come up with adapters, hubs, and even docking stations to turn that one USB-C port into something more useful. The Satechi Type-C USB Adapter (US$9.99 at Amazon, affiliate link) may be tiny, but it's just the thing to bring more usefulness to your MacBook.
Design
The Type-C USB Adapter is really small (1.25 x 0.75 x 0.25 inches), which is why I am glad that it comes with a combination connection LED and loop for attaching it to something. In my case, I decided to grab a tiny bit of monofilament fishing line and attach it to the loop, then put a little gizmo on the other end.
One end of the adapter is, of course, a USB-C male connector. It's covered with a smoked plastic cap when not in use to protect the connector. The other end is a USB 3.0 female connector, perfect for plugging in all of those hundreds of standards USB devices you have laying around.
The Type-C USB Adapter comes in three finishes; silver, gold, and gunmetal (AKA Space Gray). This tiny 10 gram adapter is really perfect for putting your USB devices to work, and by supporting USB 3.0 it can handle up to 5 Gbps data transfer.
Function
Not much to say here, other than it works. A tiny blue LED in that "loop" tells you when you have a connection, useful in those cases where you may not have plugged it all the way in. I found it very useful for those cases where I wanted to move something via flash drive; just plug the drive into the USB 3.0 end, then plug the Lightning end into the MacBook.
Conclusion
Fast, inexpensive, good-looking, and very useful for anyone who owns a 12-inch MacBook. The Satechi Type-C USB Adapter is a must-have for MacBook owners.
Apple World Today Rating (out of 5 stars):
★★★★★