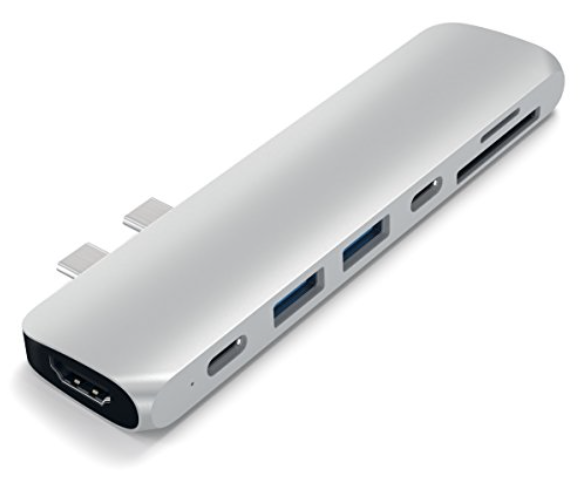 If Apple's reimagined 2016 MacBook Pros have done anything to make an impact, this is it — they've certainly stimulated the market for third-party accessories that make up for the shortcomings of the entirely Thunderbolt 3/USB-C design. Satechi today released the new Aluminum Type-C Pro Hub Adapter for 2016 MacBook Pro 13″ and 15″, a relative bargain at $99.99.
Available in both Space Gray and Silver, the device plugs into both USB Type-C ports on the side of a 2016 MacBook Pro and then provides a Thunderbolt 3 port, USB-C port, two USB 3.0 ports, 4K HDMI out, and both SD and microSD card readers.
The Pro Hub provides pass-through charging for the 13-inch (61 watts) and 15-inch (87 watts) models, and two of the Hubs can be in used at the same time (one on either side of the MacBook Pro) in order to drive two 4K HDMI displays simultaneously. The Pro Hub is available today from either Satechi.net or Amazon (affiliate link; making your purchase through Amazon supports Apple World Today).