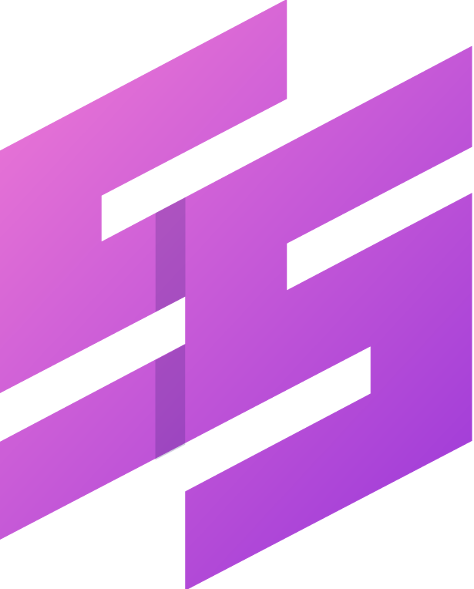 Have you ever heard of dropshipping? It's what allows regular people like you and me to create online stores that we can fill with products, sell those products to consumers around the world, have the product shipped directly to the buyers, and make a profit in the process. If you've heard of Shopify, it's one of the biggest services around for creating an online store through the magic of dropshipping. Today we're reviewing SaleSource, an online competitive research resource for dropshippers that works primarily with Shopify.
The advantages of dropshipping and online commerce are impressive. There's no need for upfront capital to lease a storefront or build an inventory, there is easy access to hundreds of thousands of manufacturers who all want to get their products in front of as many people as possible, and the work and expense of shipping product is in the hands of those same manufacturers.
That doesn't mean that you — as an online shop owner — can just set up a web store and walk away with cash in your hand. It takes a lot of work to keep finding products that are attractive to your customers, marketing those products, and seeing what your competition is doing. In fact, finding out what successful competitors are doing right can help you That's why SaleSource is a powerful tool for growing your online commerce site.
How Does SaleSource Work?
SaleSource gives e-commerce businesses an edge through product analyses, trend evaluations, and comparisons with competitors. Want to know what the most popular products are today? SaleSource can identify products that your customers are clamoring for.
Using artificial intelligence, SaleSource is totally compatible with e-commerce leader Shopify and supports all similar platforms such as AliExpress. SaleSource has four main components: Store Center, Sale Center, Marketing Center and Product Center. Using these four components gives shop owners the ability to:
Find products that can provide both high volume and margin

See which products are saturating the market at the current time by identifying all other stores selling the item

Analyze market trends to single out products that may go viral

View products that are best sellers in the long run

Find out how many online stores are dropshipping a product

Break down competitor statistics like number of visitors, top-selling products, and revenue

Identify dropshipping suppliers that have best-selling products and viral product videos that convert to sales

Focus on those suppliers that are the most reliable

Do product price comparisons for the top-rated suppliers
Let's take a look at those four components in more detail.
Store Center
The SaleSource Store Center is the perfect way to look at competitors on Shopify, and is made up of four sub-sections: Top Stores, Store Analyzer, Store Tracker and Store Checklist.
Top Stores highlights the top sellers on Shopify and is updated each week to provide the most up-to-date information. You begin by clicking the Track Store button to enter a Shopify store link. Next, clicking the View Best Sellers button for a tracked store, you see the shop's most popular items. The Analyze Store button dives deep into the store, by displaying how long it has been operating, what apps it uses, how often it runs ad campaigns, and how much traffic it receives.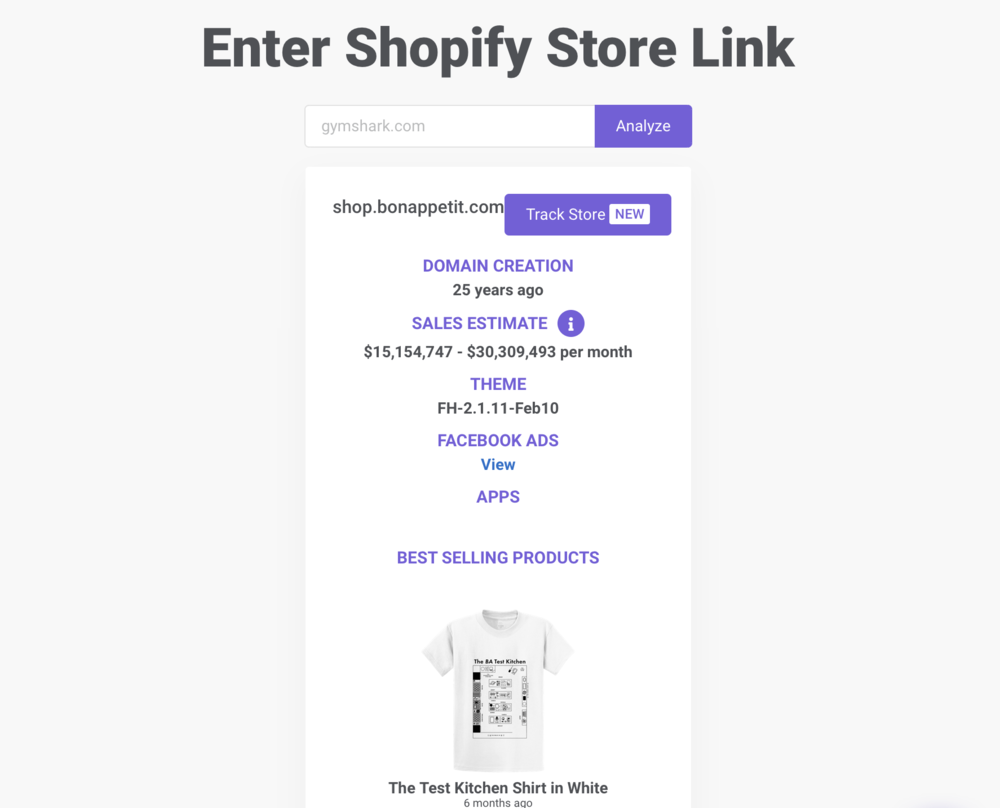 Store Analyzer provides even more analysis of Shopify stores, by highlighting things like sales estimates, best selling products and so on. This is useful for doing competitive analysis, as you can see what products have significant demand and may do well in your store. Store Analyzer organizes the top listed stores by many different measures, which helps to spotlight marketing ideas that are working for your competitors.
Sale Center
When I first started reviewing SaleSource, I watched the training videos in the Sale Center to get a feel for the main features of the service. Those videos are extremely valuable in learning how to use SaleSource to find products that will sell, view competitor's products, and how to import products from the SaleSource platform into your store.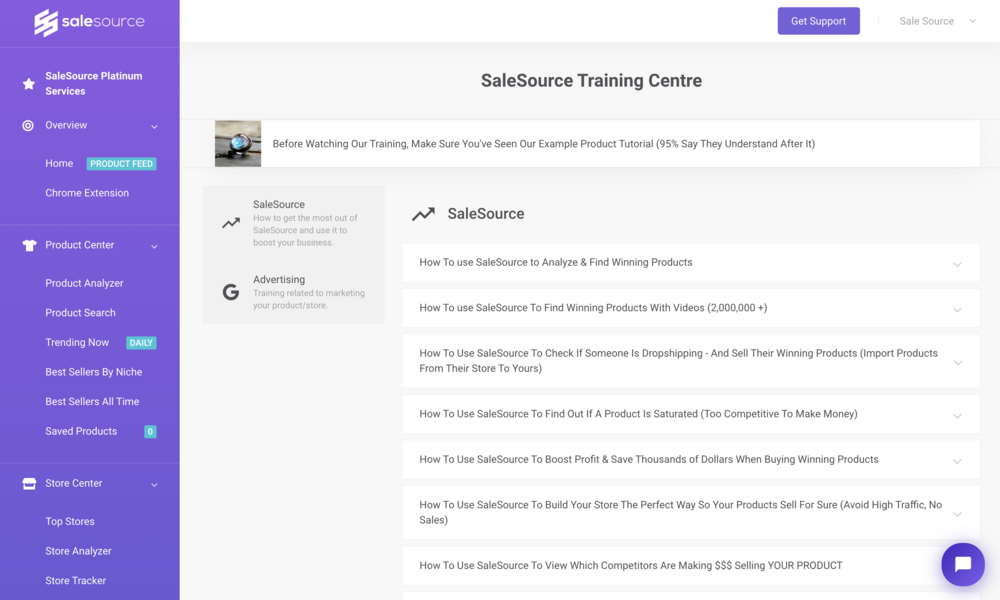 One surprising tool in Sale Center is Factory Pricing. Buying products from AliExpress usually means that you're getting those products from a reseller who buys from the factory, ships them to their own office, then ships them to your customer. The Factory Pricing tool uses a team of operators — not AI — to find information on buying product directly from manufacturers.
Sale Center also includes an Import From Shopify function. Here, you can upload multiple products on Shopify to SaleSource for group analysis and research. It's a real time saver.
Marketing Center
One proven method of making products viral is to show customers video ads. Marketing Center has three components — Product Video Finder, Facebook Video Ad Finder, and Product Traffic Checker — to not only help find videos but see which products people are looking at.
Facebook Video Ad Finder and Product Video Finder search Facebook, YouTube and other video sources for the best-performing marketing videos, with well over 200,000 videos available to look at. If you want to create your own content for marketing a product, you can check competitor's videos to see what's successful and what isn't, then use the best ideas in your video creations.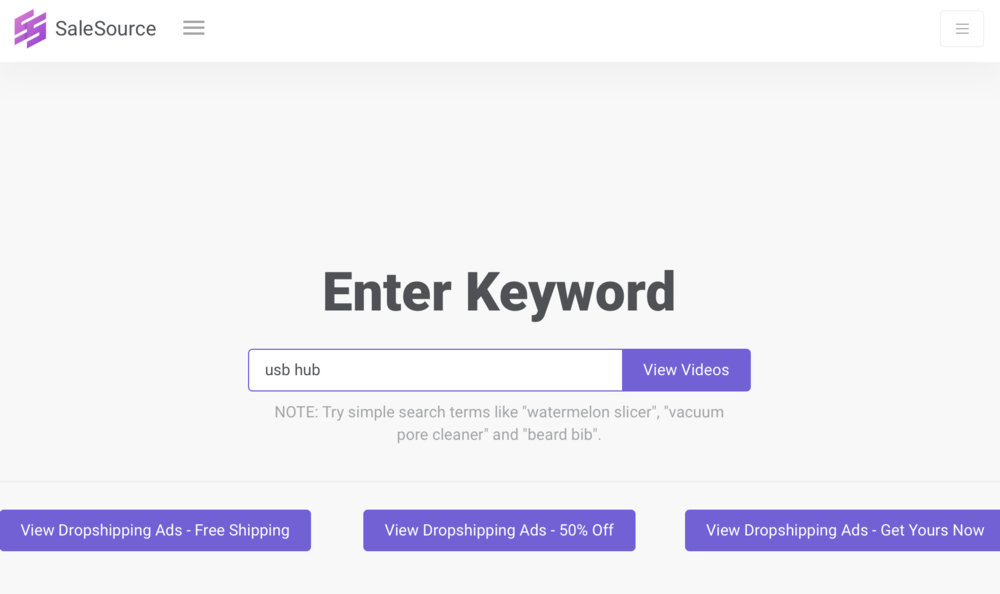 Traffic Checker looks at how many people have accessed a specific product page, displaying visits by hour, day and week.
Product Center
Your online store needs products, and SaleSource Product Center is the key to identifying the products that are not only going to sell, but that can priced at a significant margin while still offering your customers the best price. Within Product Center are Product Search, Product Analyzer, Trending, Now Best Sellers (by niche or all-time), and Saved Products.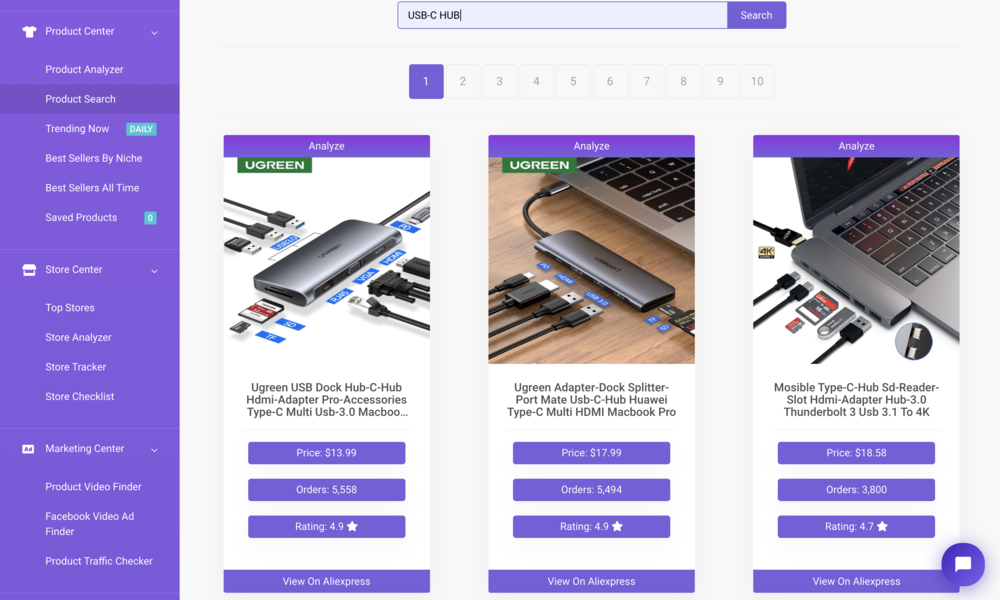 The Product Analyzer enables store owners to perform analyses on products they are considering for their own stores. Using the SaleSource Chrome Extension (more info about this later…), a store owner can upload or import an image of a product under consideration. SaleSource then locates the best product match on AliExpress. If you prefer, it's possible to enter the Shopify or AliExpress URL for searching.
Once you've found the perfect product, you can see who the best competitive sellers are, search for existing marketing videos, and get much more data to make your decision-making easier.
Trending Now identifies new popular products, and since SaleSource updates the list of products every twelve hours or so, you can keep tabs on what products are suddenly attracting the attention of consumers.
Best Sellers (by niche) organizes products like consumer electronics, bags, shoes, jewelry, men's and women's clothing, and so on. Those product categories are further organized into subcategories detailing specific types of products (cases for iPhone 11 Pro Max, for example), selling locations, and product descriptions. If you'd rather look at Best Sellers (of all time), you'll get those products with a "long tail" that have been popular for a while. Data is available showing potential and total sales, product pricing, and more. To save a product for comparison and analysis, there's a handy "heart" button to click.
The Chrome Extension
The SaleSource Chrome Extension is a powerful addition to the Google Chrome web browser. When you look at a listing on a competitor's e-commerce store or on AliExpress, the extension comes alive with data that gives you the ability to automatically analyze products.
Product specifications, supplier information, a sales chart, and detailed data on pricing and how different price points performed are all available through the extension.
I found the Chrome Extension's data to be useful in searching for products with above-average order numbers, as those are usually indicative of products that dropshippers are jumping on.
Platinum Services
SaleSource wants to be your one-stop source for all of your Shopify store needs, so it offers services at an extra cost. There's a catalog of services, with each service having a description, samples, and pricing information.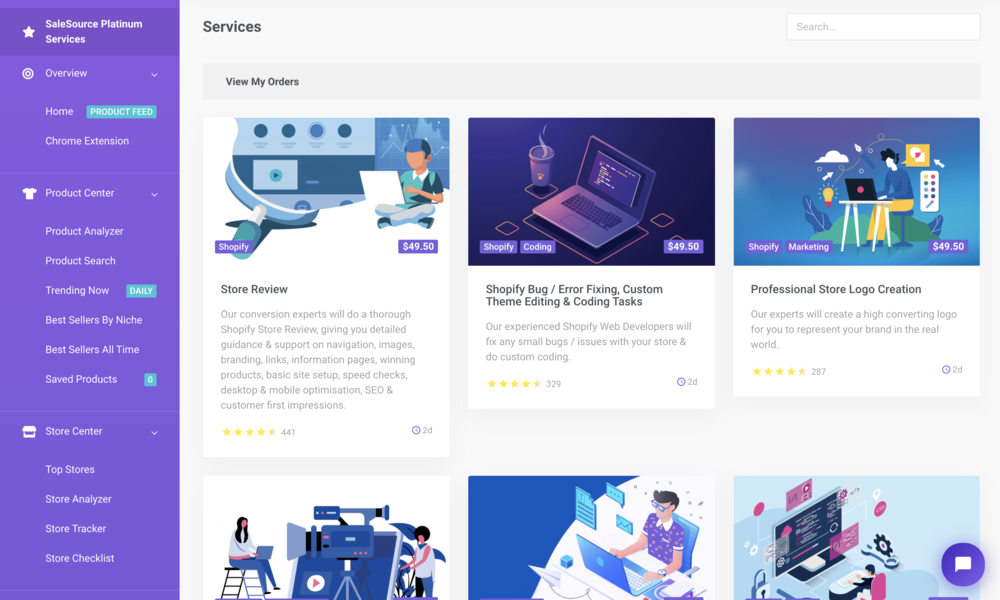 These services can be critical for new e-commerce stores. For example, you can order Facebook Ad copywriting if you wish to present a more professional ad, have a team of experts do a Shopify Store Review for your store, have someone create a high-converting product video, or do customization work on your Shopify store.
How Much Does SaleSource Cost?
SaleSource offers a free trial so you can scan five products and find the lowest possible prices. To get additional competitive data, you'll need to select one of three pricing plans.
Each pricing plan — Essential, Pro, and Elite — is available at a monthly or annual cost, with a discount for signing up for the annual plans. The image below shows the features of each of the plans.
The Essential Plan is only $29 per month when you pay for a full year, compared to $69 paid monthly. The Essential plan gives one user access to well over 1.5 million products, shows new trending products, provides a personal product feed and insight into competitor ad campaigns, and more.
What else? How about a product description generator, a product video finder, the Store Analyzer, the Chrome Extension for doing product research, support and training? If you've been thinking about starting your own online dropshipping store using Shopify or a similar service, that $29 a month fee for the Essential Plan (paid annually) is an expense that will pay for itself quickly.
Conclusion
SaleSource is the most comprehensive and well-designed tool for dropshipping that I've had the pleasure to review. In particular, it makes it easy for the new Shopify store owner to find products that will be popular and make money, compare product prices from competing resellers or manufacturers, and analyze what the competition is doing.
If I have any qualms about SaleSource, it's that it could do a better job with documentation. However, the service is fairly self-explanatory and intuitive to use, and the training videos are more than adequate to get you started.
Apple World Today Rating (out of 5 stars): ★★★★★