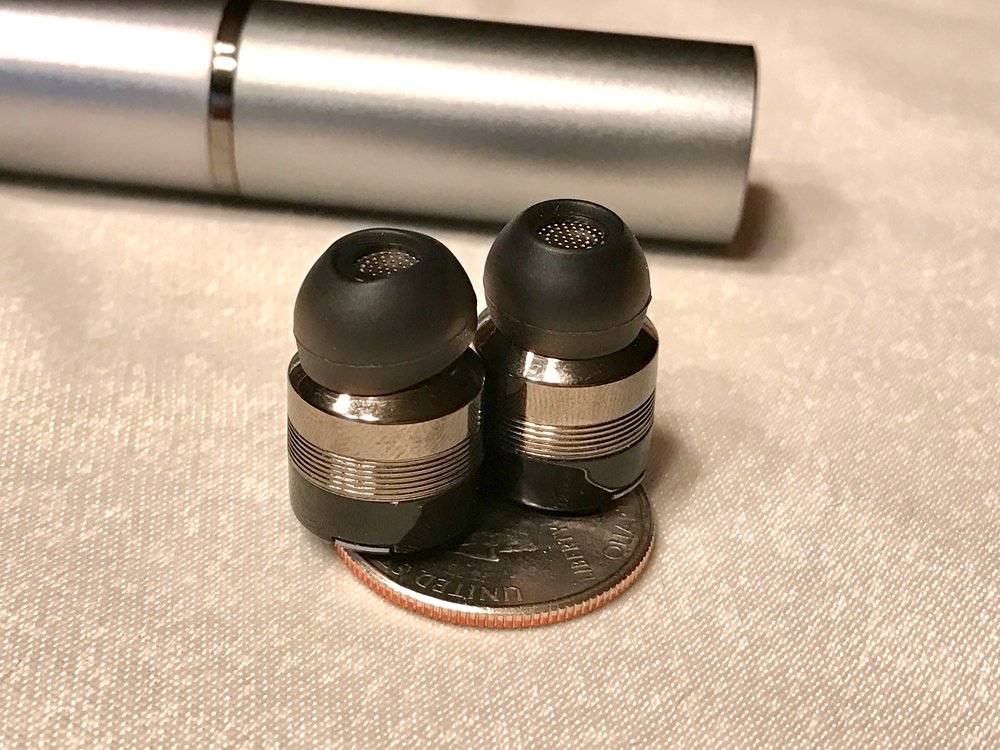 Apple's AirPods wireless earbuds should be coming out soon — in fact, they may hit stores by the end of this week — but for some people there are negatives associated with the product. First of all, those little white dangly bits just seem a bit weird to some folks, and the lack of a way to keep them completely connected to your ear while running is a concern. Then there's the price tag — $159. Fortunately, there are alternatives, and today we're looking at the Rowkin Bit Wireless Stereo Earbuds ($109.99, affiliate link).
Design
Forget about that little white part that sticks out of the bottom of the AirPods. The Rowkin Bit earbuds fit entirely into your ear. A small button bisects the surface of each earbud, and there's a small LED to indicate pairing or listening status; it's also there to let you know if you have the left or right earbud. Several sets of silicon plugs are included in different sizes, so the Bits will fit in your ear regardless of the size of the ear canal.
The Bits use inductive charging, and a small, lipstick-sized charger with a battery inside is used to charge them. Once it is charged by plugging in the USB to micro-USB cable that's included, the charger is totally portable and the earbuds are place at either end for charging. The charger can provide two charges, each of which can provide up to 2 or 3 hours of battery life.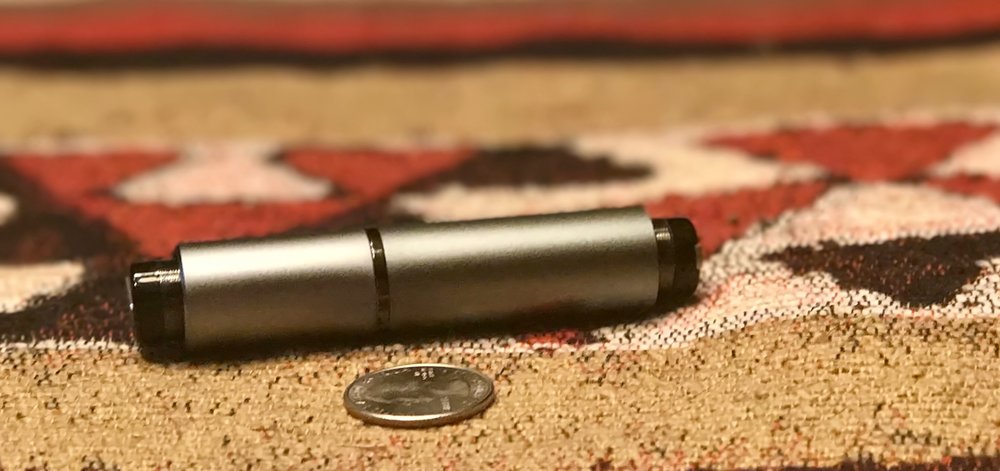 How small are the Bits? It's quite easy to put both of them on top of a US quarter-dollar coin (see image at top of page). Together, they weigh just 0.3 ounces (8.5 grams).
The Bits use Bluetooth 4.1 and can be paired with several devices.
Function
To make sure that I had enough power for a review, I plugged the charger into my Mac, then placed the two earbuds into their respective areas in the charger. A small red LED shows that the 'buds are charging, and goes out when the process is done.
Pairing the Bit earbuds is quite simple using the included instruction sheet. When setting up the earbuds for stereo use, both must be paired simultaneously.
The Bits can be used either singly or as a pair. Stereo sound, of course, comes only when they're both being used. Believe it or not, the devices contain microphones for making calls or receiving calls or providing Siri with commands.
As light as they are, the Bits are very comfortable in the ears. They fit snugly, and the silicon plugs can be swapped out if the fit seems too tight or loose.
The Bits have both noise reduction and echo cancellation built in, which does a good job of reducing ambient noise and keeps your voice from echoing as you speak on the phone.
How's the sound quality? Impressive! You might think that earbuds this small would not deliver decent bass, but you would be wrong. Listening to songs with a driving bass line is like sitting in front of a speaker at a live concert! The Bits do not just exaggerate bass, though — highs were equally crisp and intense. Stereo separation was excellent as well.
However, while I was listening I did have the sound drop out on one or both earbuds about once a minute. This is one situation where I think the AirPods with their W1 chip might be superior, as the Apple earbuds apparently have an impressive range. Oddly, some songs played all the way through without interruption; others had the dropouts.
Tapping twice on the left headset summons Siri for controlling music, asking for directions, or making calls. I thought the call sounded a bit muddled through the headset, although it was acceptable and loud enough to carry on a conversation without issue. I asked the call recipient how the sound quality was on her end; she replied that it sounded like I was talking through a pillow…
Conclusion
All-in-all I was quite impressed with the Bits; they're tinier than AirPods, it's less apparent that you're wearing them, and they definitely stay in your ears. My biggest complaints are with the sound dropping out in the right earbud once or twice per song, and with the quality of the microphone for phone calls.
Apple World Today Rating (out of 5 stars): ★★★★