KeepSolid's Roadmap Planner for the Mac is an online/offline tool that offers a way to see "a helicopter view" of your projects in its timeline, keep track of parallel ongoing tasks, check big events, and share ideas with members of a team.
The app is oriented towards people who plan their lives or/and businesses (which is pretty much everyone these days). Roadmap Planner was specifically designed to help users put together strategy, systematize goals and ideas without piles of papers or huge tables in spreadsheets. Featuring predefined templates with different color and font schemes according to user preferences, the app also includes a presentation mode to present ideas and plans.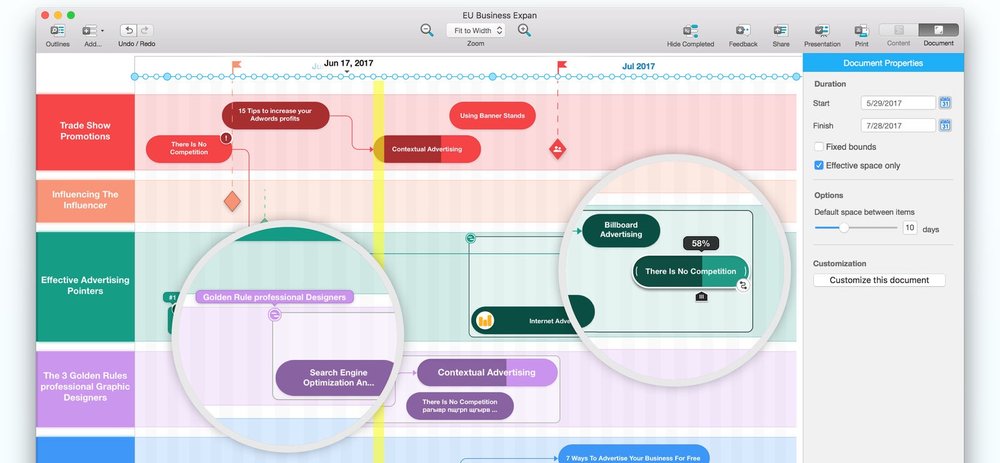 Its visual timelines are based on a Gantt Chart. And you can implement "dependencies" between different tasks of different projects.
The latest version (2.6.0.1) offers a Scopes" feature that allows you to organize tasks, works, and goals into groups that indicate the stages of a project. A new Document info view shows you the name, creation date, and list of participants for a project without opening it. You can also use an Unsubscribe option to quit collaboration on a document you've been invited to.
It's easy to use, but there is a downside: it would occasionally crash for no discernible reason. At least until version 2.6.0.1, which seems to have fixed some of the crashing issues.
Roadmap Planner requires macOS 10.11 or later and is available at the Mac App Store. It's free but does tout in-app purchases. 
Apple World Today Rating (out of 5 stars): ★★★