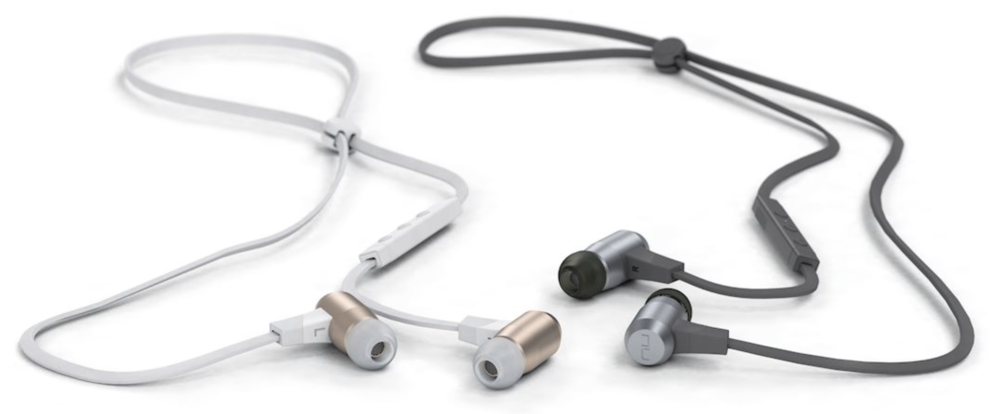 The rumors have it: wireless earphones are probably going to become more widespread in the near future as Apple will (allegedly) be removing the audio jack from the iPhone. While using the Lightning port will add some wonderful capabilities like noise cancellation to less expensive wired headphones, many people may start looking at lower cost wireless earbuds as a way to get their tunes. That's where earphones like the Optoma NuForce BE6i (US$129.00) come in, offering excellent sound, light weight, and wireless convenience in one little package.
Design
I usually refer to the design of Bluetooth earphones like the Optoma NuForce BE6i as "wired wireless," as there is a wire — which they conveniently call a "neckband" — that connects the two earbuds. But that wire never gets in your way while walking or working, and it is unnoticeable when you're wearing the headset.
That "neckband" works well if you want to carry the earphones without putting them in a pocket. All you need to do is touch the outside parts of the earpieces together, and they click together magnetically, turning the earphones into a lightweight necklace.
Optoma includes a variety of ear tips (the bit that goes into your ear) with the NuForce BE6i in order to make sure that everybody gets a perfect fit. There are silicon ear tips for general wear; I found these to be the most comfortable for me, and they come in three different sizes. There's even a second set of silicon ear tips included (three sizes) that have a bright green plastic central tube. I found those quite difficult to install on the earphones, so I didn't really give them a try.
Optoma also includes Comply foam tips that conform to the contour of the ear, perfect for blocking out more external sound and providing a snug fit. For those who are doing active sports, there are silicon ear wings included as well to ensure that the tips stay in your ears.
The NuForce BE6i earphones come with a small remote that can be used for everything from Bluetooth pairing and volume control to answering phone calls (it has a built-in microphone). The earpieces are made of solid aluminum and have an IPX5 splash-proof rating, so getting a little rain on them during a run shouldn't be a problem.
About the only negative comment I have about the design of the earphones is the on-neckband remote, which is a bit on the "plasticky" and cheap-looking side. Making the remote out of aluminum would have looked better and matched the design of the earpieces. There are two finishes: one similar to Apple's Space Gray and a gold and white model.
In that remote you'll also find a "door" behind which is a micro-USB charging port. I found it a bit difficult to open with short fingernails. The door dangles from the remote with a plastic "thread" while it's open for charging, and I can anticipate that the door will eventually fall off and get lost.
Function
Bluetooth earphones just seem to be getting better and better. The NuForce BE6i earphones support both AAC and aptX for good sound quality. The 10mm drivers do an excellent job of providing clear sound at just about any volume level, although neither the highs or lows are "overwhelming." The BE6i is the first set of earphones that — to my ears — seriously challenges my previous bias towards over-the-ear headphones.
The ear tips — once you find the correct ones for your ears — are very comfortable. Both the silicon tips and the Comply tips were quite comfortable. The only issue I have with the "moldable" Comply tips is that they wear out after a few months of use, and you'll need to replace them at $6-$7 per pair. The light weight of the BE6i earpieces (less than 0.3 ounces each) makes these some of the most comfortable Bluetooth earphones I've ever reviewed, and I've reviewed a lot of them.
It's a good thing that they're comfortable, as Optoma advertises over 8 hours of battery life for the earphones. They're pretty close; after a full charge, I was able to listen to music while working for a total of 7 hours, 41 minutes before the battery died (that was in three listening sessions).
The other thing that Optoma advertises as a plus for the NuForce BE6i earphones is their Bluetooth range. Most Bluetooth headsets usually lose contact with the iPhone at about the 30 – 33 foot range, while Optoma says that the BE6i can work up to 98 feet away. I decided to put that claim to the test by leaving my iPhone on my desk playing music while I walked away from my house. I was able to get about 50 feet away before running into the "stuttering" that indicates a weak connection, but your connection may be better or worse based on the wiring and construction of your home or office.
According to the specs, you're supposed to be able to summon Siri with a button for dialing, etc… I wasn't able to get this to work, and didn't find any indication of how this worked in the instructions. What did work for me was having "Hey, Siri" engaged, and then just making sure my iPhone was in the near vicinity. While the BE6i earphones worked pretty well as a phone headset, call recipients said my voice sounded "remote" and "tinny" — but they say that about every Bluetooth device I've used with my iPhone to send or receive phone calls.
Conclusion
After trying a lot of Bluetooth earphones that I absolutely loathed, I was pleased with the performance of the Optoma NuForce BE6i earphones. The earphones had excellent sound quality; you will really appreciate how well-produced recordings sound. I thought the sound quality was better than I've experienced with any lightweight, in-ear Bluetooth earphones. At $129 they're not exactly the least expensive Bluetooth earphones you can buy, but they're definitely worth the extra price.
Apple World Today Rating (out of 5 stars):
★★★★★