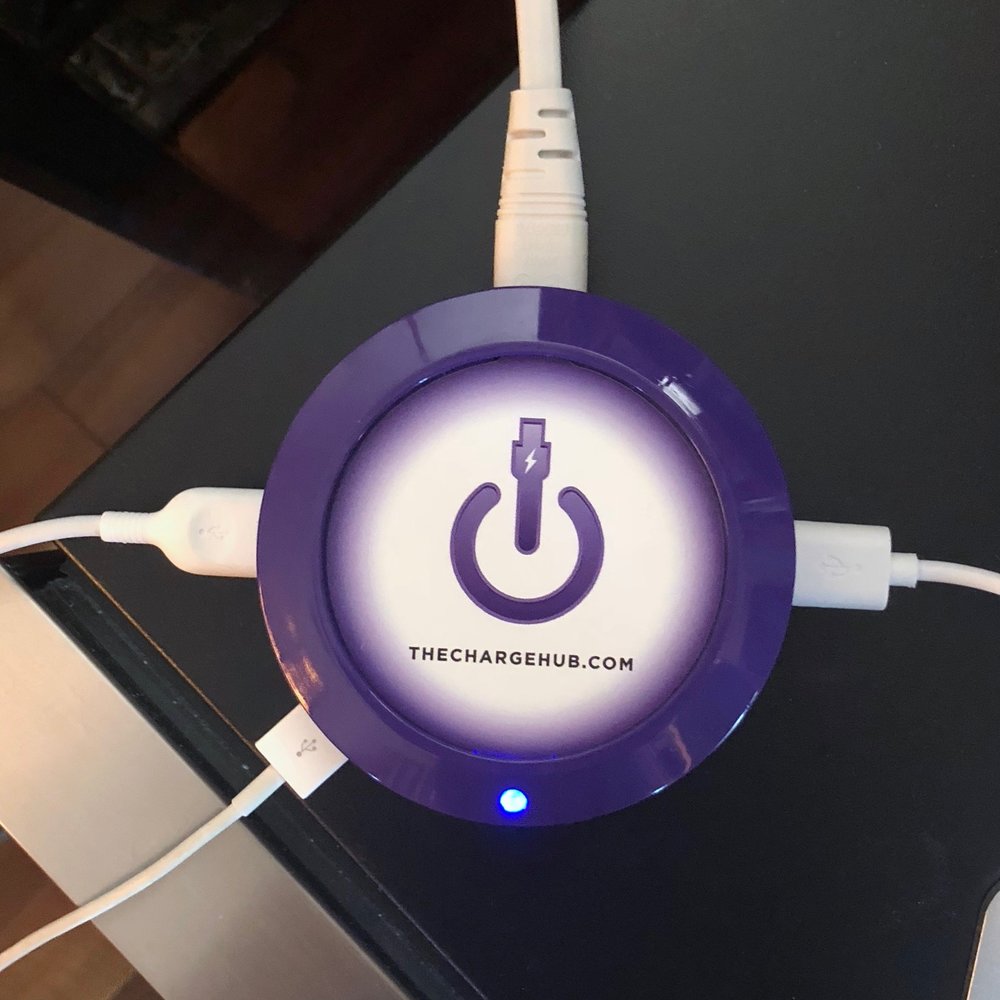 Chargers — you simply can't live without them in this day and age. A while back I reviewed a three-port charger from a name-brand vendor that cost quite a bit, and I recently found that it didn't work as advertised and I was stuck with just two ports. Fortunately, a PR person reached out to ask if I wanted to review a 3, 5 or 7 port ChargeHub charger from Limitless Innovations, so I decided to give the 5-port model a try.
Design
All three of the ChargeHub USB Super Chargers — the X3, X5 and X7 (the number refers to the number of USB ports available) — share a similar design in that they're circular (3.5 inches in diameter by 1.5 inches high) with the ports spaced along the front of the device with the power cable plugging into the back. There's a single LED on the device to indicate when something is plugged in and charging, an included power cable complete with a Velcro® tie to neatly stow the excess cable, and a nice rubberized ring on the bottom to keep the charger from moving.
You can pretty much get the ChargeHubs in any color you like — there are 8 standard colors; black, white, red, blue, pink, purple, orange and green. The X3 comes in two additional colors, gray and light blue, while the X7 has a clear option. The X5 that I tested provides 2.4 amps per port or a total of 8 amps over all. The company even sells international travel adapters for the ChargeHub X3 and X5, as well as a travel and storage case to hold the gear. If you need extra USB to Lightning cables, the company sells a 4-pack of short (3.5-inch) cables that work perfectly with the ChargeHub.
The pricing is pretty darned good as well. The 3-port X3 runs $39.99, the 5-port X5 is $49.99, and the 7-port X7 is a bargain at $59.99. While the X3 and X5 just come with an AC adapter cable, the X7 with its higher load requirement comes with an external 48 watt power supply
If you're not enamored with the blue ChargeHub logo insert on top of the charger, it comes with a clear lens that can protect your own insert. Add any art work to the top of the ChargeHub for just $5 more and you'll have a truly custom charger.
Function
Most of the time, my review ChargeHub X5 is used with just three attached devices; two iPads and an iPhone. If you get to the point that you've plugged devices into all ports and the load is more than the ChargeHub can handle, it will inform you by blinking the LED on top of the device. At that point, you can unplug one device to see if the LED stops blinking, then two if necessary. I found that just waiting a while and plugging another device in often worked to get up to five devices topping off at once.
Conclusion
The ChargeHub X5 — along with its sibling companions X3 and X7 — is an excellent way to keep your devices charged up without taking up a lot of space in a travel bag or on a countertop. Certified by the alphabet soup of agencies — UL/cUL, CE, FCC — and RoHS compliant, each ChargeHub also comes with a one-year limited warranty.
Apple World Today Rating (out of 5 stars): ★★★★★