Technology marches on, and with it come different solutions to age-old problems. Back in the "good old days" we needed solutions that could grab video from a low-resolution device like a VHS tape player, but now things have changed. Many video devices over the past 15 years have used the High-Definition Multimedia Interface (HDMI) to transfer video to a display or other device, so capturing video over HDMI is a real need these days. StarTech's new USB-C Capture Device for HDMI Video (US$259.99) is a very capable tool for capturing HDMI video to your Mac or PC.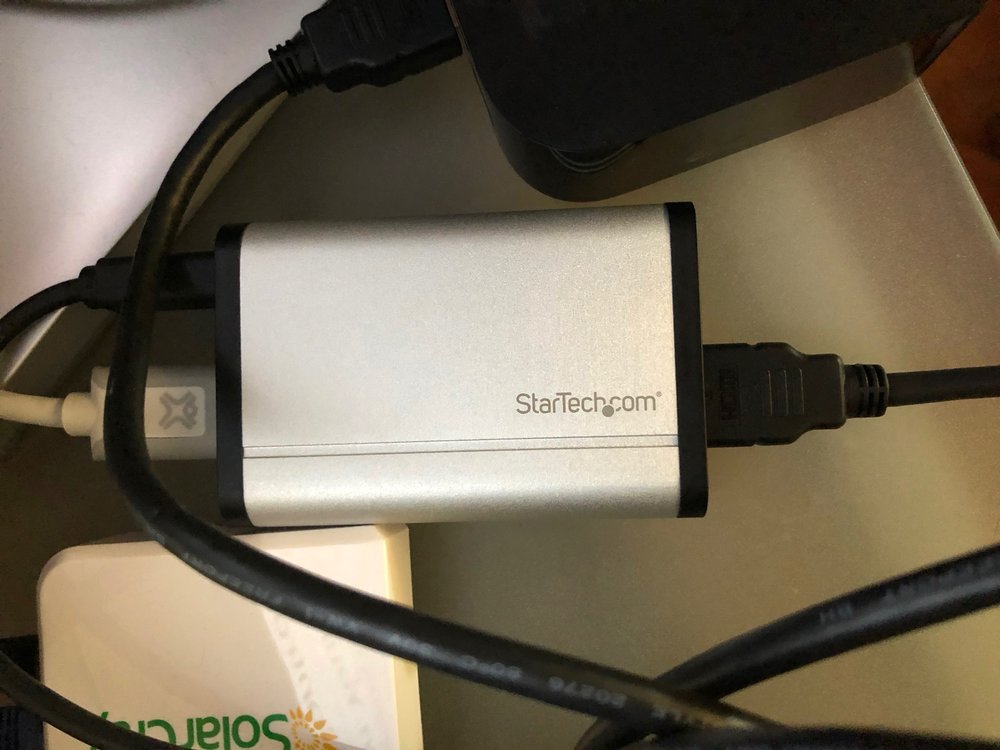 Design
The USB-C Capture Device is a small aluminum box measuring 3.6 x 2.4 x .9 inches (92 x 60 x 23mm), and weighing just 2.8 ounces (80g). On one end  is an HDMI Out port, as well as a USB-B port into which an included USB-C to USB-B cable can be plugged for connection to a Mac. StarTech also includes a standard USB-A to USB-B cable for those cases where the device needs to be attached to a standard USB port. All cables are USB 3.0 compatible.
The other side of the box has HDMI In and Audio In ports. For most purposes, simply plugging the included HDMI cable into the device you want to use as your video source is sufficient for audio and video. 
What kinds of video devices can you capture video from? StarTech lists three example applications:
Capture meetings, presentations or conference calls directly to your computer

Upload recorded videos or live broadcast your signal to any online video platform

Record training and tutorial videos from your laptop or game console
My DSLR has an HDMI port for viewing images on a screen, and uses a proprietary small HDMI to HDMI cable so I thought that would be a good test of the capabilities. 
The StarTech device can capture a maximum resolution of 1920 x 1080 pixels at 60 frames per second — basically, 1080p, 60fps. Other supported resolutions include 1280 x 720, 1024 x 768 and 800 x 600. 
Function
StarTech doesn't supply any Mac software for capturing the output from the USB-C Capture Device, instead suggesting "third party software that uses UVC compatible frameworks such as Quicktime." For my review testing, I used QuickTime Player.
With my MacBook Pro with Touch Bar as the USB-C device, a large HDTV as my "output" and the DSLR as input, I hooked up the cables. The USB-C to USB-B cable went from the StarTech box to the MacBook Pro, with a standard HDMI cable connecting the box and the HDTV.  On the input end, I ran the small HDMI to standard HDMI cable. 
There's an optional UVC utility that can be downloaded for free from StarTech's website. It allows device hardware parameters like the audio and video input sources and Data Transfer Pipe to be configured. I downloaded it and made some changes to the audio input, allowing it to use HDMI+Mic to grab both audio from video files on my camera and my voice as a narration.
Firing up QuickTime Player and selecting New Movie Recording, I was able to choose "UVCHDCAP" as the "camera" for recording. As I progressed through the images on my camera, I was able to see them in the QuickTime Player window and mirrored onto the HDTV screen. Pressing the Record button in QuickTime Player let me record the images and videos captured with the DSLR into a 1080p file on the MacBook Pro.
There were devices that didn't seem to work with the USB-C Capture Device, and my guess is that it's due to digital rights management restrictions. The device doesn't capture HDCP protected content, which is probably why things like a satellite TV feed and the Apple TV 4K didn't work with the Capture Device. 
<!— code from sekindo - Appleworld.today In-Article - outstream —>

<!— code from sekindo —>
Conclusion
With no need for a separate power cable and following USB Video Class (UVC) standard, the device is automatically recognized by the Mac as a "camera" that can be recorded with QuickTime Player or any other app that allows camera input. StarTech's design is compact and durable, and this Capture Device can go anywhere your MacBook Pro desires. While the price seems a little high, those who have a recognized need to capture video via HDMI into a USB-C based Mac will like the ease of use and quality of output. 
Apple World Today Rating (out of 5 stars): ★★★★★