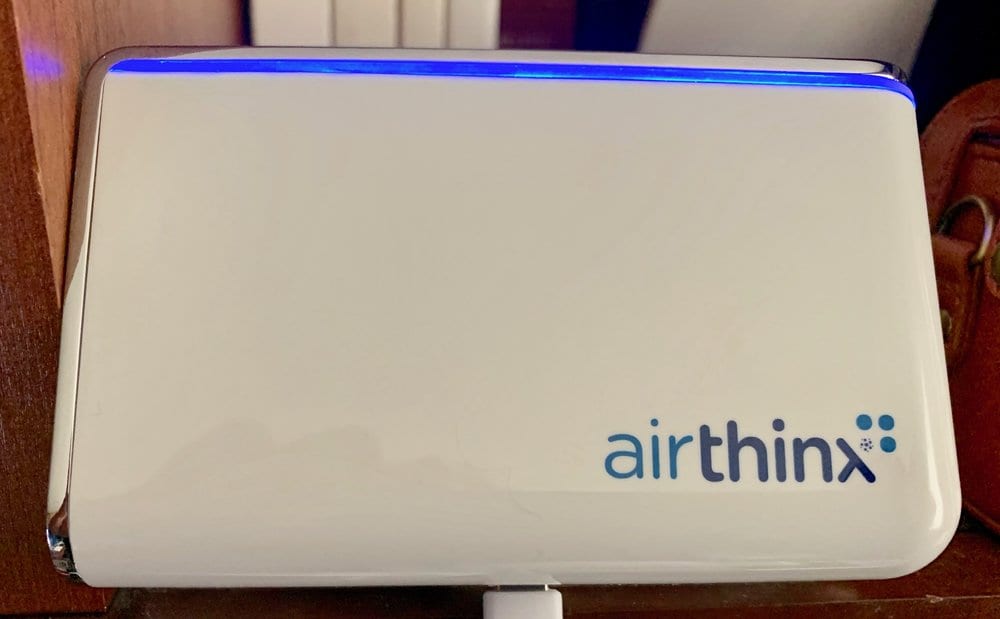 Inside air quality is a growing concern to many people, and a part of the "Internet of Things" that has recently heated up is the monitoring of that quality. Today we're looking at Airthinx IAQ, a professionally-oriented air quality monitoring system that includes a hardware monitor with a built-in 3G cellular modem for connectivity, a web-based dashboard that can be used to monitor multiple homes or offices, and an iOS app for on-the-go insights.
Design
To begin with, let's talk about the actual monitoring device. It's a compact wall-mounted box approximately 4.13 x 2.5 x 1.13 inches in size, powered by a dedicated USB 5V power supply that plugs into the bottom. Once attached to the wall and plugged in, the IAQ monitor requires no other setup. When purchased, the monitor's serial number is connected to your account and the device begins sending out air quality information the moment it's connected to power.
There's a LED strip near the top of the device that shows general air quality by glowing green, yellow or red. During the entire time I tested the Airthinx IAQ monitor, it went between yellow — indicating moderate air quality (apparently below 90 on a scale between 0 and 100) — and red, which indicates poor air quality. Turning off visual alerts using the app turned the LED strip to blue, and there's also a setting for device status that can be used to turn the LED strip completely off — useful if the IAQ monitor is being installed in a bedroom.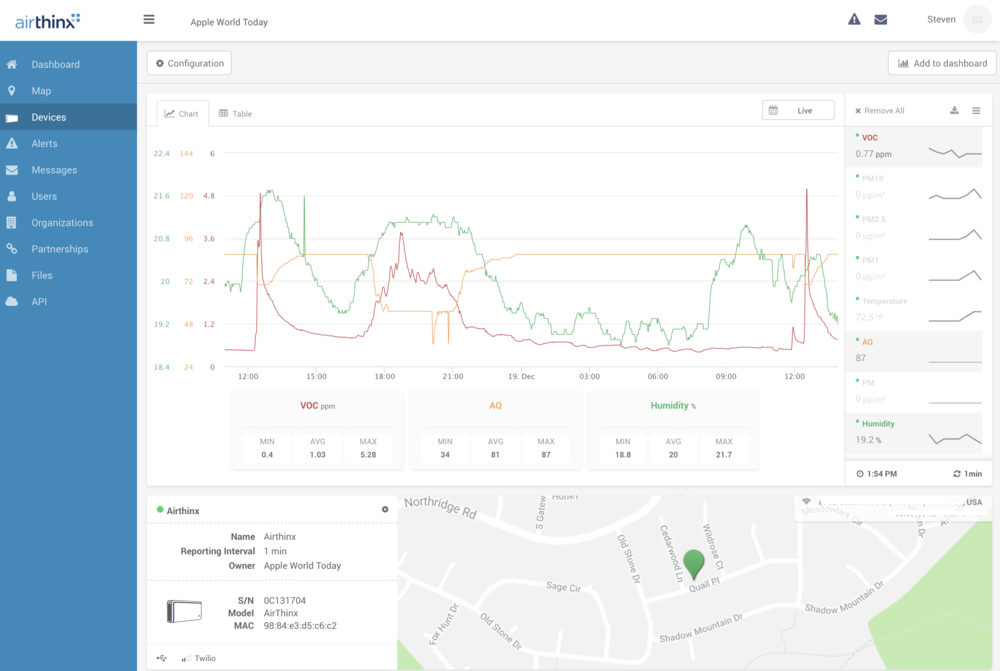 The Airthinx website dashboard (see image above) is quite clean and easy to read, and provides detailed minute-by-minute tracking of air quality for any site being monitored. With a click on any of the air quality factors being monitored, they appear or disappear from the chart. It's also possible to view the data as a table and download the data in a .csv file format for further analysis.
It's also possible to set up alerts with the system to send an email to a system subscriber. For example, I set up an alert for "poor air quality" whenever AQ is less than 70.
Likewise, there's an iOS app (iPhone only) that can be used to track air quality when you're away from a computer. It's quite well written, easy to use, and fast. Indicators that are red and yellow show when a particular factor is either borderline or outright poor. For example, the app showed a red dot near the humidity reading. Well, I live in Colorado where low humidity is quite common, so the 19.2% reading is nothing that I'm particularly worried about.
<!— code from sekindo - Appleworld.today In-Article - outstream —>

<!— code from sekindo —>
Function
Set up of the system is incredibly simple thanks to the built-in cellular modem. There's absolutely no need to connect the Airthinx IAQ monitor to your Wi-Fi network. However, I did run into some issues in setting up an account with Airthinx as I have a non-standard email address using the appleworld.today domain. Once I changed to a more standard email address, everything worked well. There was also a bit of a discrepancy between what worked for login with the web-based dashboard and the app. The Airthinx support team provided almost immediate support via online chat.
Compared to my other air quality monitoring device — the $199 AWAIR 2nd edition (read review here) , the Airthinx device is quite a bit more "industrial looking". The AWAIR comes in a wood case that is attractive, it has a display on the front so users don't need to look at a web dashboard or app to monitor the air quality,
However, we're really talking about two different markets here. Airthinx is obviously pointing this toward those who wish to monitor multiple sites at once. For a facilities manager with a large company with multiple offices, it would be useful to install Airthinx IAQ monitors at those locations to keep an eye on the air quality to prevent employee lawsuits due to sick building syndrome. AWAIR is oriented towards those who are concerned about air quality in the home.
Airthinx also provides a much more complete picture of air quality, with twelve separate factors being monitored on the dashboard: VOC (volatile organic chemicals), PM10 (particulate matter between 2.5 and 10 micrometers in diameter), PM 2.5 (fine particles between 2.5 micrometers or less), two other particulate matter readings (PM1 and PM), temperature in both °F and °C, a composite air quality index (AQ), humidity, CH2O (formaldehyde, a common toxin), CO2 (carbon dioxide level), and air pressure.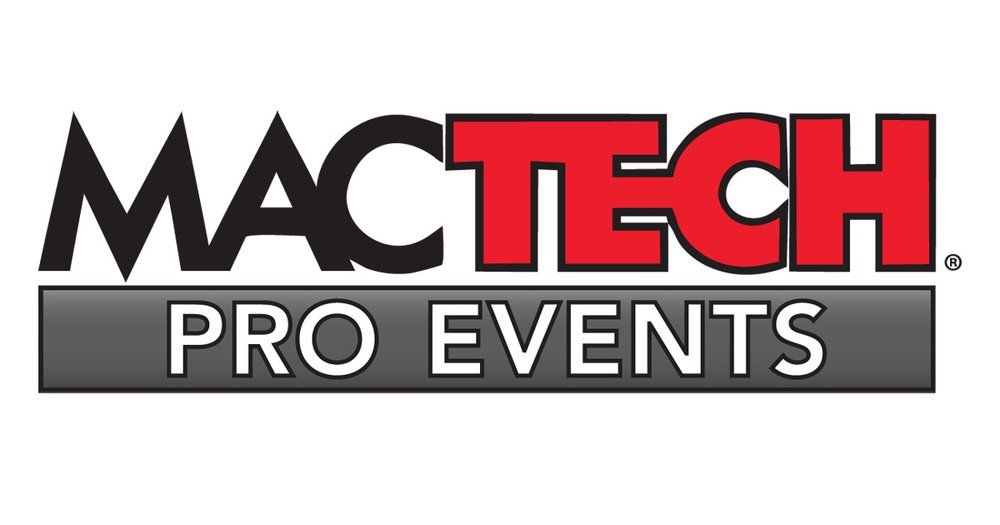 MacTech Pro events are designed to benefit both return attendees as well as those that have never attended a MacTech event. Held around the country, MacTech Pro is a single-track, hotel-based seminar that is specifically geared to serve the needs of professionals wanting to serve those they support better, according to Neil Ticktin, MacTech Pro event organizer..
There are 10 regional, one-day events in cities around the United States during 2019, including:
Los Angeles – Feb 13, 2019
Seattle – Mar 13, 2019
Boston – Apr 3, 2019
Denver – Apr 24, 2019
San Francisco – May 22, 2019
Washington DC – Jun 26, 2019
Chicago – Jul 17, 2019
Atlanta – Jul 31, 2019
Houston – Aug 28, 2019
New York – Sep 18, 2019
<!— code from sekindo - Appleworld.today In-Article - outstream —>

<!— code from sekindo —>
"Since 2010, MacTech has produced over 140 conferences, seminars, workshops and accreditation events with over 1000 sessions of content," Ticktin says. "But, the part that's really special about MacTech events is the community: people getting together, face-to-face, and share their knowledge. It's what makes this community so special."
The content is designed by MacTech staff in conjunction with some of the best and brightest in our industry, he adds. For 2019, all new topics are being chosen based on feedback from the attendees of prior events along with MacTech's Curriculum Council. Together, session content is vetted, but it also identifies best practices and solutions in the industry.
Pricing for MacTech Pro includes lunch, sessions, and sponsor interaction. Each event has early bird registration pricing available in limited quantity, saving registered attendees up to $200 (the normal price is $499, and the early bird price is $299). You should take note of when the early bird period ends for each location.
As part of the introduction of the 2019 events, attendees can register for just $199 until Dec. 31, and $249 until Jan. 31. For more info, go to http://pro.mactech.com.