Redbooth, an all-in-one project management and collaboration platform, has launched its new Apple TV app that's designed to leverage the power of the platform to encourage group discussion, collaboration and planning around the screens in our offices and homes from lesson planning and backlog prioritization meetings to trip planning and a wedding countdown.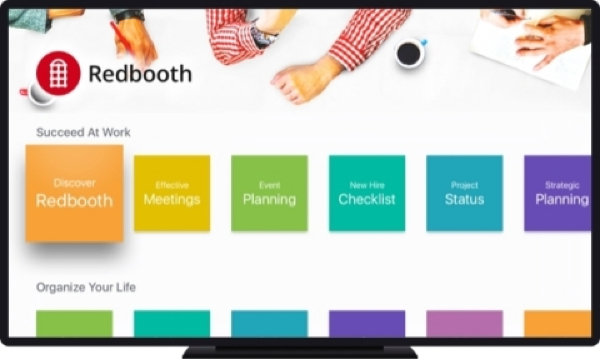 The free app — available at the Apple TV app store — displays an optimized version of Redbooth. It's a collaboration app designed specifically for the Apple TV, says Dan Schoenbaum, CEO for Redbooth. Combined with Redbooth's apps for iPhone, iPad and Apple Watch, this affords maximum flexibility when editing tasks, adding comments and staying connected to your team's work, he adds.
Schoenbaum says the initial version of Redbooth for the Apple TV includes some of the following capabilities:
Optimized for large screens: Rather than projecting the standard Redbooth desktop client, a streamlined, responsive version of the workspace is displayed, which can be used to guide, organize and facilitate group meetings or gatherings tied to projects and tasks;
Customized user experience: Once a user is logged in, a user's existing workspaces are automatically synced, providing an easy way for team members to drill down into an individual's workspace to view task lists and tasks, view task status, assignees, due date, description and comments, mark tasks complete, set a due date, and view extended descriptions and comments;
Integrated content: Get started quickly with Redbooth's free project templates or use your Redbooth account to easily view and update your existing workspaces. Users can access and view a variety of content, including application training, best practices and productivity tips – all available for on-screen viewing.