What if you could make a $200 – $250 investment that could pay itself back in a few years? I made that investment two years ago with the Rachio Smart Sprinkler Controller, and it's saved me money on expensive and scarce water for irrigating my lawn and garden. Rachio is now shipping the second generation of the device, which adds to the utility of this water-saving smart controller.
Design
Perhaps the biggest change to the Rachio Smart Sprinkler Controller is the external shell; it's a bit shorter than the previous box with an expanded width. Dimension-wise, the new box is a sleek 9.25 x 5.625 x 1.625 inches, and weighs just 1.2 lbs. The previous model was square in shape: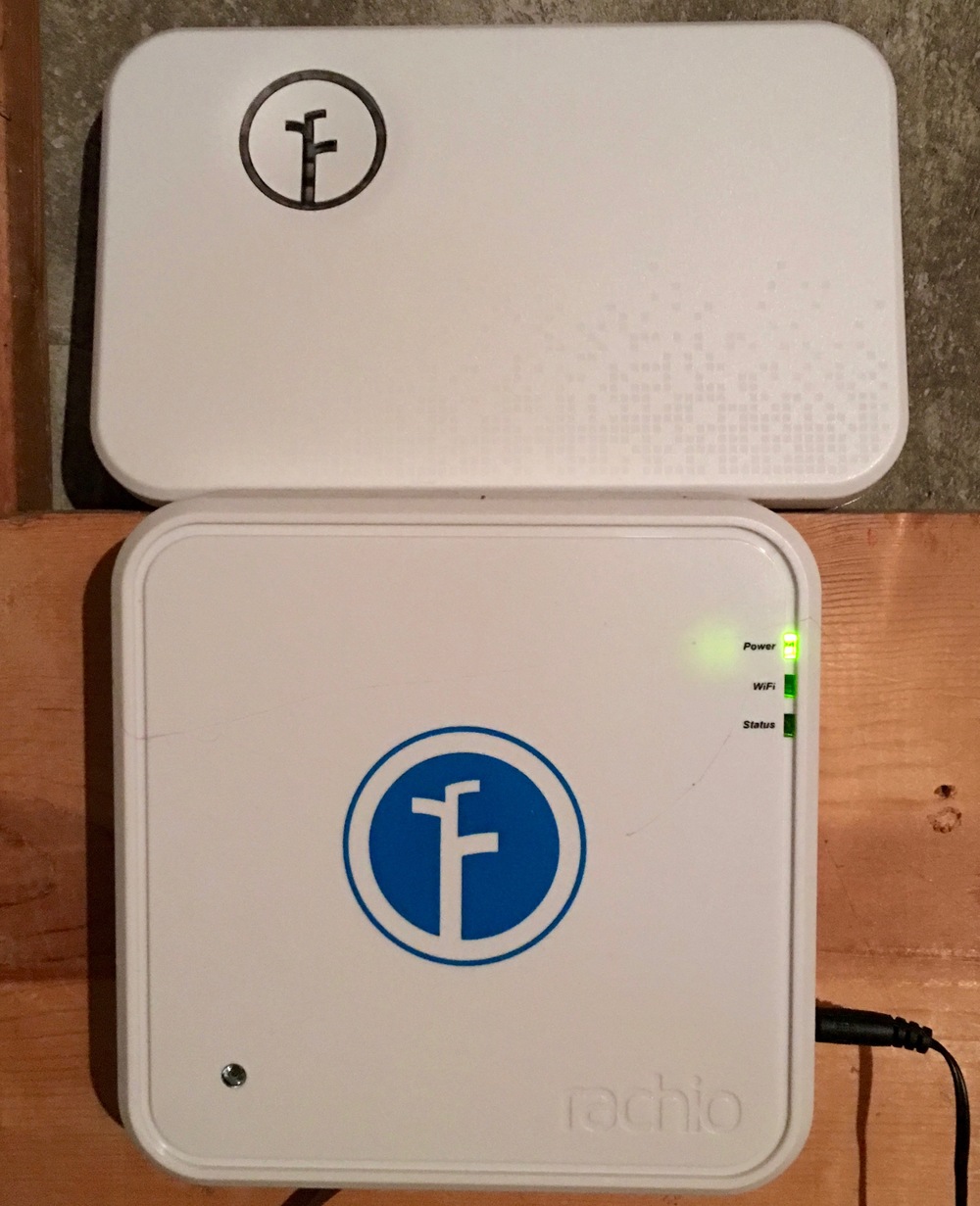 Like the previous Rachio, it's possible to purchase both 8-zone ($199.99) and 16-zone ($249.99) models depending on the size and complexity of your sprinkler system. The device comes with a 6-foot long power cable for flexibility in mounting, and the mounting hardware is included as well. Should you decide that you'd like to mount the controller outside, a waterproof enclosure is available for just $29.99.
The connection LEDs have been updated from the previous version as well; in the past, there were green LEDs on one side that were used to indicate that the device was powered up and ready to be set up with a Wi-Fi connection. Now there are blue LEDs that are arranged in the shape of the Rachio logo. While there was no way to tell with a glance which sprinkler zone was being watered with the original controller, the new device has a ring of LEDs — one for each zone.
The second-generation controller requires a 2.4 GHz Wi-Fi network (5 GHz is not supported).
Function
Rachio has been at this for about three years (from initial prototyping to today's second-generation model), and two things are obvious — the company keeps learning and adding integrations with other Internet of Things devices, and it listens to feedback. For example, early on I wanted to know if the device could be connected to my Personal Weather Station for ultra-local control since the Rachio algorithms rely on weather input. In the early days, it could not be connected, but that changed quickly and now if rain happens a half-mile away but not at my home, the device doesn't delay watering.
As with the previous design, everything is app-controlled. You set up a "yard card" showing all of your sprinkler zones, describing the type of plants (shrubs, flowers, grass), type of soil (sand, clay, loam, etc…), whether or not the zone is on a hill or receives shade, and so on. From the yard card description, Rachio determines exactly how much water each zone should get and on what kind of schedule.
Setup of the device was a piece of cake; Rachio offers short Get Started videos like the one seen below that are designed for visual learners and there's also an outstanding online support section on the company's website. The previous version and this version use spring-loaded "wire grabbers" as connectors; you just use a small screwdriver to push down a button, insert the wire to your sprinkler valve, and let go of the button. Earlier this year I had to add a new zone for some shrubs we've added to our landscaping; it took less than a minute to connect the wire and about 5 minutes to add the details of the new zone to the app.
Automatic watering is the best, as it will use less water. But if you need to give a zone an extra zap of water because it's drying out a bit, you can either tweak your schedule or manually water the zone from the app. I've also found the Rachio controller and app to be a big help when our sprinkler system is started up each spring, since I can now walk around with the sprinkler tech and start each zone remotely from the app rather than having to run to my basement (where the controller is installed) to turn on a zone for testing.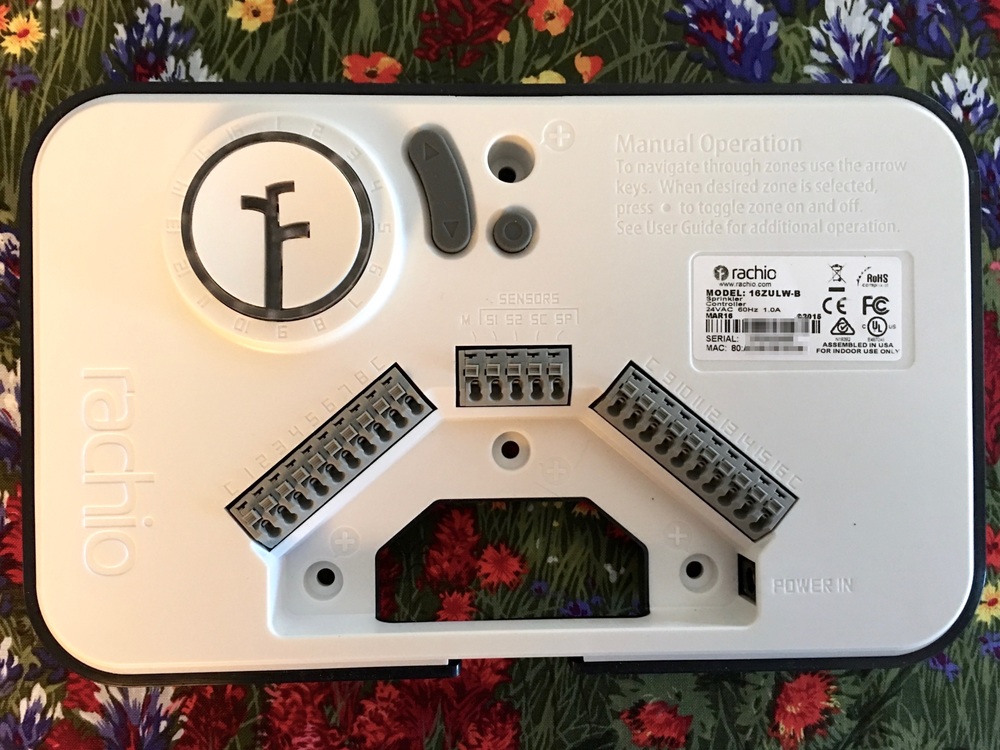 Another feature of the 2nd-generation Rachio that the original didn't have is the ability to manually cycle through zones with buttons. Under the easily-removed cover of the Rachio are "up/down" and start buttons. It's not often that you'll need to use those buttons, but for those old-school sprinkler repair folks who are used to buttons, they're gonna love 'em.
The big question: does the Rachio Smart Sprinkler Controller really save on water expenditures? The first year I used a Rachio my water consumption went from 78,000 gallons to 66,000 gallons — that's almost a 15% reduction in consumption and cost. So far this year, consumption's down 16% over 2015. Here's what I've saved just this month (through June 27th) since the Rachio decided that because of recent rains, it didn't need to water my lawn: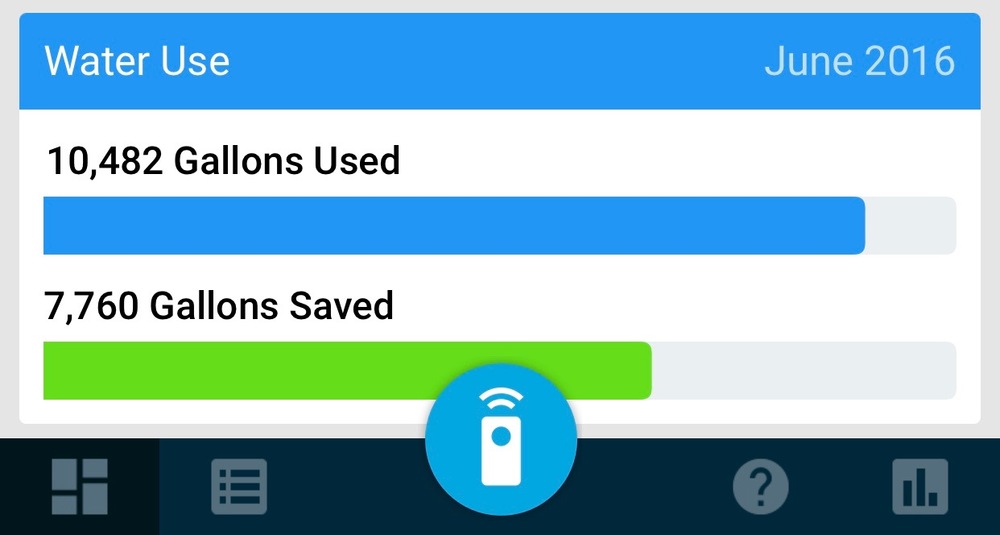 Fans of home automation will fall in love with the Rachio Controller. There are integrations with a large and growing list, including Nest, Alexa, personal weather stations and Wunderground, Netatmo, SmartThings, Wink, IFTTT, Control4, and Nexia. Sadly, the device doesn't support Apple HomeKit; disappointing, since the 2nd-generation device was supposed to. The company notes that the first-generation controller will never be able to support HomeKit due to a hardware limitation, but that second-generation support might be coming.
That being said, I was able to use IFTTT integration to create my own limited Siri support by using the SMS and Rachio channels. Using Siri to send a text message to IFTTT (I created a contact called Sprinklers and put the IFTTT text phone number into it), I can say "Tell Drip Sprinklers to do their thing" to Siri and my drip watering zone gets a 20-minute boost.
And some more suggestions: although the iPhone app will work on an iPad, it's not native and always defaults to portrait mode. I'd like to see Rachio not only provide an iPad app, but update the iPhone app with Apple Watch capabilities. It would be awesome to be able to tap the Watch, use the Digital Crown to pick a watering schedule or particular zone, and then watch the sprinklers go into action.
Conclusion
Rachio has made some needed changes to the second-generation Smart Sprinkler Controller, including the ability to hard-wire a controller outside in a waterproof enclosure, easy manual controls, and a more understandable set of LED lights for setup and operation. With a bit more work on the Rachio app and HomeKit compatibility, I'd give the Smart Sprinkler Controller a five-star rating.
Apple World Today Rating (out of 5 stars): ★★★★