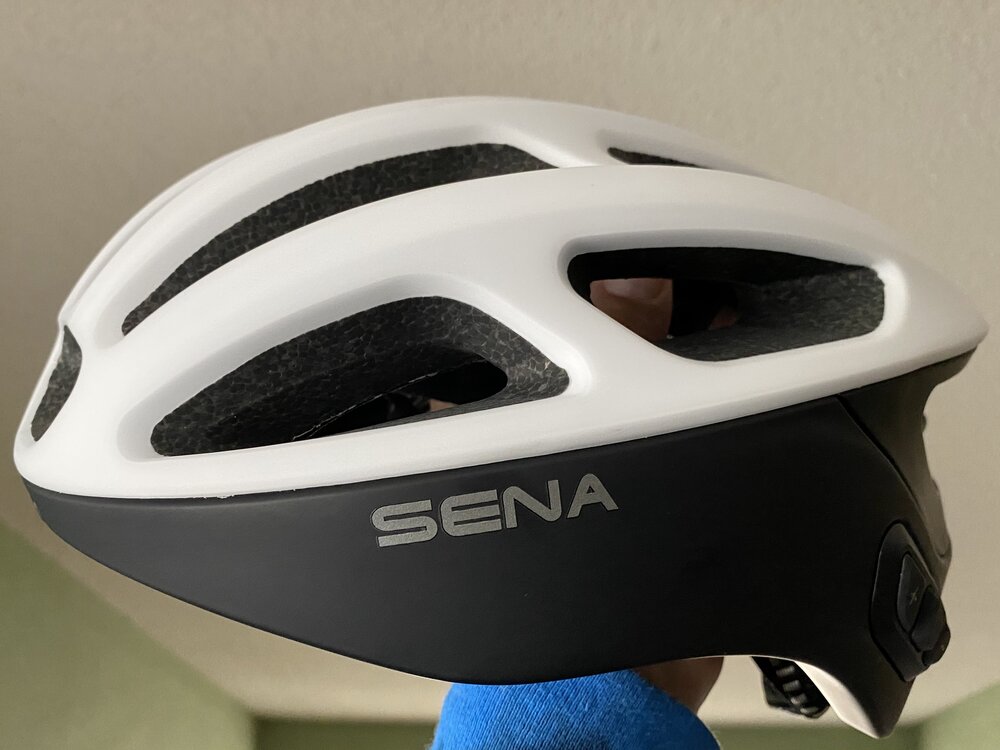 Smart bicyclists know that you never go out for a bike ride without wearing a helmet. Sadly, most bike helmets make it difficult to use our technological gadgets. Sena has combined high-tech and safety into the design of the R1 EVO Smart Bike Helmet (US$159.00), featuring a mesh intercom system, bright LED tail lights, Bluetooth connectivity and more. Let's take a look!
Design
Sena has been making connected motorcycle and bicycle helmets for a while, and their experience culminated in the design of the R1 EVO. The company knows how to build safety helmets, which is why the R1 EVO first and foremost meets the CPSC 1203 federal standard for bicycle helmets as well as the European equivalent, CE EN 1078. Unfortunately — and this is the only negative I can see with the R1 EVO Smart Helmet — it doesn't use the MIPS Brain Protection System. I hope that Sena chooses to add the MIPS BPS to a future release of the smart helmet.
Of course, Sena wants to make you look good on your bike, so the helmet is styled like a traditional bike helmet. There's an optional visor that can be attached to the front of the helmet to improve eye shading, and the chinstrap has a nice cushion that won't cut into your face.
The included Quick Start Guide begins with the important step of fitting the helmet to your head. The R1 EVO comes in three sizes:

Be sure to follow the measuring guide listed above, as you definitely want to get the correct size on the helmet. I have a very big head — 61 cm to be exact — and I had to play with the retention system dial before I had a comfortable fit. The padding in the helmet is very adequate.
The electronics are the heart of the R1 EVO Smart Bike Helmet, and they're controlled from a trio of buttons located on the left side of the helmet (see image above). There's also a Sena button located on the back for turning the tail light (see image below) on and off, as well as enabling night or day flash. As you'd expect, all of the buttons are large enough to be easily pressed while riding. Alternatively, there are optional handlebar-mounted buttons that can be used to control functions.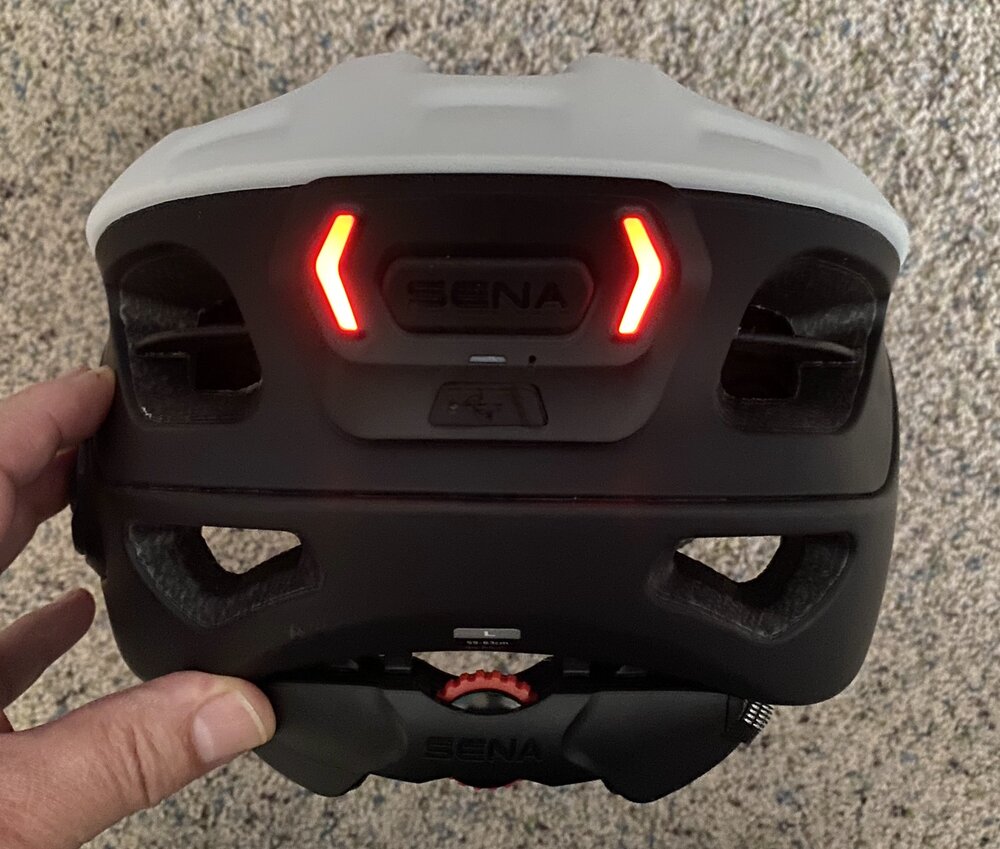 Of course, we wouldn't be writing about a bike helmet here on Apple World Today if it didn't come with an app. The free Sena Cycling App is your gateway to all of the various electronic functions…which I will describe next. There's also a Mac and Windows app called the Sena Device Manager (download link) that is required to do firmware upgrades.
First, with the built-in Bluetooth connectivity and voice control, you can not only answer your iPhone, listen to music and turn the LED taillight on and off, but get directions from Siri and Apple Maps. Not enough functionality? There's also a built-in FM radio, which you can use to add up to 10 preset stations. The built-in mesh intercom system links other cyclists on one of 9 channels up to 900m (0.5 miles) away, so you can chat with others you're riding with as long as you agree on what channel to use.
All of the audio uses a pair of speakers that are set above the ears so that you can still hear ambient noise — critical for road bikes and commuters. There's built-in noise cancellation to make your voice sound good to people you're talking to and to make the voice prompts, phone sound and music sound its best.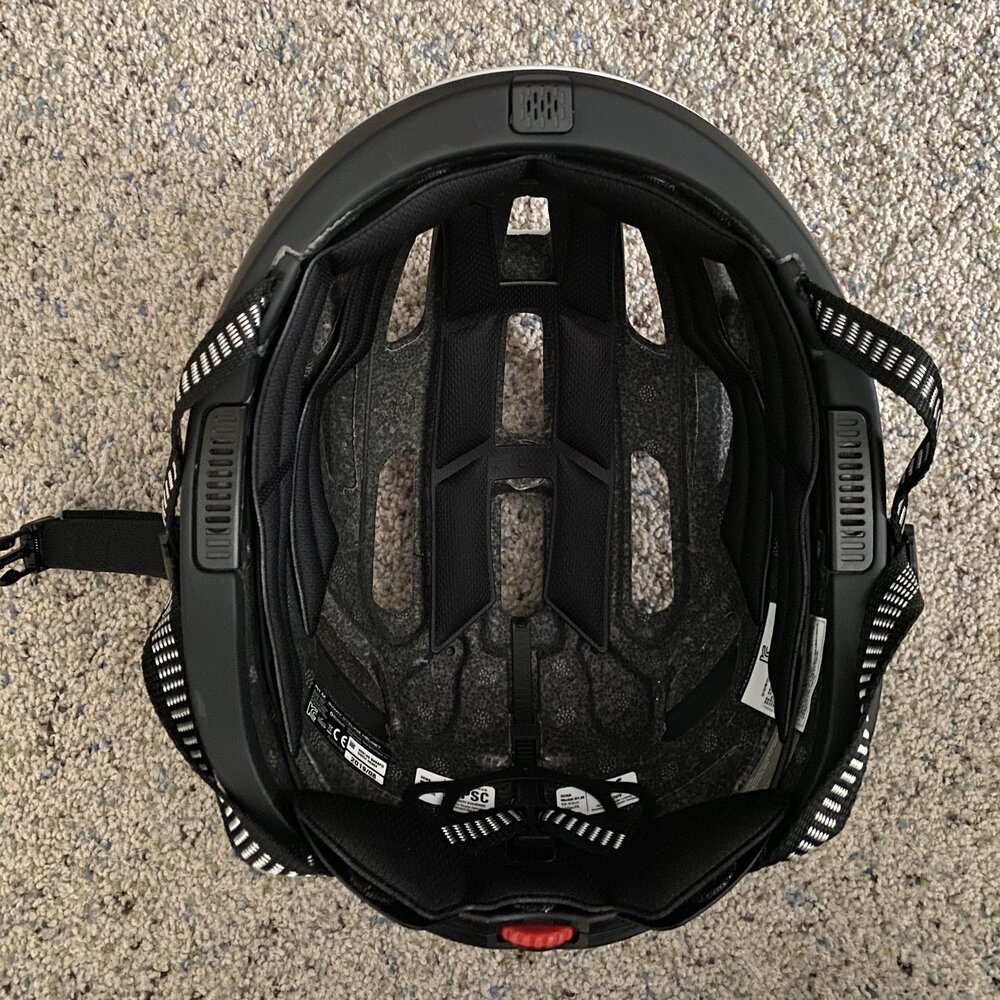 The helmet battery charges in about two hours, which provides up to seven to ten hours of use depending on which taillight setting is enabled. There's a 20-minute quick charge cycle available that's useful during hydration stops, and 20 minutes provides about three hours of intercom time or five hours of general use.
Function
Once I had the helmet comfortably fitted to my head, I pressed the two buttons on the left side of the helmet that turn it on for about a second and was greeted with a friendly "Preparing Headset" prompt followed by "Hello!". Pressing those same two buttons for another second turned the electronics off with a cheery "Goodbye".
To pair the helmet with my iPhone, I started the helmet by pressing those same two buttons for ten seconds. A phone pairing voice prompt let me know what was going on, at which time I opened up Settings > Bluetooth on my iPhone and tapped the device in the discovery list. No pairing code was required.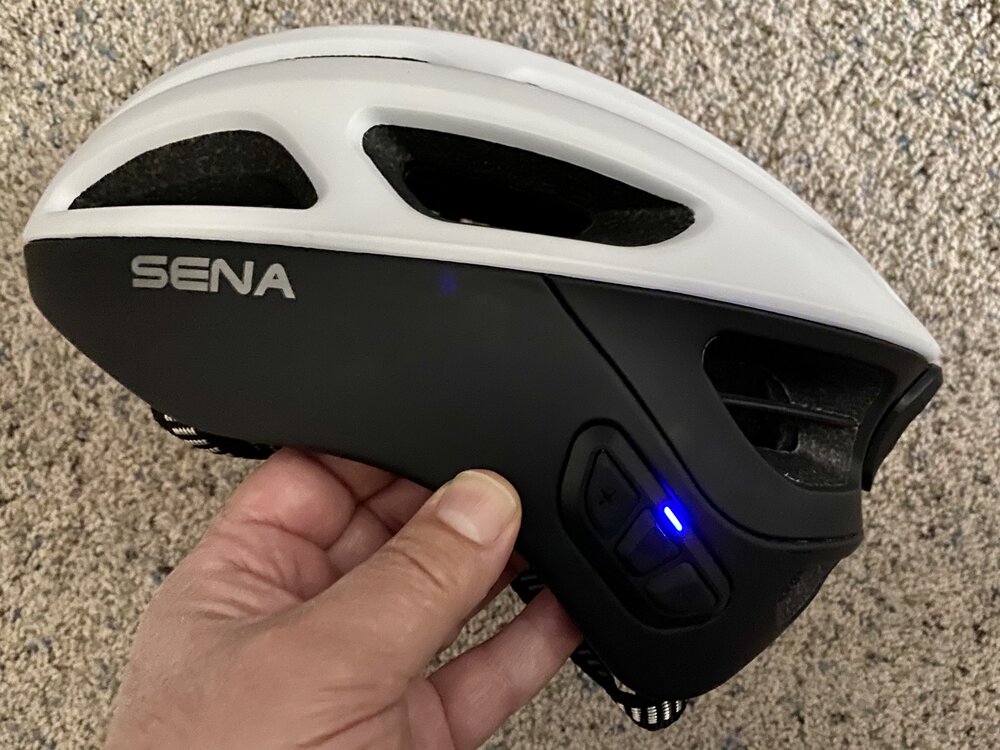 Once paired, I used the app to try some of the functions — for example, I set up three local FM stations, turned the taillight on and off, and listened to Apple Music through the built-in speakers. All of those functions can be set up or controlled by the app.
Since I don't particularly like to use an app while riding a bike, I was interested in the voice control capabilities. Now, there are a lot of things you can ask the built-in voice control to do by saying "Hello, Sena", like playing or pausing music, turning the FM radio on or off, checking the battery level, speed dialing a saved number, redialing, checking connected devices, turning the taillight on or off, and enabling/disabling mesh intercom.
Even better, by pressing and holding the center button on the helmet for three seconds, you can bring up Apple's assistant Siri. I was able to ask for directions to my favorite pizza place, then hear them through the helmet speaker. You still need to push the button…but once that's done, any function available through Siri can be used with the helmet microphone and speaker.
The mesh intercom function is nothing short of incredible. I set my wife up with one of the R1 EVO helmets while I was wearing the other. We both chose channel 7 (since 7 is a good number…) and I headed off down the street. We were able to converse up to about .4 miles, which isn't bad at all. Where the function would really be useful is with a group of riders. Sena says that in open terrain, it's possible to stretch the conversation up to 3.6 km (2 miles) through six users all on the same channel.
Separate groups can use different channels, and a rider can then switch between channels to converse with each group. It's a great way to keep in touch without needing to use the phone, very useful when you want to keep in touch with another rider and you're out of cellular coverage.
On a more sedate and non-technical note, I like the large open vents on the R1 EVO — it's great for keeping your head cool during warm-weather rides. However, if you're balding like I am, you probably want to get a helmet cover or liner to keep from getting suntanned patches on your head!
Conclusion
Considering the amount of technology built into the R1 EVO Smart Helmet, I think it's a bargain. Some high-end bike helmets from manufacturers like Garneau and Kali Protectives go for $90 to $100 — the R1 EVO Smart Helmet is only $159. It's protective and the technology works better than I anticipated, meaning that it's much more useful than I thought it would be. If you're considering the purchase of a new bike helmet, take a look at the Sena R1 EVO Smart Helmet. I think you'll be as pleased with it as I am!
Apple World Today Rating (out of 5 stars): ★★★★★
Did you find this review helpful? Please support Apple World Today through Patreon.
Become a Patron!