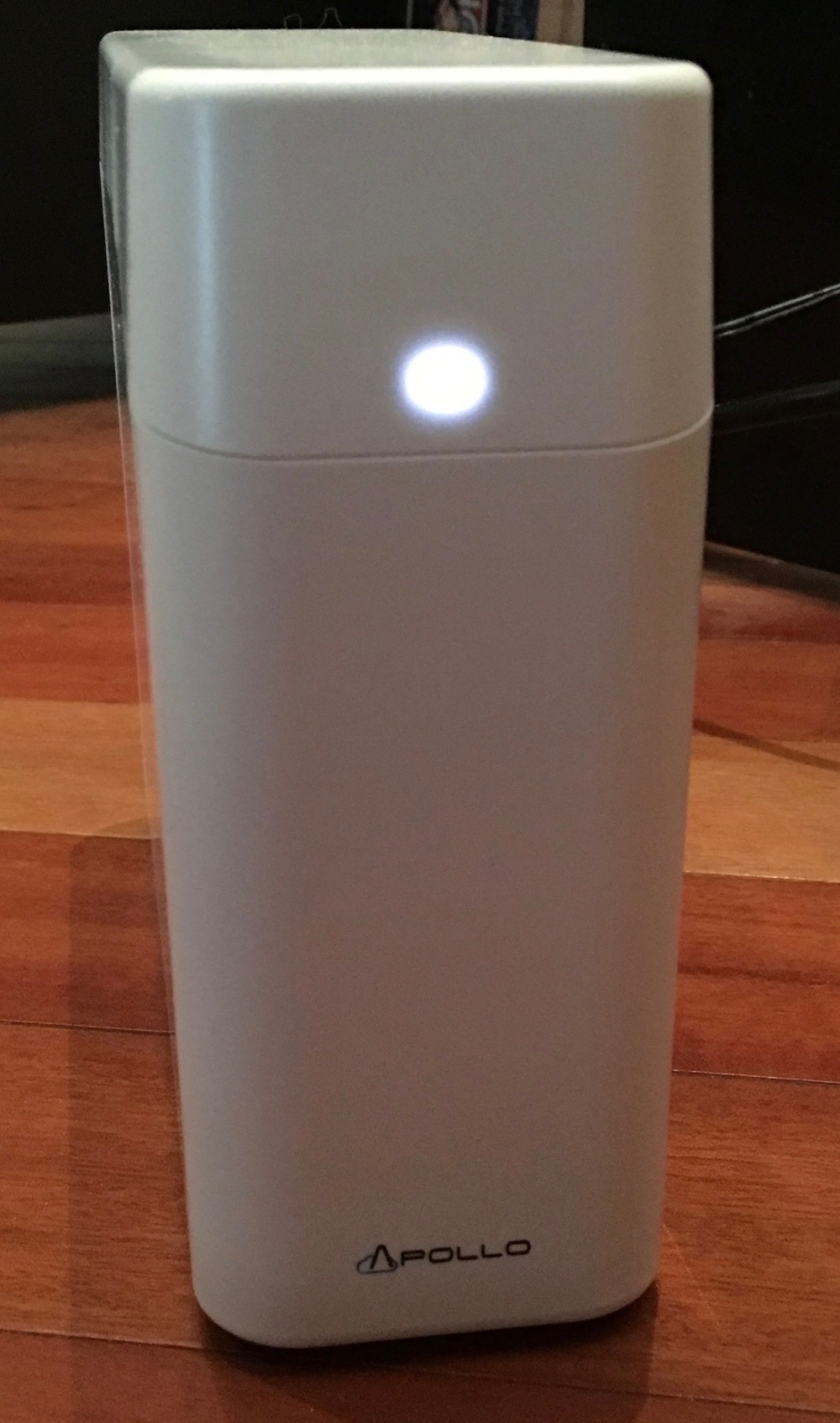 We all love "the cloud" these days; many of us keep our data in iCloud, Dropbox, Microsoft OneDrive or a combination of all of those services. But for some people, the idea of putting their personal or company information onto someone else's remote server remains a barrier to using a cloud solution. Promise Technology today revealed Apollo ($299), a cloud appliance that is designed to be easy enough for anyone to use and capable enough to keep those users happy. It exceeds those goals, and as such we're naming it an Apple World Today Top Pick for 2016.
This is Promise Technology's first foray into the consumer market; the company has an excellent reputation in the enterprise market for its storage solutions. Apple is cognizant of that reputation, and Apollo will be available in Apple Stores (both online and brick-and-mortar) beginning June 7, 2016.
Design
Apollo is a small white box with glowing LEDs on the front that show status. The box itself is 5.6 x 7.5 x 2.4 inches in size (143 x 190 x 61mm) and weighs just 2.64 lbs (1.2 kg). On the back is a gigabit Ethernet port and a USB 3.0 port as well. The Ethernet port is used to connect to your router, while the USB port is used to back up the device. Apollo provides 4TB (about 3623GB usable space) of cloud storage to any device you may have — Mac, PC, iOS or Android device.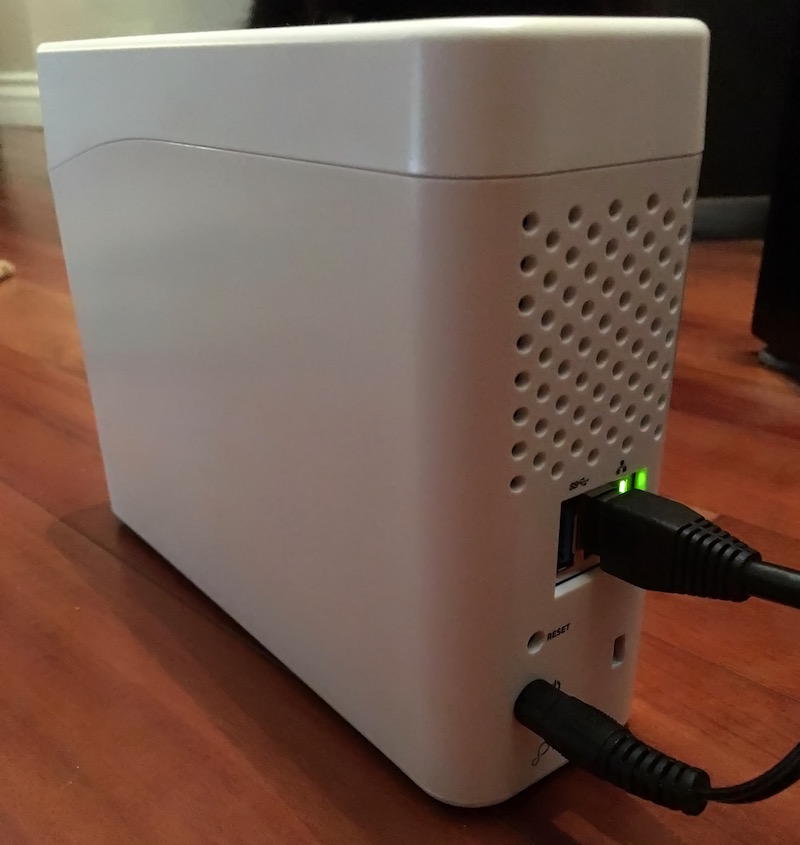 The LEDs on the device indicate a number of status conditions depending on whether they're glowing steady or flashing, and also on the colors that are shown (red, white or green). For those who are thinking that they'd like to have Apollo sitting in a bedroom but don't want flashing LEDs to contend with, the app can set the intensity of the LEDs to a lower level or shut them off completely.
Power consumption for Apollo is just 16W, so you shouldn't have any concerns that this always-on device will make your electricity bill soar.
Function
I've reviewed other personal cloud solutions in the past, and to be honest with you I wasn't expecting much from Apollo. The solution definitely exceeded my expectations, beginning with the setup process.
Setup was drop-dead simple. Basically, you plug the device into power, run an Ethernet cable between the back of the Apollo and your router, and then use the Apollo Cloud iOS app for setup. It literally took me more time to find an open power outlet to plug the device into than it took to get Apollo up and running. Promise has designed Apollo to be easily set up and used by anyone, and the company has succeeded.
The app does discovery of the Apollo device as long as it's on your local network and powered up. Tap a few buttons in the iOS app, enter in an email address and password, and then a validation code is sent back to you. Enter the validation code into the app and you're up and running.
Once the device is set up, you have 4TB of storage that's securely available from anywhere that you have Internet access. I decided to take a lot of video and photo media that's stored on my iMac and copy it over to Apollo for testing.
To populate the device with files on my Mac I simply dragged and dropped them onto the Mac app screen, and then they were transferred over to the Apollo. I copied some very large video files (two at almost 200GB apiece) with no issues or glitches, and then used the Apollo iOS app to stream that video over LTE. The video was smooth and clear, and there were no latency or lag issues in watching it.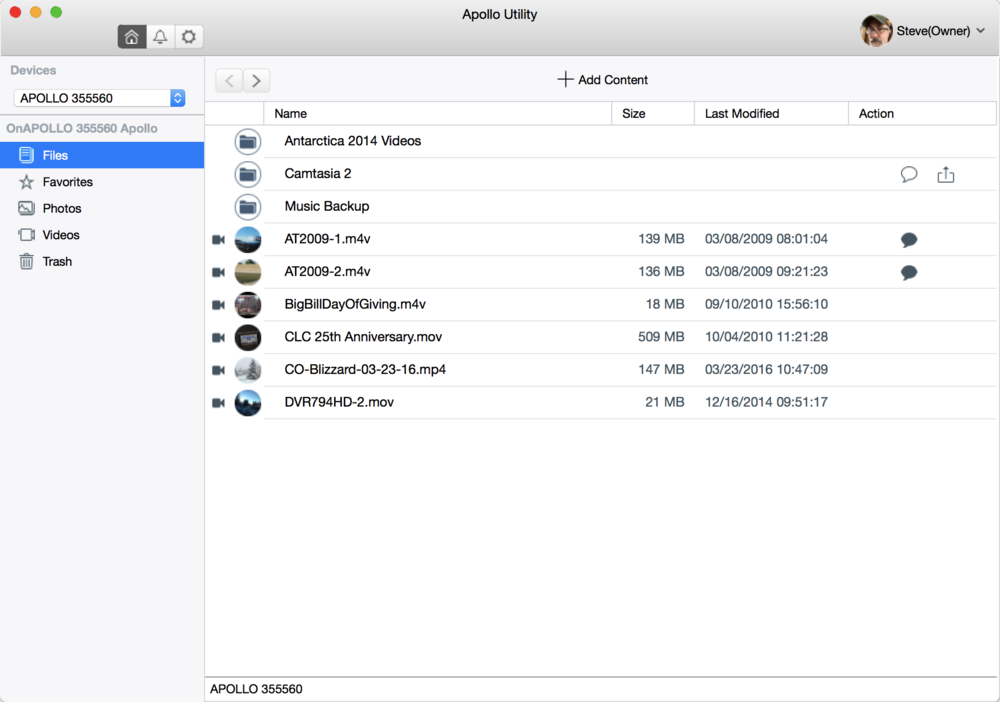 The Mac version of the Apollo Utility is downloadable from the Promise Technology website, and it's also simple to use. The app can be used to set up a sync folder on your Mac; everything that is put into that folder is then automatically synchronized with the Apollo device. That can be handy for those who do a lot of photo or video work; anything that is stored on the Mac can be immediately synced to the cloud as well for remote access.
One feature of the iOS app that is wonderful for all of us who take tons of iPhone photos is the ability to turn on "camera rolls" synching. Rather than being difficult to set up, it just takes one tap on one button and the photos start synching. The default is to have this feature work only when your iPhone or iPad is connected over Wi-Fi, which keeps you from incurring expensive data overruns.
Of course, you may want to share that 4TB of storage with family or co-workers, and that's easy to do as well. Up to 9 other members can be added to a sharing "circle" on the device. Tap a plus button, type in a name, and the app automatically sends a link to the person that gives them access to the device as well as a link to download the app.
Promise Technology gives the device a two-year warranty. Like any device with a hard drive in it, Apollo can fail, which is why the company added the USB 3.0 port to the back of the device. Just plug in a 4TB USB 3.0 external drive (available online for as little as $109) and Apollo automatically backs itself up to the hard drive. Should the Apollo drive fail, there's a simple restore process as well.
I have to admit that I was very impressed as well with the sheer number and quality of helpful videos that Promise Technology has made for Apollo. If you have any questions before or after purchasing one of the devices, I suggest taking a look at the "How To" page, which features videos and FAQs that are sure to answer your questions. You probably won't have any — Apollo is very intuitive — but it's good to know that there's a lot of easy to understand support material available.
One final point here; many people might wonder just how secure their private/personal data is on Apollo. All communications between the device and the apps is encrypted with AES-256, an encryption method that uses a 256-bit key to encode/decode data. 256-bit encryption is considered virtually unbreakable — here's a Wikipedia entry showing just how secure it is.
Conclusion
It can be difficult to find a place to store the sheer amount of data we generate each and every day in the form of documents and visual media. Promise Technology's Apollo delivers on the need for an easy-to-use, low-cost, and universally accessible mass cloud storage solution. Whether you're a person who just doesn't want the annual expense and questionable security of cloud storage through a third-party like Apple or Dropbox or a small business owner who wants to securely share company information to a team, Apollo is a top-notch and well-thought-out solution that you'll be happy with.
Apple World Today Rating (out of 5 stars): ★★★★★