My lovely wife loves to print recipes she finds on-line. She learned the hard way that you don't simply hit "print" when you see one you like. The first (and last) time she did this, about 40 pages printed (the entire cooking web site, not just the recipe she saw), as she went about her business unaware that the Epson printer was spitting out page after page after page.
Needless to say that lots of paper and expensive inkjet ink was wasted. My wife now knows to cut and paste items, not just print 'em willy nilly. However, printing selected items is a whole easier with Chimp Studios' Print Selection for macOS 10.7 and higher.
Accessible from the menu bar, the dock, or the Services menu, Print Selection lets you easily and quickly print snippets from webpages, emails, and documents. The macOS Services integration allows Print Selection to serve users even when it's not running.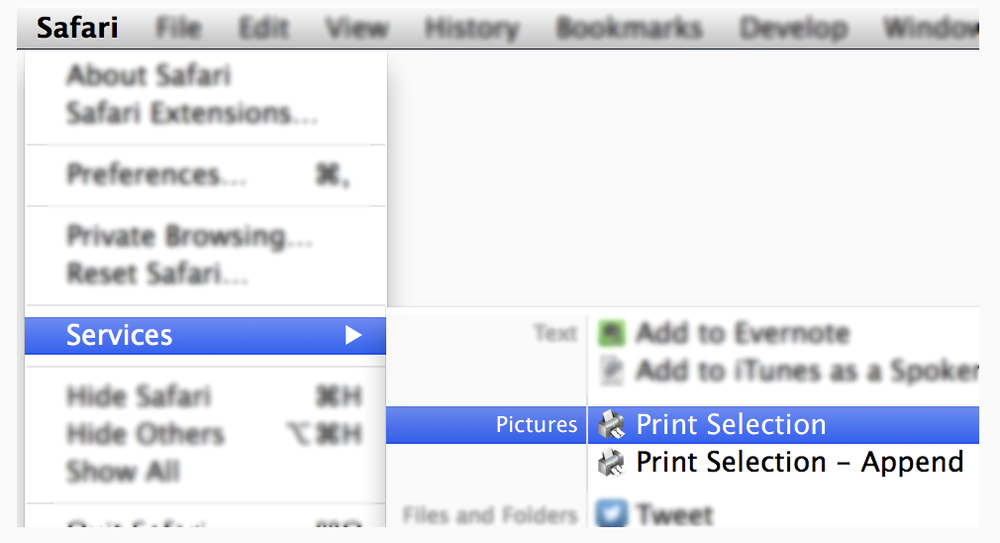 Here's a scenario in which the software isn't running: by selecting a snippet in another app such as Safari and then invoking the Print Selection service via the Services menu item, the software will automatically start up and present the print dialog with the snippet displayed.
Preferences are available to have Print Selection automatically quit after the print dialog is dismissed, to have the app displayed in the menubar, dock, both (or neither), to automatically save content between app launches, and to set a customizable hot key for displaying the Print Selection window. Content can be toggled between color and grayscale with a button on the main window in order to preserve color ink. Print Selection even supports basic text editing
To enable or disable the Print Selection Service menu item go to System Preferences (click on  in upper left corner of screen and select System Preferences from the menu). Select "Services" in the left box and "Print Selection" will be underneath "Pictures" in the right box. Tick the checkbox to enable the service or un-tick the box to disable the service.
If the app is running, you can click on the Print Services selection in the Mac OS X menu bar on the right of the screen. A pop-up window opens; you can paste text and/or graphics, then hit the Print command at the bottom of the window. If you prefer the app to always be running, you can choose to have Print Selection launch when you boot up your Mac.
The Chimp Studio software is flexible and easy to use. The latest version (1.3.3) improved overall stability and usability.
Print Selection costs $4.99 and is available at the Mac App Store. A demo is available at the Chimp Studios website.
Apple World Today Rating (out of 5 stars): ★★★★★