Bluelounge is an accessory manufacturer with a mission; creating well-designed accessories that people need and want. Over the years I've reviewed the company's Soba cable guides and used a Kickflip with a MacBook Pro, finding the products to not only be attractive and useful, but also surprisingly inexpensive. Today I'm looking at two new products from Bluelounge; the Portiko (US$24.95) extension cord and Pixi multi-purpose ties ($9.95).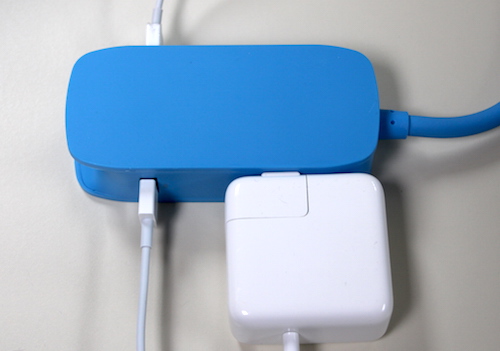 Let's look at Portiko. Sure, a 6-foot extension cord doesn't sound too exciting; after all, you can go to your local Home Depot and pick one up any day. But taking a closer look at the Portiko shows just how much more useful it is to tech geeks than a regular extension cord.
First, when you plug the Portiko into a wall socket you'll find that the cable doesn't interfere with other plugs — it comes out at a 45-degree angle rather than straight up/down or right/left. Next, the other end of the extension cord has two wide-open grounded plugs that just about any power brick can plug into regardless of size. But even better, there are a pair of USB ports for charging your mobile devices. From one wall plug, you can charge up two laptops and two phones at the same time.
The smart design of the Portiko comes into play with two features: a way to loop unused cord over the top of the end with the outlets and a magnetic adhesive plate that can be used to attach the Portiko to a wall or other surface. Portiko is available in two colors: plain white and a vibrant blue.
Yeah, Portiko is just an extension cord… but it's an extension cord that should be in everyone's computer bag.
Apple World Today Rating (out of 5 stars): ★★★★★
---
Next I'm taking a look at Pixi multi-purpose ties. You know how just about anything with cables comes with those twist ties to keep them organized? They are easy to lose, especially when you have a pair of cats who think that they make really good toys. Well, Pixi ties are reusable multi-purpose ties that feature a really smart design.
To install a Pixi, you take the "bungee" end of the Pixi and wrap it around whatevery you want to hold in place. Holding onto a silicon "button" that has a channel in it, you take the slack of the bungee and pull it tightly so that it is trapped in the locking channel. Done.
Need to untie whatever you've just tied up? Just grab the slack bungee end and pull it out of the channel. It's fast and you don't have to drive yourself bonkers figuring out if your twist ties were installed clockwise or counterclockwise.
Pixis come in three different sizes; small, medium and large. Small is used to secure things like cables or bread bags, medium is good for garden hoses or securing travel accessories, and large can do things like hold camping gear in place. You get 8 small Pixis (grey and black or orange and blue), 6 medium Pixis (green and black), or 4 large Pixis (red and black) in a package.
Something this simple is really quite brilliant; Pixis are reusable and have an almost infinite number of different possible uses. My use for one of my review Pixis? Well, Apple got rid of the little "handles" that used to pop out of the top of a MacBook AC adapter that you could wrap the cord around (curse you, Jony Ive…). Now I just use a Pixi to hold the rolled-up cable in place and I can avoid having a mess of USB-C power cable in my computer bag. Another one is being used to roll up and secure the power cable for the Portiko. Yay, Pixi!
Apple World Today Rating (out of 5 stars): ★★★★★