Pic It! (free) is a cute little quiz game that gives you something to do with the silly photos that are on your iPhone. I'm talking about the throw-away selfies and shots or your dog's wet nose that you used as the punchline to a tweet. With Pic It!, they're part of a quiz!
Game Play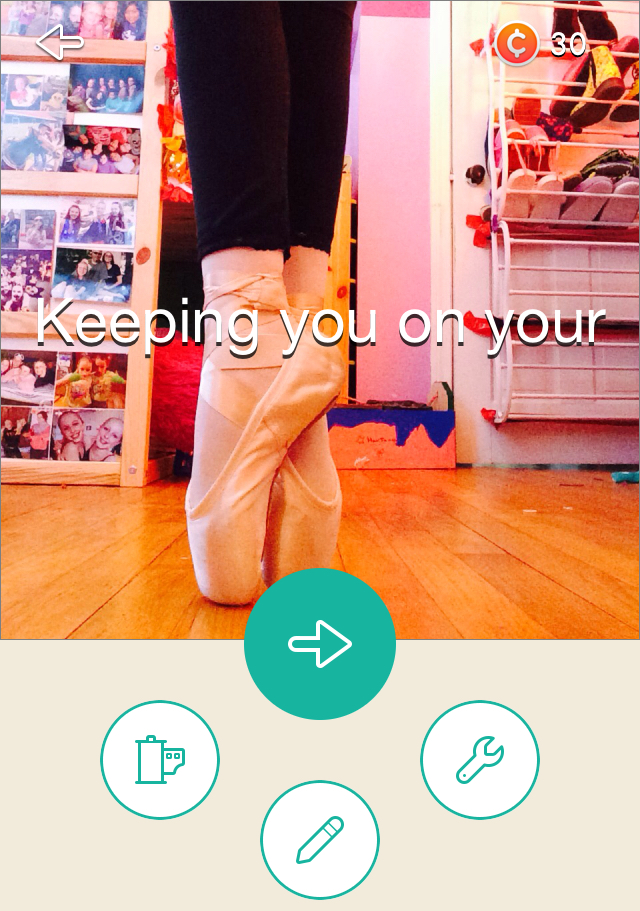 Pic It! is a social quiz game that's easy to play. To start, select a photo that will suggest the answer to a riddle. In the example above, I used a photo of my daughter's pointe shoes and added the hint, "Keeping you on your". My opponent receives the image and hint, plus a pool of letters, some of which spell out the answer: "Toes".
Customization
You can decorate (or obfuscate, if you wish) your image to make things more entertaining or challenging for your opponent with image filters, color options and editing tools like blur, focus, crop and font. You get one of each to start, and additional options can be purchased with in-game coins. Fortunately, they're easy to earn:
Gain 30 coins when you login with Facebook
Gain 15 Coins for the first game of the day you complete correctly
Gain 5 Coins for each game you complete correctly
Gain 1 Coin when you send out a game
Gain 1 Coin whenever a friend plays one of your games (win or lose)
Of course, you can also buy game coins with real-world money.
I'd like to use a lifeline, Regis
If you're really suck, use the lifeline feature, which reveals a letter and keeps you guessing.
LaCie is a brand that's probably quite familiar to Apple World Today readers, producing stylish storage products for Mac for years. Today I'm looking at the new LaCie Rugged RAID (US$419.99, available today), featuring up to 4 TB RAID 0 or 2 TB RAID 1 (mirrored) storage in an portable bus-powered enclosure designed to put up with shock, dust and even being splashed with water.
Specifications
Dimensions: 1.3 x 3.6 x 5.8 inches (34 x 91 x 148 mm)
Weight: 1.2 lbs. (0.56 kg)
Internal Storage: 2 x 2 TB HD
Interfaces: Thunderbolt, USB 3.0
RAID Modes: Preconfigured RAID 0, Hardware RAID 0/1
Rugged Design: IP 54 rated, 1.5 meter (5 ft) drops, can withstand being run over by a 2205 lb/1000 kg car
Design
LaCie's Rugged line of drives features a design by Neil Poulton that is almost iconic in nature, featuring bright orange exterior padding over an aluminum enclosure. A Thunderbolt cable is built into the device and wraps into a niche around the outside of the drive, and there's an additional USB 3.0 port for Macs that don't have a Thunderbolt port… like that new MacBook, for example.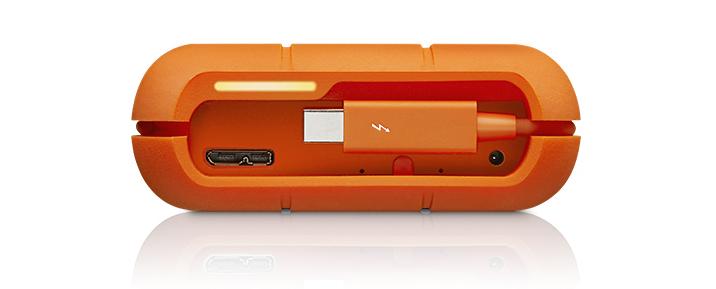 A removable foam cover (spare included) goes over the USB 3.0 port, RAID switches, and the power supply port. That power supply port isn't really necessary unless you're plugging into a non-powered USB hub; I was able to test the drive under bus power for both USB and Thunderbolt. LaCie does include an external power adapter with plugs for most countries.
The big deal with this drive? The ability to put up with impacts, dust, sand, and the occasional water splash. The following video from LaCie shows the drive at work with a professional surfing photographer who copies images to the drive and then mails it to a magazine publisher.
The IP 54 certification means that it's dust protected ("Ingress of dust is not entirely prevented, but it must not enter in sufficient quantity to interfere with the satisfactory operation of the equipment; complete protection against contact (dust proof)") and that "water splashing against the enclosure from any direction shall have no harmful effect."
Benchmarks
I benchmarked the Rugged RAID with our standard tool — QuickBench, part of Intech's SpeedTools Test Suite. Since the Rugged RAID can be configured either as RAID 0 or RAID 1, I tested it with a Thunderbolt connection in both configurations.
RAID 0 (striping) provides no redundant protection for your data, but maximizes speed and capacity by writing to both hard disk drives simultaneously. For protection, RAID 1 (mirroring) writes the same data to both drives simultaneously, giving users a backup copy of the data at the expense of capacity and speed.
LaCie's specifications state that the RAID 0 configuration can achieve 240 MB/s in both read and write mode, while RAID 1 achieves 115 MB/s in read mode, 120 MB/s in write. Let's take a look at my benchmarks, which test speeds with both small (4 – 1024 KB) files, large files (2 – 10 MB), and extended files (20 – 100 MB).
RAID 0 Configuration – approximately 4 TB capacity
Standard Test (small file size):
Sequential Read – 177.060 MB/s

Sequential Write – 206.268 MB/s

Random Read – 25.527 MB/s

Random Write – 140.735 MB/s
Large Test (larger file size):
Large Read – 254.392 MB/s
Large Write – 373.267 MB/s
Extended Test (much larger file size):
Extended Read – 249.769 MB/s
Extended Write – 274.505 MB/s
RAID 1 Configuration – approximately 2 TB capacity
Standard Test (small file size):
Sequential Read – 103.685 MB/s
Sequential Write – 122.383 MB/s
Random Read – 20.559 MB/s
Random Write – 68.543 MB/s
Large Test (larger file size):
Large Read – 125.413 MB/s
Large Write – 166.983 MB/s
Extended Test (much larger file size):
Extended Read – 124.249 MB/s
Extended Write – 122.521 MB/s
As expected, the LaCie Rugged RAID does better with large files sizes, actually exceeding the specified speeds in both RAID 0 and RAID 1 configurations. What this means is that for anyone who does work with large files — photos or video, for example — this is an excellent drive for backing up those files. In day to day usage as a Time Machine backup of the hundreds of thousands of small files that are produced by OS X and applications, it's going to be about as fast as any drive.
Conclusion
The LaCie Rugged RAID isn't cheap — if you're looking for inexpensive USB 3.0 backup storage, there are external drives that are available for as little as $120. But if you're looking for speed with RAID 0 striping or security with RAID 1 mirroring, all in a rugged package that can put up with drops, sand, water splashes, and being run over by a car, then the Rugged RAID is the drive you want.
Apple World Today Rating (out of 5 stars possible): ★★★★★