Global shipments of PCs — as in "personal computer" as opposed to Windows computers — will fall by -8.7% in 2015 and not stabilize until 2017, according to the latest data from International Data Corp. However, the Sellers Research Group (that's me) says the Mac will defy this trend.
The latest IDC forecast has PC growth declining through 2016 – which will make five years of declining shipments. However, Macs have gained global market share for 33 out of the last 34 quarters. With the "halo effect" of iPhones, iPads (yes, iPads — the tablet is far from dead), and Apple Watches, that trend should continue.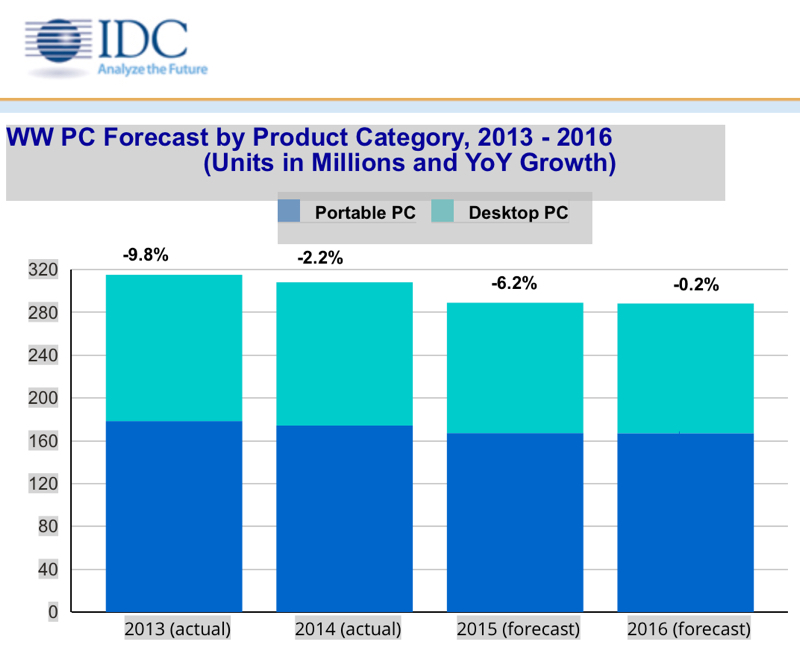 Meanwhile, overall PC growth should resume in 2017, led by the commercial market, while consumer volume continues a small decline through the end of the forecast in 2019, according to IDC. Although the research had expected the second quarter of 2015 to be a transition period as vendors prepare for Windows 10 systems in the second half of the year, final results nonetheless shrank even more than expected due to a stubbornly large inventory of notebooks from prior quarters and severe constraints posed by the decline of major currencies relative to the US dollar.
In addition to economic issues, free upgrades of Windows 10, a relative dearth of newer models in the short term, and channels that are reluctant to take stock also makes the prospect of growth unlikely through 2016, says IDC. And, except for smartphones, which are still growing, the combined volume of PCs, tablets, and smartphones is expected to grow only in the single digits from 2015 through 2019 as saturation and "good enough computing" sentiments spread even into tablets, which are expected to see further volume decline in 2015, per IDC.
Looking beyond the near term, the research group remains optimistic a modest recovery should come in 2017, when the prospect of the next refresh cycle and the cessation of a free Windows 10 upgrade should provide opportunities in notebooks and commercial segments. In emerging regions, where consumer budgets have been divided across a myriad of devices, PC purchases are also expected to regain some interest, opines IDC.
However, the Mac hasn't lost consumer interest. For example, as measured by sales through the U.S. consumer retail market, Mac laptop sales increased 27% year-to-date and Windows notebooks grew 3% during the first half of 2015, according to the NPD group. And in its fiscal 2015 third quarter that ended June 27, Apple sold 4.8 million Macs. Sales — driven mainly by portables — were up 9% from the same period a year ago.