Future Apple Watches could have woven display bands that display image. Apple has filed for a patent (number 9,521,885) for a woven fabric includes light transmissive fibers woven into the fabric to provide a visual display. The fabric may be used as a tether to releasably connect a portable electronic device to a user. The light transmissive fibers may transmit light to convey information to the user. The fabric may also be used as part of the housing of an electronic device.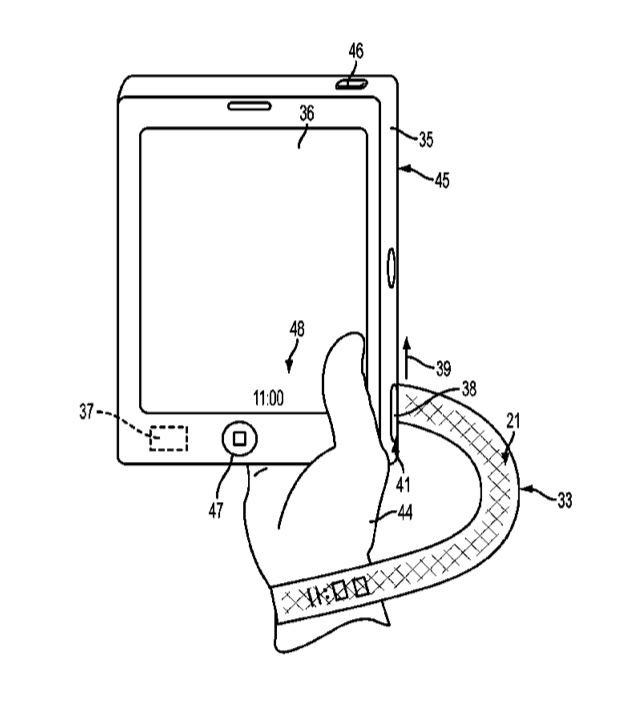 In the patent filing, Apple notes that modern portable electronic devices may be carried by a user or they may be removably attached to the person of a user by means of straps or other tethers which may be decorative tethers. These tethers prevent the user from dropping or losing the device and function as a convenience to the user.
Apple says that, while useful for such purposes, these tethers are generally decorative and serve no useful information providing, or other utilitarian, function other than for aesthetic purposes. With that in mind, iPads and iPhone might also come with "tether displays."
Apple has also been granted a patent (number 9,524,753) for a "teleprompter tool for voice-over tool." It involves a media editing application that creates a composite presentation from several different media clips.
The method provides a set of editing tools for editing the composite presentation. The method provides a voice-over tool for receiving text for a voice-over that includes a transcript for a voice-over audio clip to be recorded by the media editing application as a clip of the composite presentation. The method provides a display area for scrolling the text when recording the voice-over audio clip.
The display area in some embodiments is a preview display area that scrolls the text while displaying a preview of the composite presentation when recording the voice-over audio clip.
Apple files for — and is granted — lots of patents by the U.S. Patent & Trademark Office. Many are for inventions that never see the light of day. However, you never can tell which ones will materialize in a real product.
Across the top of the VG1 are controls for power, volume up/down and a multifunction button that operates playback and manages calls via the speakerphone. The right side panel is home to connections for an included micro USB charging cable, as well as a 3.5mm aux input and output. The left panel is home to a metallic loop for the included shoelace-style lanyard.
Yep, a lanyard. You can clip it to the speaker for transport options. For example, it makes it easy to clip the VG1 to a backpack for hiking.
When it comes to speakers, two is better than one. Auto Bluetooth pairing feature allows two VG1 units to connect and play at a 30-foot range for up to 15 hours thanks to the rechargeable batteries. If you've used many portable Bluetooth speakers, you'll understand that 15 hours is pretty darned impressive.
As I said, the VG1 offers great sound for its size. Like every portable wireless speaker I've ever used, audio gets distorted when you crank the volume up to 11 (or even 9). That said, I was impressed with the bass. The VG1's bass radiator is powered by premium amplification that includes aptX and AAC technology.
For US$149, you get really good sound and exemplary battery life in a rugged design. That makes the VG1 a good investment for anyone wanting a portable wireless speaker.