Apple has filed for multiple patents involving "smart" bands for the Apple Watch. The latest (number 20190298265) for "fabric-based items with stretchable bands."
In the patent filing, Apple says that some wearable items may include sensing circuitry that gathers information on a user's health and other data. However, such sensors may not work properly in some bands made of fabrics. Apple wants to change this.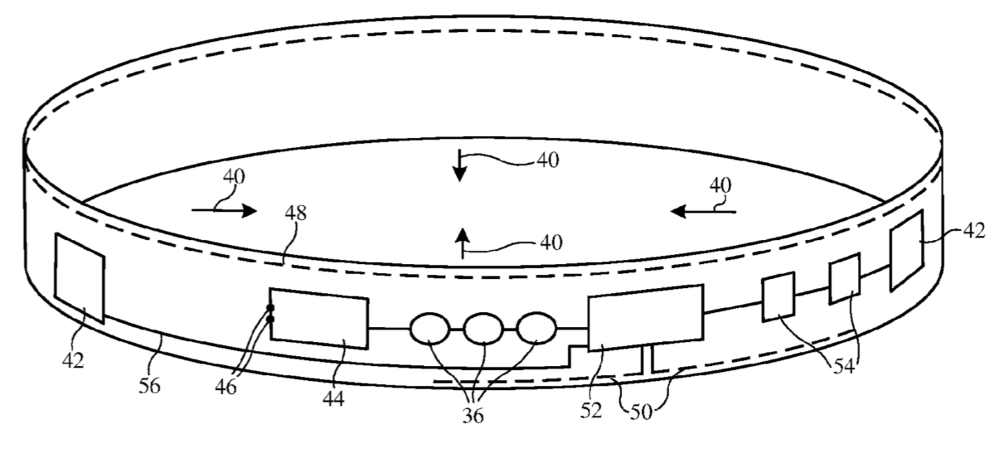 Here's the summary of the invention: "A fabric-based item may be provide with a stretchable band. The stretchable band may be formed from a ring-shaped strip of stretchable fabric having an opening configured to fit around a body part of a user. Circuitry may be coupled to strands of material in the stretchable band. The circuitry may include sensor circuitry for making measurements on the body part such as electrocardiogram measurements, blood pressure measurements, and respiration rate measurements. 
"Wireless communications circuitry in the fabric-based item may be used to communicate wirelessly with external electronic equipment. A wireless power transmitting device may transmit wireless power. A coil formed from conductive strands in the fabric-based item may be used by wireless power receiving circuitry in the fabric-based item to receive the wireless power. The coil may have one or more turns that run around the ring-shaped strip of stretchable fabric."
In the past it's been rumored that Apple plans to introduce interchangeable "smart watch bands" that add various functionality to the smartwatch without added complexity, and without increasing the price of the watch itself. It's possible that uture Apple Watch bands will include additional sensors, battery volume, and other components. There are a number of ways Apple could incorporate technology into Watch bands, including even a modular approach. For example, you could swap out one Watch bands for another with built-in battery, extending the Watch's usability. 
Of course, Apple files for — and is granted — lots of patents by the U.S. Patent & Trademark Office. Many are for inventions that never see the light of day. However, you never can tell which ones will materialize in a real product.