Pastime (noun): an activity that someone does regularly for enjoyment rather than work; a hobby; his favorite pastimes were shooting and golf. This weekly feature provides ideas on how to use your Apple devices to provide more enjoyment of your favorite hobbies and sports.
Here in the middle of the second decade of the 21st century, it shouldn't come as a shock to anyone that some of the more useful tools for fishing aficionados may not necessarily be found in a tackle box these days. There are many resources and tools available for the avid fisherman with an iPhone, iPad or Mac, so let's pull on the waders and take a look.
Apps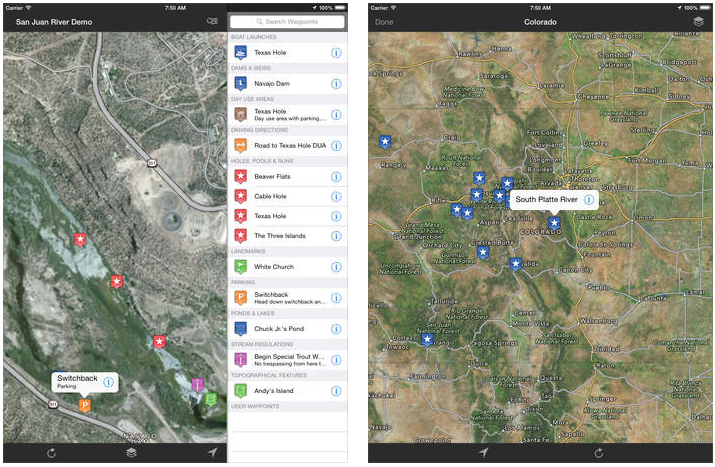 Trout Stream GPS: Fly Fishing Maps for America's Top Trout Streams (free with in-app purchases, universal)
Considered to be one of the best apps for fly fishing America's best trout streams, Trout Stream GPS is a free download that provides access to 95 maps in 21 states. For $5.99 each, anglers can purchase individual stream details, including such hotspots as Colorado's South Platte and Blue Rivers, Michigan's Pere Marquette River, and the Truckee River in Nevada and California. Information provided includes Access Sites and Parking, Campsites and Lodging, Stream Regulations, Trails and Paths, and More.
The Official Fish, Hunting & Wildlife Guide (free, universal)
Created by the Pocket Ranger Exchange website, this is actually a large series of guides for different states. What's common with the apps is advanced GPS technology for hiking to a favorite fishing spot, recording trails and setting up photo waypoints to mark your path. A "Nearest Me" feature shows what public fishing areas are near to your current location, and the app comes with full information on permits and licenses required. An Alert feature sends your GPS coordinates to designated contacts in case of an emergency.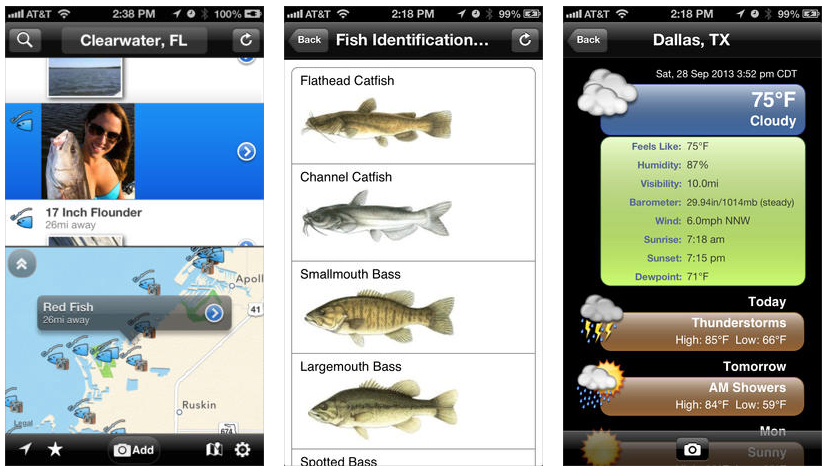 Fishing Sports – Angling Maps and Trip Weather (free with Pro version in-app purchase, iPhone)
An extremely popular app boasting over a half-million users, Fishing Sports includes the locations of hundreds of thousands of fishing spots, lets you post photos of your catch on the scene, and get weather forecasts for each spot. Add in such important information as stocking schedules for most states, fish identification charts, and fishing knot guides and you've got a powerful tool at your fingertips. Finally, built-in forums let you chat with others about your interests and get questions answered.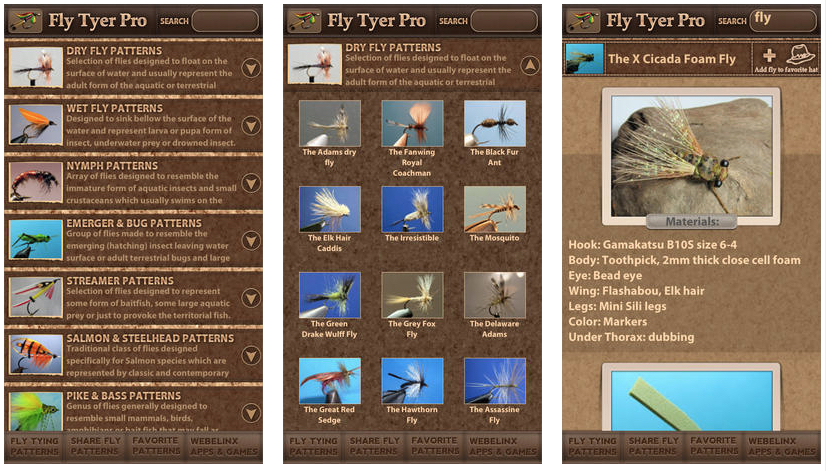 Fly Tyer – Step by Step Fly Tying Patterns (free, in-app purchase to remove ads, iPhone)
nother popular app for the angler is IkarSoft's FlyTyer, which provides photo tutorials on how to tie all sorts of different fly patterns for all types of fish and weather conditions. The app shows how to tie dry and wet flies, soft hackles, emergers, nymphs, terrestrials, bucktails and streamers, and more. Info on tools and materials is included.
Podcasts
The Orvis Fly-Fishing Guide Podcast
This is a weekly podcast by fishing author and fly fishing enthusiast Tom Rosenbauer. If you start listening now, you'll have plenty to listen to; there are episodes going back to 2008!
Bass Fishing Tactics Videos from BassFishin.com
All shot in HD video, this series from 2010 provides 21 episodes covering just about everything you need to know about being successful at bass fishing.
MeatEater Podcast with Steven Rinella: Hunting | Fishing | Wildlife | Wild Foods
Steven Rinella is an author and host of the TV show MeatEater. While the podcast covers all sorts of "kill it and eat it" topics, fishing is a common topic. NSFW language, and you can expect to see new episodes every two weeks. Five star rating!
Books
A "made for iBooks" enhanced ebook that contains video taken with a GoPro, this book by J.P. Yorchak is a travelogue of one fisherman's trip to Montana to fish the Gallatin, Madison, Big Hole and Wise rivers.
Field & Stream: The Total Fishing Manual
Subtitled "317 essential fishing skills", this highly rated ebook provides loads of information on gear, strategy on fishing with or without a boat, finding fish locally (with the help of professional fishing guides), and techniques and tactics.
---
OK, anglers! Have any favorite apps, podcasts or books that we missed here? Tell us about them in the comments. And have fun this weekend teasing the fish…
Update: We received a note from the folks at Fishidy, a fast-growing online platform for anglers. They wanted us to know about their app and online community of over 280,000 members. The app is free, with in-app purchases available for a premium membership at $9.99 per month or $49.99 per year. The app looks good (see below)!