Pastime (noun): an activity that someone does regularly for enjoyment rather than work; a hobby; his favorite pastimes were shooting and golf. 
For a lot of people, the weekend means time to get away from the day-to-day drudgery of working for a living and do something that you enjoy. In this new weekly column, I'll focus on specific hobbies or "pastimes" and the apps and/or accessories that can help you get even more enjoyment out of those precious weekend moments. I thought I'd start this column off with a sport that I don't pursue, but about 24 million people in the US do — golf!
Apps to help your game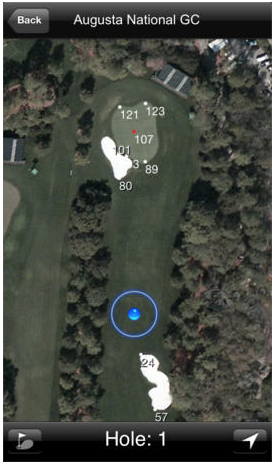 SkyDroid – Golf GPS ($1.99): Knowing where you are in relation to the green is a big part of the game. SkyDroid provides satellite views of over 20,000 golf courses, pinpointing your location on the course and distances to features (water hazards, bunkers) and various spots on the green. 
On the Spot Golf Rules ($0.99): Playing a round with someone who is flouting the rules? Pull out On The Spot Golf Rules and you can stop arguments in a hurry. Rules are organized by location and situation.
Golfshot Classic ($29.99 with in-app purchase): Boasting over 40,000 golf courses, Golfshot Classic provides distances from your current location to various spot. The distance of each shot you take is tracked, your foursome is scored (including stats on accuracy, distance, and of course the number of shots), and the final scorecard can be emailed to each member of the foursome.
V1 Golf ($4.99 with in-app purchases): A huge part of the game of golf is making sure that your swing is efficient, consistent, and accurate. Have someone take video of you taking a swing or use , and you can compare your swing with that of a number of pros. Developer Interactive Frontiers notes that more than 95 million golf swings have been filmed and analyzed with V1 Golf. You can even send your recordings to PGA professionals for analysis, and there are built-in drills and tips.
Golf Ball Finder ($0.99): You know that ball is somewhere in the grass and leaves, but you just can't see it. Golf Ball Finder filters out foliage and grass so that white golf balls stand out, making them easier to find. The app also includes a scorecard.
Accessories
Zepp Golf ($149.99 MSRP, affiliate link): Talk about wearables! Zepp's swing analyzer is a small Bluetooth dongle that attaches to the back of a golf glove. As you swing, it tracks the swing in 3D, analyzing club speed, swing plane, tempo, backswing position and hip rotation. Take 30 swings a week with Zepp Golf tracking, and the app "crunches 90,000 data points" and delivers a personalized detailed report on what to focus on, with drills to help you get better. Want to see how it works?
3BaysGSA Pro ($199.99 MSRP, affiliate link): Like Zepp Golf, the 3BaysGSA Pro breaks down each golf swing into a myriad of data points, providing insight into how to make your swing as perfect as it can be. Rather than being worn on the back of a golf glove, the 1/3-ounce 3BaysGSA Pro actually plugs into the top of the golf club grip. The accompanying app also includes a way to capture video of your swing as it's being analyzed. 
Well, what are you waiting for? Grab the clubs, head out to the course and play a round or two this weekend. Next week we'll take a look at another hobby or sport from the Apple angle.