Parallels has launched Parallels Desktop 13 for Mac, which provides macOS High Sierra readiness and support for upcoming Windows 10 features.
What's more, it makes it simple for MacBook Pro users to add Windows applications to the Touch Bar, and use Touch Bar within Windows applications, according to Jack Zubarev, Parallels president. It is also the first solution to bring the upcoming Windows 10 People Bar feature to the Mac – including integration with the Mac Dock and Spotlight. The new version also features up-to 100% performance improvements for completing certain tasks, says Zubarev, Parallels president. "This new release delivers our best-ever Windows on Mac.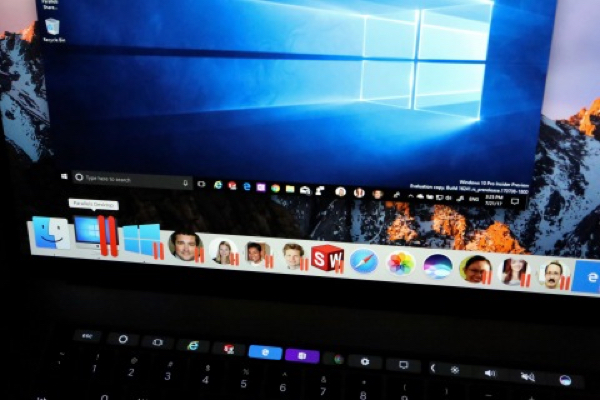 With a mouse click, the Parallels Installation Assistant will automatically install Windows 10 into a virtual machine (VM), which can be purchased at a later date without losing data or installed applications. It also enables users to purchase and automatically install Windows 10 from Microsoft, add an existing copy of Windows, and simply move their PC to their Mac.
From the beginning, users can choose to make Windows look like a PC (Full Screen) or make Windows invisible (Coherence mode), while launching Windows apps from the Mac Dock, Launch Pad or Windows Start Menu, enabling users to tailor the experience to their liking. Parallels Desktop 13 provides Mac Touch Bar integration for Microsoft Outlook, Word, Excel and PowerPoint for Windows, as well as browsers including Internet Explorer, Microsoft Edge, Google Chrome, Mozilla Firefox, and Opera.
Additionally, when you're using the Windows Start Menu or Desktop, Parallels Desktop 13 features Taskbar pinned elements, along with Cortana, Task View and settings, in the Touch Bar for one-touch access. Thousands of other Windows applications that run in Parallels Desktop can be added to the Touch Bar and customized with popular actions, if the default set of functional keys isn't enough.
Parallels Desktop 13 enhances Mac features, such the Touch Bar, and brings new Windows features to the Mac. Parallels Desktop 13 integrates People Bar (from Windows 10 Pro Insider Preview builds 16232 and 16251.rs3), a forthcoming Windows 10 feature that lets users pin contacts to the Taskbar. Although Windows limits People Bar contacts to three, the Mac Dock doesn't limit favorite contacts and enables their photos to be larger for easy viewing, according to Zubarev.
New Parallels Desktop 13 innovations include Picture-in-Picture (PiP) View, a feature which creates windows of other active VMs, which users can select to always be visible on top for easy monitoring and access, even when a Mac app is in Full Screen mode. PiP View joins Parallels Desktop customization settings such as Coherence (Windows is invisible while using Windows apps on a Mac), Full Screen mode (just like a PC), and Window mode (Windows in a window in macOS).
The new Parallels Desktop for Mac Business Edition (coming this fall) features include the Single Application mode, which lets IT admins deliver, lock and secure selected Windows applications to a user's Mac Dock while making the Windows VM invisible. Mac users simply discover the Windows application in their Dock, then launch and use it just like a Mac app.
The latest version of Parallel Desktop provides a number of visual and display improvements for improved scaling resolution and better transitions. Owners of hi-res Retina displays will enjoy greatly improved sharpness of text and graphics in scaled mode, according to Zubarev.
Parallels Desktop 13 for Mac, Parallels Desktop for Mac Pro Edition and Parallels Desktop for Mac Business Edition are available for subscribers and upgraders from Parallels Desktop 11 and 12. Free 14-day full-featured trials of Parallels Desktop are also available for download.
The recommended retail price of Parallels Desktop 13 for Mac is $79.99. Upgrades for existing Parallels Desktop 11 and 12 for Mac perpetual license customers are $49.99, with an introductory offer to upgrade to a Parallels Desktop Pro Edition subscription for $49.99 per year for life.
Parallels Desktop for Mac Pro Edition and Business Edition are each available to new customers for $99.99 per year. Parallels Desktop for Mac Pro Edition and Business Edition include a complimentary concurrent subscription to both Parallels Toolbox for Mac and Parallels Toolbox for Windows.